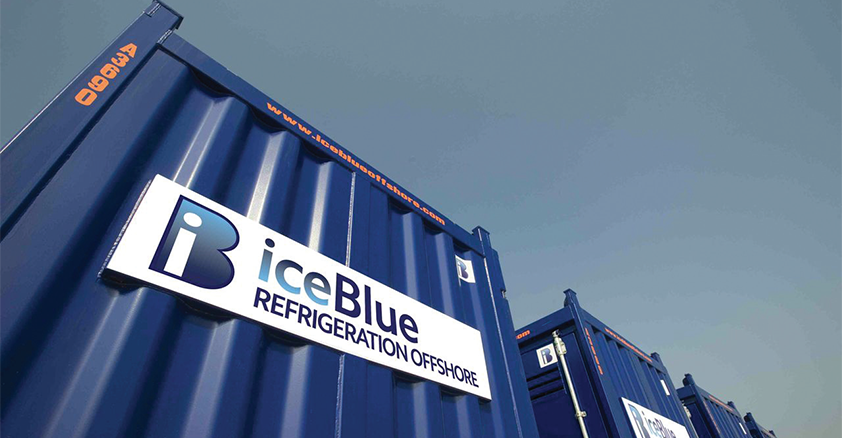 Thinking global
A privately owned group of companies, the decision to locate the Ferguson Group in Aberdeenshire, Scotland, has placed the business at the forefront of the North Sea oil and gas industry since it was established in 1976.
Having built up an excellent reputation in its role of servicing the offshore container rental and accommodation needs of the oil and gas market, over the years the Ferguson Group has taken a more global view towards the industry's accommodation requirements.
Although headquartered in Kintore, the Ferguson Group operates from purpose-built manufacturing premises in Inverurie, Scotland. All aspects from initial design work to producing the finished product are carried out in-house, allowing the highest quality control standards to be maintained. The company also has operations in all major global oil and gas locations including Norway, United Arab Emirates, Singapore and Australia. In addition to the Ferguson Group bases, the company has widened its international presence through partners based in areas such as Indonesia, the Middle East, Trinidad, Caspian Sea, South East Asia and West Africa.
The Group's structure is made up of seven operating companies trading under four divisions namely – Ferguson Seacabs, Ferguson Modular, Ferguson Accommodation Service Vessels and IceBlue Refrigeration Offshore. The Ferguson Seacabs division has been serving the offshore container rental market for over 30 years and is now a major provider in the supply of specialist cargo transportation equipment with a global fleet of over 16,000 offshore containers, tanks and baskets. Equally long established is the Ferguson Modular division, which has been building A60 offshore accommodation modules since 1976. This range includes a variety of A60 DNV 2.7-1 accommodation and workspace modules predominately for the offshore market, and Modupack, a unique and flexible panel system module suitable for onshore use.
The most recent addition to the Ferguson Group is the IceBlue Refrigeration Offshore division, which specialises in refrigerated containers for the offshore sector. This global fleet is offered in sizes from 2.5 metre to 6.0 metre units providing refrigeration and freezing solutions for offshore food transportation and storage. Completing the Group is the company's first accommodation service vessel, ASV Pioneer, which was launched in 2011. The vessel is an evolution of over 30 years of experience within the Ferguson Group in providing high quality accommodation modules and containers to locations worldwide.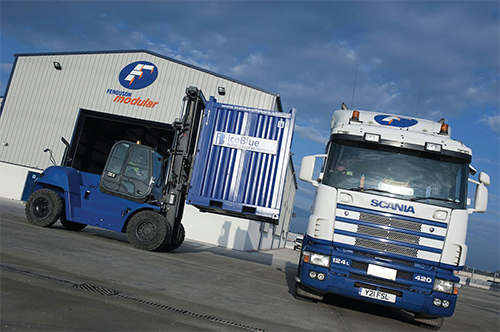 The result is a versatile offshore accommodation solution that is unique in the marketplace. Built to the highest quality and safety standards it offers unprecedented flexibility of accommodation configuration and a large open deck space capable of a multitude of uses to support the offshore oil, gas or renewable industries. ASV Pioneer can accommodate up to 220 POB in well appointed en-suite rooms, complete with the necessary office, galley, mess, medical and recreational facilities required for an ideal living and working environment.
As part of its international drive, in recent months the Ferguson Group has increased its presence within West Australia with a new purpose-built facility. The base has been designed specifically to meet the needs of Ferguson Seacabs, Ferguson Modular and IceBlue Refrigeration Offshore, as demand for these product ranges increases in Australasia.
Sharing his thoughts upon this development, Steven Ferguson, managing director of the Ferguson Group says: "This has been an exciting period of growth for the company within the region. Expanding our international premises, and in turn the availability of products, allows us to meet the growing needs of clients in the region, maintaining the Ferguson Group values – to provide high-quality products, short lead times and exceptional customer support in all of our locations."
Building upon this, plans are already in place for the next phase of expansion within the area, with a large development scheduled for Karratha, Dampier, in West Australia. Located 1700 kilometres north of Perth, the new base will feature state-of-the-art operational facilities over a 13,500 square metre site, including specialist workshop and cleaning amenities for containers and offshore chemical tanks.
Elsewhere in the world, at the beginning of 2012 the Ferguson Group opened a new 10,000 square metres facility in Stavanger, Norway. Operated by Ferguson Norge, this two-storey office building, workshop and large yard provide the space to stock a greater number of products and facilitate continued growth in the fleet available in Norway. In particular, other divisions within the Group, Ferguson Modular and IceBlue Refrigeration Offshore, will increase the number of DNV 2.7-1/NORSOK Z-15 certified accommodation modules and DNV 2.7-1 certified refrigeration containers held at the new base.
"It is important to us that we continue to have the global infrastructure in place to support the worldwide operations of oil and gas operators and major service companies, and we plan to achieve this through sustained investment in increasing the Ferguson Group's fleet," highlights Steven.
Taking a more localised view, Haakon Andersen, chairman of Ferguson Norge AS, adds: "We have excellent and consistent feedback from our customers stating that we provide high-quality equipment and services. By moving into the larger purpose built premises right in the centre of the Norwegian oil and gas industry we are able to continue to meet customers' requirements in the region."
Developments such as these tap into the role of the Ferguson Group as a global provider, and as such, its ambition to increase market share across a number of countries where clients have a need for its products. Where the business goes in the market is dependent upon its customer base, and with its current infrastructure the Ferguson Group is well placed to meet international requirements. Like any other organisation, the company assesses the market trends as part of its strategic planning. Currently the Group has representation in over 16 countries, which serves to not only support clients, but also to shorten turnaround time by delivering its products from a local point and in keeping with the company's underpinning high standards.
Ferguson Group
Services: Rental of offshore containers and accommodation modules