A view to a drill
When European Oil & Gas last spoke to Claus Chur, KCA DEUTAG's director, technical services in October 2007, he predicted a bright future for the company's drilling operations.
"The industry as a whole is very good at the moment, having seen enormous growth over the last few years," he said in an interview with Matthew High.
"I would estimate that during 2006 and 2007 at least 500 new on and offshore rigs have entered the market, and this development has been very much driven by increasing demands for exploration. At the same time we are witnessing a decrease in the production at existing fields, which will need to be filled, creating a demand for our drilling capabilities, certainly for the coming decade."
Claus' words have proved to be extremely prophetic in the short period since, and as recently as early May the company announced that it has been awarded in excess of $100 million worth of land
drilling contracts and extensions from oil and gas operators in Europe and Russia.
Firstly, Burgaz, Gazprom's drilling subsidiary, has awarded KCA DEUTAG a contract for its rig T-500 for 16 months plus extensions, for a four well drilling campaign in the Novyi Urengoi field in the Yamburg region of West Siberia. Thecontract, which commenced at the beginning of April 2008, saw the rig T-500 moved less than 100km within the same field, where it has been working under a three well contract for Achimgaz (Gazprom/Wintershall).
Also in Russia, VCNG (TNK-BP/Rosneft) has extended until the end of May 2008 its existing contract with KCA DEUTAG for its T-2000 rig and has issued an LOI for another three-year contract for the same rig, commencing 1 June 2008, for its ongoing drilling programme in Eastern Siberia.
In addition, GeoEnergy GmbH of Germany has awarded KCA DEUTAG a three-year contract, commencing August 2008, for its T-46 land rig. This will be used for geothermal drilling of ten to 12 wells to depths of 2800m to 3800m in Oberrheingraben in Germany.
German utility company, Gasag, has also awarded KCA DEUTAG a contract for its rig T-85 to undertake a six week workover programme, commencing May 2008, in the B-12 field in Berlin.
Holger Temmen, chief executive of KCA DEUTAG, was understandably delighted with this new business, and said: "These contracts further reinforce our position in some of our key strategic growth areas and strengthen our relationships with the operators in these regions. The awards were made on the basis of our reputation for providing high performing, safe drilling operations, in areas where there is intensive drilling activity, requiring the availability of good quality rigs and crews at relatively short notice."
Already one of the industry's leading suppliers of drilling services, and rig design and engineering solutions, KCA DEUTAG continues to grow and attract the major players in the oil and gas industry. Claus Chur feels that this is due to a combination of factors, but highlighted KCA DEUTAG's ability to continually develop new and innovative drilling solutions.
"We have a number of recent rig designs for specific markets or operating environments," he explained. "For example, we have designed two new rig concepts in recent years – the HR-5000, that is specially designed for operations in the harsh conditions of Siberia, which often includes temperatures down to minus 45 degrees Celsius, and the highly mobile Nomad Class for operations in desert terrain conditions.
"The HR-5000 rig is particularly suited to field development projects in Siberia and Russia, where you often drill up to 50 wells on the same site," he continued. "To simplify this, the entire rig moves easily on a specially built rail system, meaning that as it finishes a well it simply moves on the rails to the next well location and is ready to commence drilling operations quickly and efficiently."
The Nomad Class rigs (T-211 and T-212) were designed specifically for use in the desert conditions of North Africa and the Middle East with an emphasis on short rig move times and safety features such as noise insulation on the generator modules, a catwalk pipe handling system and iron roughneck. Claus added: "The rig is equipped with special bogey carriages to allow t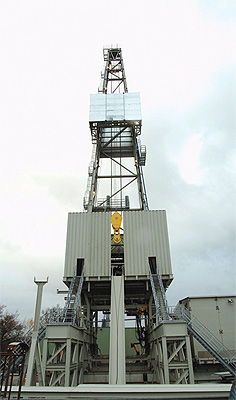 he derrick and drill floor substructure to be moved as complete assemblies over flat terrain conditions. In most instances the rig can be moved in under a week from well to well."
In March, Claus himself was recognised on a personal level when the International Association of Drilling Contractors (IADC) named him its Contractor of the Year. The awards ceremony, which was held on 19 March at the Petroleum Club of Houston, saw Claus presented with the Award in front of an audience of senior drilling industry personnel.
The Contractor of the Year Award is the most prestigious award in the drilling industry, and the recipient is selected by the IADC for career contributions to the Association and the drilling industry.
Claus has spent over 28 years in the drilling industry and has served in a number of positions within IADC and the Society of Petroleum Engineering, most notably as chairman of IADC in 2006. He is also a charter member of IADC's new Environmental Policy Advisory Committee, the author of several publications and serves on a number of industry and government advisory committees.
Award sponsor ReedHycalog is contributing $7500 to a scholarship in Claus' name, which he has chosen to donate to the Institute of Petroleum Engineering at the Technical University Clausthal in Germany.
Claus joined DEUTAG in 1995 where he held several management positions and in 2001 he was appointed to the KCA DEUTAG Board. Today as director, technical services, he is responsible for the technical integrity of KCA DEUTAG's rig fleet and group-wide supply management. Additionally he serves as managing director of KCA DEUTAG Drilling GmbH based in Bad Bentheim, Germany.
Looking ahead and summarising his hopes for the future of the organisation, Claus concludes: 'I am certain that KCA DEUTAG will become an even more prominent and successful player in the industry, and will continue to grow considerably – over the last five years we have more than doubled our business in both the onshore and offshore sectors. With further growth in all of our business units, and improving our results each year, I believe that we will achieve our vision of becoming the preferred drilling contractor through measurable performance improvements."
KCA DEUTAG Drilling GmbH
Services: Drilling contractor