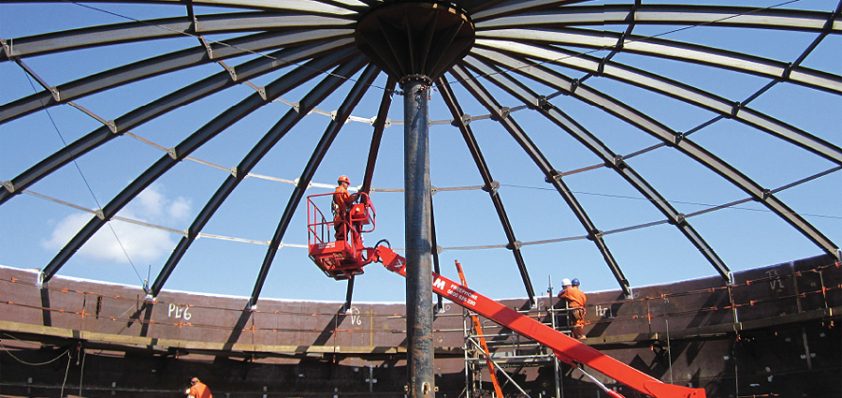 An integrated solution
A world leader in the manufacture and maintenance of storage tanks, heat exchangers and gasholders, Motherwell Bridge Ltd has developed a solid reputation in the market thanks to its strong capabilities in design, engineering, maintenance, on-site build and project management. Known for delivering quality and accuracy at all stages of a project, the Lanarkshire, Scotland, based company boasts more than a century of experience in both the UK and global operations, onshore and offshore. This long-term knowledge has resulted in a company with an extensive portfolio involving major projects across the globe, including the world's largest built storage tank.
Key to Motherwell Bridge's success is its 300 strong multi-skilled labour force, which are adaptable against challenges and willing to tackle projects in harsh environments. For example, in December 2013, BP praised the company for its repair work on Clair Phase 1 in June the same year. However, upon seeing the capabilities of Motherwell Bridge's staff, BP project leaders expanded the company's workload to take on welding, plating and fitting work during the three-month platform shutdown.
This commitment to creating a one-stop-shop solution to clients has significantly enhanced over the last three years, particularly following the acquisition of Motherwell Bridge by Cape Plc, the international provider of critical support services to the energy and mineral resources sectors, for £37.65 million in March 2014. The deal has enabled Motherwell Bridge to take advantage of resources, which in turn will lead to strong growth in the future as it takes on larger projects in overseas markets while also increasing its service offering.
"Cape Plc is a FTSE 250 corporation that operates globally and employs around 18,000 people around the world. Our three businesses, gas-holding, storage and heat exchange, were all sold to Cape Plc for two reasons; firstly, it meant we could get access to a larger global footprint when it comes to clients, labour force and facilities, secondly, it meant we have a partner with a strong financial balance sheet to support increased work and larger projects. From Cape Plc's side, the company wanted to move into complementary yet new areas within the sectors it worked in, which meant stepping away from scaffolding and insulation and into more white collar engineering and construction services," explains Russell Ward, Managing Director of Cape Specialist Services, which now incorporates Motherwell Bridge Ltd.
With the backing of a leading industrial player, Motherwell Bridge has been able to accelerate its growth plans in the UK and overseas. Meanwhile, Cape Plc has been able to broaden its portfolio and thus offer clients a comprehensive tank maintenance solution via Motherwell Bridge's long-term expertise, strong market reputation and impressive workforce. "We have recently brought
Motherwell Bridge with a number of other companies that I run under an umbrella known as Cape Specialist Services; there are a couple of environmental service businesses, both onshore and offshore, and as a result we are able to offer a complete suite of tank services including tank cleaning and repairs. This development has led to us winning a project in Australia to do some large tanking cleaning scopes; the natural thing for us to do now is start expanding our tank building opportunities in Australia and Asia," says Russell.
While strengthening its presence in areas such as Australia and Asia, the company has also expanded its business reach in China following a contract from Baoshan Iron & Steel Co. for a new 150,000 m3 Wiggins dry seal type blast furnace gasholder in July 2014. Meanwhile, more presently, the company is focused on completing the manufacture of a large Ethane tank in the North East of the UK as well as a project in the Middle East for double wall tanks. In anticipation of further work in the Middle East and surrounding areas, the company has established a dedicated tank team, complete with engineers, designers and project managers, as Russell comments: "We replicated what we have in Motherwell in the Middle East, which means we have a self sufficient team there who can report back to our technical centre in the UK. This is up and running and we have had a number of projects take place from here."
In addition to these areas, Russell says Motherwell Bridge Ltd is also continuing to target Africa: "We have a foothold in West Africa and have been involved in engineering and supply work in the Nigerian tank market while supporting a local construction partner there. This is generally a market we are seeking to expand further."
Moving forward, Motherwell Bridge Ltd, soon-to-be Cape Motherwell Bridge, will undergo a rebrand over the coming months to accentuate the integration of strengths between the two organisations as it continues to progress into a one-stop-shop solution provider for clients, particularly in the cryogenic market. "The immediate focus for us is to have these products and services that we have acquired available to those in the group. For example, we acquired Redhall Engineering in 2015, which has given us additional mechanical expertise; what we need to do now is pull all of these strengths together so we can go to the market and offer a one-stop-shop solution. A number of our clients are interested in this business model as it brings real value, particularly in a cost-focused market. Now that we have the scale and backing of Cape Plc, we plan to expand this business model globally over the coming years," Russell concludes.
Motherwell Bridge Ltd
Services: Storage tanks, heat exchangers and gasholders