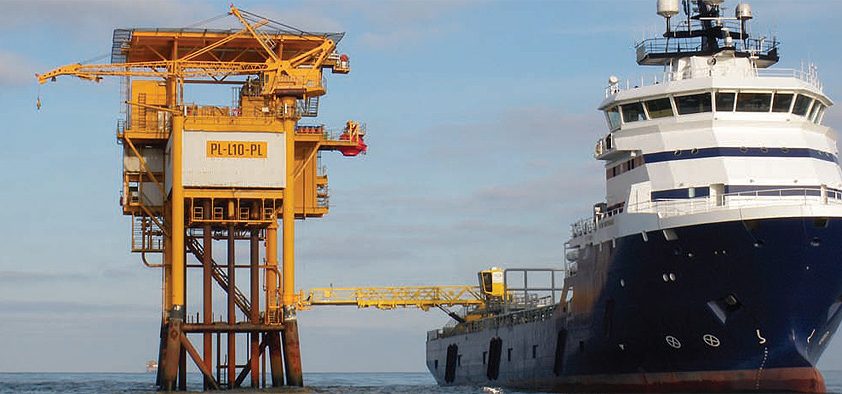 Well connected
The transfer of personnel to and from offshore structures has long been a minefield in terms of balancing health and safety risks with cost pressures.
Against this backdrop, Offshore Solutions' track record of over 7500 operational connections and the successful transfer of in excess of 110,000 personnel, with no recordable incidents, in just five years is an impressive feat.
It is therefore unsurprising that Offshore Solutions is considered a leader in advanced marine access systems. Established in 2007 as a 50-50 joint venture between AMEC and Cofely Nederland
with the same aim of providing safe access for personnel as today, the company has shown real innovation in this field with the development of its Offshore Access System (OAS). This patented heave-compensated walkway is the only such system on the market to create a permanent connection between the vessel and the offshore structure, and then disengage all active systems. As such, the safe transfer of personnel is not reliant upon the functionality of these systems. Likewise, as a permanent connection the OAS can remain in place, weather permitting, 24 hours a day seven days a week allowing for the free flow of personnel and materials.
Beginning with a pole connection system, Offshore Solutions has continued to progress the unit, particularly over the last year, in order to make it an even more attractive proposition. One outcome of this is a secondary connection option known as the elephant's foot. "Our fundamental design principle is safety, particularly when transferring personnel over up to three metres significant wave height, and the elephant's foot system is no exception," highlights John Cunningham, business development manager.
"This is essentially a friction interface connection, which establishes a very robust bond between the bridge and the offshore structure. As before once this has been made all active systems are disengaged leaving us with a firmly connected free floating bridge. Whilst our pole connection requires quite a modest investment in the offshore structure, the elephant's foot connection can be landed on the existing panels of the installation requiring very little, if any, capital expenditure," he adds.
Another major step forward has been the launch of a skid-mounted free standing unit, which is not only easy to install onboard a vessel, but also provides the client with the flexibility to transfer it between vessels at different stages of a project. Whilst the business' background has mainly been in long-term contracts, Offshore Solutions also sees the free standing unit as a crucial element of its offering to the short-term market, where greater flexibility is desired.
The development is already garnering attention in the industry, having recently been successfully used in the world's first vessel to FPSO personnel transfer with a heave-compensated gangway for the Shell FPSO Anasuria. With this success under its belt, John comments on the possibilities for this technique to be adopted on a wider basis: "The FPSO market is one that has been fairly slow in the take up of marine access, and one of the reasons for that is it is connecting between two moving structure whereas before marine access has primarily been from a vessel to a fixed structure. The industry will be taking note of the successes on the Anasuria though, and at present we're talking to a number of other FPSO operators that are interested in adopting marine access. On a
wider level we have found that the global market has now realised that marine access is a viable and very safe alternative to past methods of personnel transfer, and have seen a significant increase in interest from both oil and gas, and offshore wind clients."
Indeed the biggest challenge to Offshore Solutions' growth to date, and what will have the greatest impact on its future, is simply this gradual acceptance of 'walk to work' as a valid means of personnel transfer. "We are seeing a very high rate of enquiries per month, but although walk to work is more widely accepted than it was five years ago, for some clients this is still a new idea and therefore these don't always come to anything in the short-term," comments Lindsay Young, managing director.
"Previously our discussions were more with people at the operational or maintenance stage when the platform is up and running, whereas today we are talking to companies that are considering using the OAS in 2017 and planning their field development around this. This demonstrates to us that there is a wider acceptance of walk to work because we're talking to a wider selection of oil company clients about this, not just in terms of numbers of companies, but also on an internal basis where we are now talking to field developers at the conceptual stage as well as maintenance personnel," he continues.
There is certainly a growth in momentum with more units in the market giving rise to more enquiries, even as the industry comes to terms with moving outside of its fixed thinking. To this end, Offshore Solutions works to create a dialogue between operators, either at its seminars, or during site visits, where experience can be shared, and short-term requirements even tied together to promote cost savings. As well as its excellent safety record, this is another decisive factor that the OAS addresses as it is far more cost effective than a lot of existing transfer methods at present.
Outside of the ongoing evolution of the OAS, the biggest single change within Offshore Solutions has been its growth in Qatar and the Persian Gulf. Having tested and tweaked the system within the North Sea, the company has worked to secure new contracts in new markets that have similar wave and weather characteristics. Elaborating on how the business intends to underpin this growth for the long-term Lindsay concludes: "We're in the process of setting up a local branch office in Qatar, which demonstrates our commitment to the region going forward. Our activity in Qatar has provided us with a really strong base, and a great reference, to explore other opportunities in the Middle East for the OAS."
Offshore Solutions BV
Products: Offshore personnel access walkways