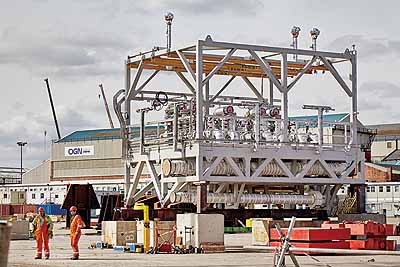 Best of British
Despite being a relatively young company, with just five years in operation, Offshore Group Newcastle (OGN) has already developed a strong reputation within the offshore oil and gas industry, having worked on a number of major contracts with blue chip organisations. "OGN was set up for two reasons, the first was to use our experience in offshore oil and gas to target contracts for the design and construction of offshore platforms on the UK and Norwegian Continental Shelf. The second reason was to also incorporate offshore wind projects, most notably the deepwater offshore windfarms that are approximately 40 kilometres off the coast. For the last five years 99 per cent of our focus has been on the oil and gas markets in the UK and Norway; during this time we have completed £550 million worth of work, so we have been busy for a company of our size," begins Dennis Clark, Chairman of OGN Group.
OGN brings together a team of experts within the offshore industry who are all committed to delivering engineering, procurement and construction services to the offshore oil and gas and renewable energy markets from a UK facility. So far this vision has proven highly fruitful for the firm, with a number of major projects undertaken and completed successfully. "Our first major project was a £175 million job for Apache Energy on the Forties field, which was really exciting from our point of view because we did the concept design for the platform, the front engineering, the detailed design, the procurement and then built it. The platform is now operating in the North Sea and has been for about a year," explains Dennis.


"Our most recent project, which is still ongoing is for the Shell operated Nyhamna Expansion project, which is an onshore gas terminal in the North West coast of Norway. Our role is to fabricate a series of 18 Pre- Assembled Units (PAUs), which weigh in total approximately 4300Te. The project will help to increase the facilities capacity in order to allow gas from other fields to be processed," he adds.
Based principally in Tyneside, Newcastle, the OHSAS 18001, ISO 9001 and ISO 14001 certified OGN Group is committed to operating in a safe and efficient manner at its wellequipped facility. Moreover, as part of OGN Group's proactive approach to quality, safety and the environment, these three management systems have been integrated under the term 'Compliance', to ensure optimum commitment to product integrity, protection of individuals and the environment and continuous performance improvement; Lloyd's Register Quality Assurance (LQRA) regularly audits these systems.
Discussing the advantages of operating at its strategically located, dedicated offshore site, Dennis states: "I would say one of our unique selling points is our yard. When we bought the yard, which cost us £15 million in 2009, it was being used to store cars; now it is one of the best offshore platform building facilities in Europe. The facility is 300,000 square metres in size and we have over one kilometre of quayside to allow for the handling of large-volume offshore fabrication and load out operations; we've also got three reinforced load out quays, with a maximum load-out capability of 13,000Te in one move. In addition, we have an onsite engineering office with capacity for 300 people and have installed SAP right across our disciplines so we're on the edge of current technology. Moreover, we've bought in automatic profiling equipment and brand new equipment in the last couple of years, so we can handle massive tubulars efficiently and cut with optimum precision; ultimately, these investments mean our welders have a better product to work with."
Features of the site include a 104,000 square metre assembly and erection area, two fabrication halls measuring a total of 16,500 square metres, each of which have overhead craneage of up to 50 tonnes capacity. The site also boasts 7300 square metres of warehousing and storage, a fully equipped medical centre and a reinforced concrete assembly pad.
To further enhance its service offering, OGN Group launched a new pipework division at its facility in Newcastle in July 2015, which will enable the firm to provide all levels of industry with their pipework requirements, as Dennis highlights: "Over the last three or four years we have tried to mechanise and automate a lot of the processes and we decided that as things were getting quite quiet with new platform developments, we put the equipment to good use by setting up this division."
With this new division in place, OGN Group is even more prepared to deliver a complete solution to its customers within the North Sea at a cost-effective price, as Dennis concludes: "We will be attending Offshore Europe in 2015, where we will show that there is still a future in the North Sea, as well as for our skills and capabilities. By showcasing what we can do, we aim to encourage operators to look at alternative ways of conducting projects, which are currently more aligned to a $50 to $60 dollar oil price. Meanwhile, our future business plans are to continue embracing the North Sea, while also becoming the company of choice for offshore windfarms."
OGN Group
Services: Engineering, procurement and construction
Issue 125 October 2015