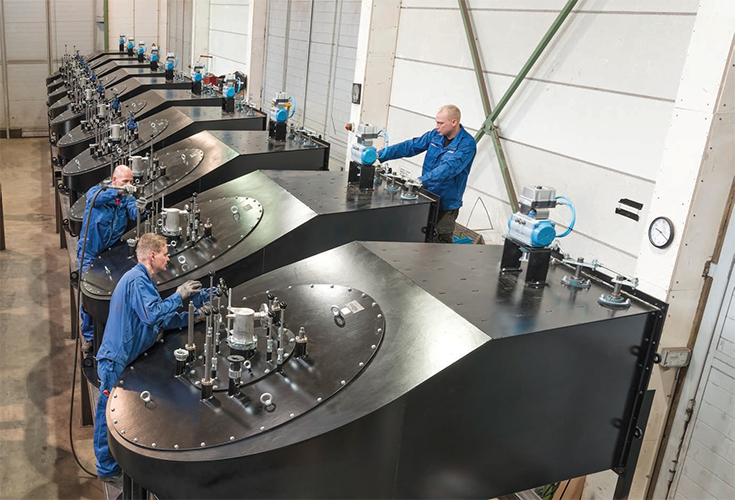 Feel the burn
Focused on delivering environmentally friendly energy and sustainable energy solutions since its foundation in 1961, Finnish family-owned group Oilon is known across the globe for its company slogan 'The Warm Way'.
Proud to provide customers with excellent service through co-operation, transparency and communication, the group has witnessed rapid growth and developed a significant global market position.
"Since our establishment in 1961 we have developed long-term expertise in combustion technology," explains business director of Oilon Energy Oy Tapio Murtonen. "We started as a burner manufacturer and this has been our most important business throughout our history, however, in the early 2000s we began the heat pump business for small properties and private houses. This led to the acquiring of Oilon Scancool in 2011 and the expansion of the heat pump business for industry on a larger scale."
With more than 60 per cent of Oilon's revenue coming from foreign operations, the group manufactures oil, gas and dual fuel burners for a range of applications such as power plants, industrial processes, hazardous waste incineration plants, district heating plants and vessels. On top of this, the group provides industrial heat pumps and refrigeration solutions for domestic heating and industrial applications; this includes heat pumps, burners and solar heat collectors. "It was in the 1980s that we began to seriously develop our combustion technology for different kinds of liquids and gases; today we can combust any liquid or gas if there is a little bit of heating value in the fuel," says Tapio. To ensure customers receive high quality, innovative solutions, Oilon boasts three production facilities in Finland and another in China. Moreover  to complement its company slogan, the group has sales offices in Russia, Brazil and the US in addition to resellers in over 30 countries to ensure a local presence to clients.
Following two key market trends that have remained valid over the last 20-30 years, the group has maintained a strong commitment to reducing emissions and aiding customers in the utilisation of side streams from their processes. "These market trends have been the same throughout the industries we operate in, be it the steel, chemical, pulp and paper, shipping or oil industries," says Tapio. "The side stream from industrial processes is something we find particularly important as it is free energy for the plant owners that can be used to achieve the required capacity of the plant.
"Within the oil and gas industry one interesting area is oil refineries as we have had a number of recent projects involving the utilisation of refinery gases; this is a challenge as the hydrogen content and heating value in the fuel changes, which means it is difficult to control. To combust this kind of gas you previously required an expensive component known as a Wobbe analyser, but Oilon has developed a cost effective special control technology that eliminates the need for this product."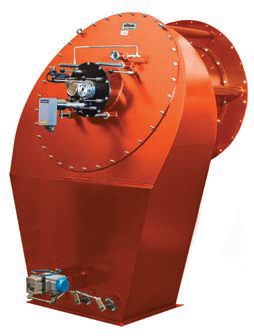 One way the group has successfully provided solutions to market issues has been through a core focus on research and development, which acquires five to six per cent of the company's annual turnover.
This dedication to ongoing improvements has resulted in a broad range of combustion solutions for various liquid and gaseous fuels that are used in a diverse number of industries. Innovative and adaptable, the group has maintained a strong presence across the globe due to its ability to react to changeable markets and customer demand; a notable example of this is its low NOx burners, which have generated increased demand from the market following increasingly stringent emissions regulations. "We anticipated heavy fuel oil will go down in demand in many market areas where emission is important, while light fuel oil is a more realistic option as one time investments are not that large. However, natural gas is very good when it comes to emissions and is a pure fuel in comparison to many others when it comes to the environment; because of this we believe investments for natural gas should be increased and, as such, have developed superior low NOx burners for natural gas that are among the best in the world," highlights Tapio.
He continues: "With burner combustion we are able to go far below 100 mg/nm3, three per cent 02 in NOx emissions with natural gas. If the NOx requirements are lower still, we utilise other means additionally, such as flue gas recirculation (FGR) and over fire air (OFA). In case of extremely low NOx emissions, less than 30mg/nm3, Oilon has its own state-of-theart technology: the catalytic solution, which is patent pending worldwide. The special feature of this technology is, that with extremely low NOx emission, we are able to improve plant efficiency by lowering the excess air in flue gases from two or three per cent 02 – which is typical in plants – to very low level. In competing systems the 02 goes typically the opposite direction, reaching higher than two or three per cent."
So far Oilon has delivered more than 7000 MW low NOx burner capacities to district heating plants in Beijing that use natural gas. One of the group's low NOx burner types is Ultrax, which has been designed for power plant boilers to ensure they fulfil stringent emission requirements. The technology achieves this by leading fuel into different zones of the flame, while combustion air is also divided into individually controlled chambers and directed to the flame in stages. This flowing of fuel and air causes optimal air envelopes both in and around the flame, which results in long residence time and low emissions.
In addition, the group has recently launched Ecopower, the newest product in its burner range, which has the ability to function without a separate fan unit. This means that at full capacity, an Ecopower burner saves tens of kilowatts of electricity per hour in comparison to conventional burners. Furthermore, advanced automation ensures precise, energy efficient control of the burner process.
Moving forward, as Oilon continues to benefit from opportunities in Europe and China, it has also begun sowing the seeds to expand its presence into the US, a market that provides vast potential thanks to its shale gas resources and the group's developing relationships with potential clients, as Tapio concludes: "We want to be stronger in the existing market areas we currently operate in, while also focusing on this new strategic area. Three years ago we established a company in Brazil, Oilon Brazil, and last autumn we moved to the US with the establishment of Oilon US, so north and south America will be our growth areas for the coming years."
Oilon Oy
Services: Heating applications for energy products and the oil and gas industry