The complete package
The end of March 2008 marked the completion of a significant project that Ramboll Oil & Gas had been working on for a year.
In February 2007, Ramboll Oil & Gas won a prestigious project to carry out the detailed engineering and design on the Nexus FPSO. The scope of the work included layout assessment and detailed design of the processing facilities on the deck. The design is generic and suited both for potential projects in the North Sea and in any international waters. The extent of the project, which has been mediated in corporation with Nexus Floating Production Ltd and Samsung Heavy Industries, is unprecedented in the history of Ramboll Group. The company was very proud to have won this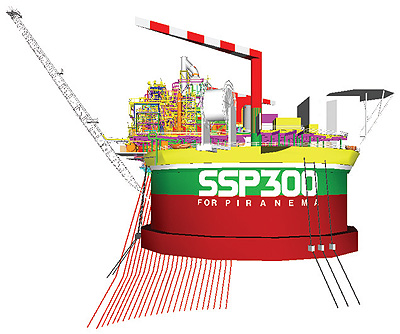 project, which will establish Ramboll Oil & Gas as a competitive player in the offshore premier league. It is strategically situated in the main market for FPSOs, and with more than ten FPSO owners located in Norway and Denmark, Ramboll Oil & Gas is already a strong player in this market and will grow further to win new FPSO contracts.
Equipped with expertise based on more than 30 years of experience in the industry working in the hostile North Sea and other demanding environments such as Arctic Greenland and the Arabian Gulf, Ramboll Oil & Gas is a major player in the development of oil and gas activities in Denmark. It provides all types of engineering consultancy services ranging from project identification, feasibility studies and planning to detailed design, procurement, project management, commissioning and decommissioning within the areas of production, treatment, transmission, storage and pipeline distribution of oil and gas.
As part of the independent and multidisciplinary Ramboll Group, Ramboll Oil & Gas has a comprehensive resource base of close to 700 highly qualified specialists with easy access to enlarging the pool of specialists working on local projects from the group's staff of 7600. Ramboll Oil & Gas' offices are located in Denmark, Norway, India, Abu Dabi and Qatar, close to its clients and partners to assure the efficient co-operation and smooth execution of projects. The company's engineers have executed hundreds of diverse and complex projects for a variety of customers worldwide including industry giants Maersk Oil and Gas, Dong Energy, Gazprom, Hess, BP, Hydro, ConocoPhilips and Statoil, with whom it has built long-lasting relations.
Ramboll Oil & Gas is the market leader in Denmark, with a market share of more than 50 per cent in providing engineering services to the oil and gas industry. Consisting of 12 specialised oil and gas departments located in Esbjerg and Virum (Copenhagen) providing services as well as oil and gas technology, the office in Denmark is staffed with 300 highly qualified employees permanently working on national and international oil and gas projects in countries like Denmark, Norway, the US, Russia, Romania, Germany, Italy, Algeria and Spain.
The operations in Norway, on the other hand, have 140 employees located in Sandefjord with branch offices in Oslo. Providing engineering services to a wide range of clients in Norway as well as to specific international clients including Kanfa, APL/Nexus, Statoil Hydro, Tallisman, Revus, ConocoPhilips and BP, Ramboll Oil & Gas ranks among the top five consultancies in Norway. The division in Norway provides specialist know-how within areas including FPSO design, offshore platforms, support to external projects, early phase studies from idea to FEED study level, new onshore
platform studies as well as modifications of existing platforms.
Ramboll Oil & Gas also has an office located in Doha, Qatar that provides engineering services to a wide range of customers in the Middle East. Staffed by 200 highly qualified engineers, designers and draftsmen with a multi-ethnic background from Denmark, India, the UK, the US, New Zealand, South Africa and the Philippines, this division specialises in the establishment of new offshore fields and in particular, the modification of offshore facilities as well as onshore installations for oil and gas treatment.
Ramboll Oil & Gas specialists ensure full compliance with all specifications and standards throughout any project, taking into consideration the need to be highly cost effective while providing flexible, up-to-date technology. All departments and business areas/units work closely together in the Ramboll Group, giving them direct access to an extensive network of expertise, which guarantees quality and consistency in its consultancy services.
Ramboll Oil & Gas was separated from Ramboll Denmark as an independent business unit on 1 January 2007. Ramboll Group deemed that the Denmark operation was ready to venture out on its own. As an independent business unit, Ramboll Oil & Gas will enjoy greater operational freedom and be able to proceed at an even faster pace with its international expansion. Ramboll Oil & Gas' offices in Denmark, Norway and Qatar are expanding at an impressive rate. With previous prominent projects in the offshore industry such as the Nexus FPSO, development of the Al Shaheen field offshore in Qatar, the Nord Stream pipeline from Russia to Germany, and the Tyrihans pipeline in Norway, part of Ramboll Oil & Gas' international growth strategy is to continue its rapid expansions throughout 2008. The plan involves the opening of new offices around the world from Aberdeen in Scotland to Abu Dhabi in the Middle East in the next three years, doubling Ramboll Oil & Gas in size.
Ramboll Oil & Gas
Services Offshore engineering services