First port of call
Located at the outermost edge of the Northwest coastline of Norway, Kristiansund features a beautiful natural harbour, surrounded by four islands connected by a series of bridges.
A thoroughly modern city, with a history spanning more than 260 years, marine and maritime activities have become a important part of its local trade and industry. Home to 23,000 residents, Kristiansund has experienced rapid developments over the last 15 years making it a crucial supply town for offshore activity outside of mid-Norway and the perfect base for companies like Vestbase.
Through its unique location, proximity to key transportation links, modern facilities, large volume capacity, efficient materials management and its clear focus on safety, Vestbase has been able to create a defined strategy of becoming the logistical partner of choice for the Norwegian offshore sector. With between 60 and 70 companies represented, Vestbase also supplies the Draugen, Heidrun, Asgard B, Njord and Kristin platforms and the production vessel Asgard A. In addition it also provides key support services to the Mikkel, Ormen Lange, Tyrihans and Morvin subsea-fields.
A wholly owned subsidiary of NorSea Group, Vestbase's activities cover an area of approximately 600,000 sqm, however its origins date back to 1970 when the political and administrative authorities of Kristiansund appointed its own oil committee, with the task of puting the city on the map for its oil-related activities. Following a series of submissions that were made to the Norwegian Parliament, the decision was made in 1975 to make the city the main service base for petroleum exploration activity in the region. A collaborative agreement between the municipality of Kristiansund and Statoil in 1978 ushered in the construction of the Vestbase supply base with exploration activity commencing two years later. In 1994 Vestbase spun-off to form an operating company and in the years since has grown to become the multi-stranded business it is today.
Boasting easy access to its facilities and nine modern quays, Vestbase makes for a particularly attractive harbour for large vessels and drilling rigs. Dedicated solely to project activity, quay no. 2 comes complete with a special bollard capacity of up to 300 tonnes, a large concrete sole at the rear and a customised area to carry out inspections and maintenance. Over the years the company has built up a substantial knowledge of the type of activities carried out in Norwegian waters and, together with its ability to provide a range of services, utilises this to perform services on an 'all-inclusive scope'.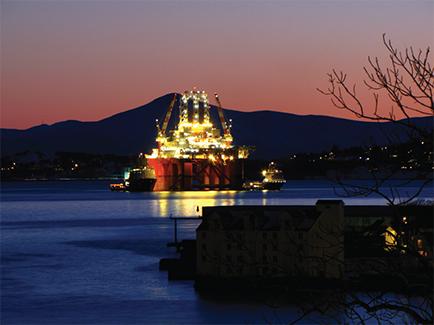 This concept, which includes naturally related logistical tasks, has been developed in such a flexible manner that it can be tailor-made for individual customers. One of Vestbase's departments to effectively use it is the terminal and warehousing unit. Targeted towards customers in need of logistical support it also has experience in the mobilisation of various packages and larger constructions from other harbours, both inland and abroad. As well as these skills the terminal department can also be used to dispose of indoor storage facilities in the most cost effective way possible.
Integrated into the terminal department customers can also receive quick, flexible and affordable transport solutions for their equipment, as well as optimal routines for logistics and customs clearance. Vestbase's ability to prove these services steam from its broad knowledge of the transport industry and its network of contacts in the field that help guarantee arrival of materials on time.
Although offshore related activities and developments represent the company's main areas of business, Vestbase is in a position to further develop its role as a regional logistics junction for traditional harbour traffic. It is hoped that by making this strategy a reality the company can create synergies with more companies establish in the surrounding area. Through its operational department, Vestbase co-ordinates all internal transport through its harbour, is responsible for the loading and offloading of all vessels and lorries and manages a range of equipment used to ensure the safe and efficient handling of goods.
Due to the nature of the work carried out in Kristiansund by Vestbase, it should come as no surprise that the company pays particular attention to ensuring the safety of its employees.
It is the view of Vestbase that no job is too important not to be performed safely and this is supported by a safety culture that is based on compliance, openness, continuous risk evaluation and a concern for fellow workers. Alongside a definitive safety guide detailing the various rules and regulations the company abides by, Vestbase employs an industrial defence team equipped with the latest safety tools and fully trained to deal with incidents involving chemical protection, fires, medical service and rescue operations.
Having taken massive strides in its four-decade existence, Vestbase continues to plan for the future with the hope of expanding its reach and facilities in the months and years to come. As a leading European logistics and services company, it's probably fair to say Vestbase has achieved its goal and put itself firmly on the oil and gas map.
Vestbase AS
Services: Logistics