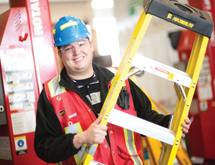 According to the Institute for Building Efficiency, atmosphere and productivity often go hand-in-hand. For instance, the organization notes that the inclusion of natural lighting can improve employee productivity by up to 23 percent and there are studies that show better indoor air quality can improve job productivity by 7.4 percent. As many successful companies have found, a work environment that promotes happy workers equals happy clients and those relationships form a promising foundation to build upon.
It's a philosophy lived out by Acden, a Northern Alberta company which has positioned itself as the strategic service partner of Alberta's oil sands producers. Acden is the umbrella company to a number of specialized service companies. Some are wholly owned subsidiaries while others are through joint ventures and equity partners.
"We offer a wide range of services, assisting clients with fleet maintenance, waste management, recycling, technical equipment cleaning, and janitorial and facility management," CEO and President Garry Flett says. "Acden has expertise in metal fabrication, machining, civil contracting, environmental consulting, civil earthworks and a broad array of engineering services. Our variety of services continues to expand to strategically meet our clients' growing needs."
Acden represents 17 different companies and more than 3,000 employees. The company, which was founded by multiple entrepreneurial members of the Athabasca Chipewyan First Nation, can attribute its growth to a number of factors but each one would tie directly back to an engaged workforce. And keeping its workforce engaged was a prime motivation behind one of Acden's most recent investments.
Improved Atmosphere
Designed by Stantec and built by Bird Construction, Acden's headquarters is a LEED Gold-certified structure sitting on the 131-acre Taiganova Eco-Industrial Park. Acden's 40,000-square-foot headquarters and its 20,000-square-foot fleet services facility are models of design and sustainability efficiency that benefit both employees and the environment.
"Environmental stewardship is a key component to Acden's success," Flett says. "It's important for the company to lead by example, holding our own companies environmentally accountable as well as industry… Our corporate headquarters building is the only LEED Gold-certified structure in the Regional Municipality of Wood Buffalo and our state-of-the-art fleet services facility represents our commitment to the environment and the wellbeing and safety of our staff."
The headquarters features a central atrium with a floating staircase and pedways to create a spacious environment. A flood of natural light reduces the need for artificial light and gives 90 percent of occupied spaces direct line-of-sight to windows. It also plays a part in Acden's 33.5 percent improved energy efficiency. The building's indoor air quality is improved through living walls, which increase oxygen levels and air purity.
The fleet services facility also boasts a number of sustainable elements, such as the water recirculation system that reuses 70 percent of water, solar panels and built-in systems that reduce the risk of spills and harmful fumes.
Acden's careful consideration of environment and employees serves as an example to competitors and clients within the industry.
"While we assist in keeping industry environmentally accountable, efforts in our own backyard must be environmentally sound," Flett says. "We own the largest waste management company in the region, which allows us to assist our clients with their environmental efforts and to ensure waste management on the oil sands sites is conducted to the highest quality possible."