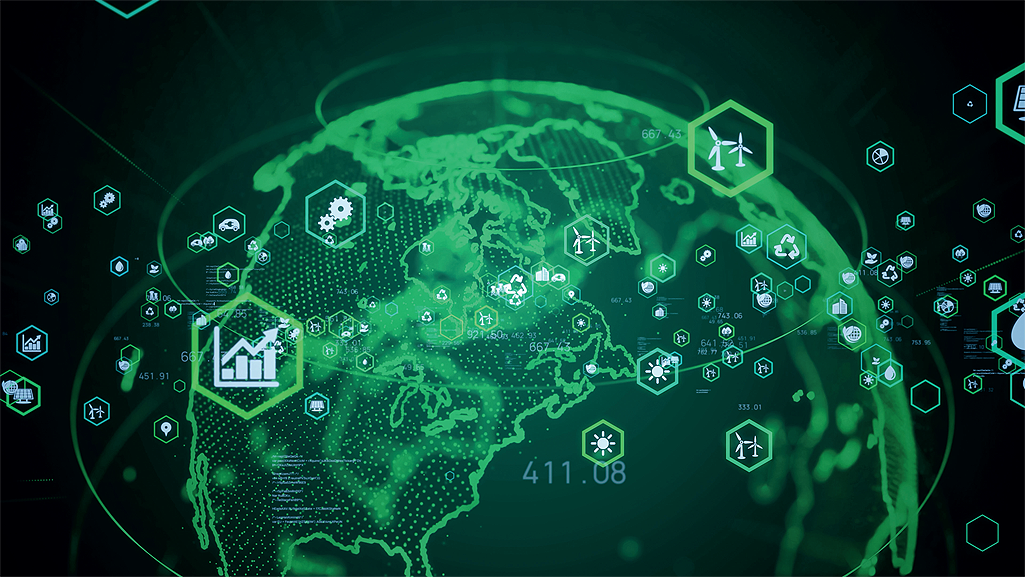 2020 represented an unfathomable pairing of catastrophes: climate change mitigation objectives falling out of reach and Covid-19. As a result, the global energy and utilities sector was forced to provide energy resiliency to sustain the world and at the same time, find balance between the urgent acceleration of activity related to energy transition and its response to the pandemic and the so-called 'new normal'.
Amid the disruption of Covid-19, it could have been easy to overlook the climate crisis – if it weren't for record heatwaves in Siberia, melting ice caps in the Arctic and raging wildfires across California. However, confronted with clear blue skies from Beijing to Los Angeles and a drop in emissions not seen in 100 years, a clear and undeniable signal was served: global warming is man-made. It also represented a stark reminder that climate change remains the crisis beyond the pandemic.
Beyond the obvious reasons for tackling climate change in the Anthropocene, it is evident that in and of itself it's an effective risk-multiplier and capable of contributing to the creation of pandemics. Rising temperatures can melt permafrost, releasing viruses, and create hospitable conditions for the spread of infection, while destroyed ecosystems can displace animals in a way that increases the chance of pathogen crossover. By the same token, a reduced demand on natural resources, stabilizing greenhouse gas emissions and reducing greenhouse gases emissions could mitigate the risk of pandemics.
Yet the significant carbon reductions triggered by the impact of Covid-19 on industries such as aviation are not a panacea, and the world is far from the Paris Accord targets of limiting temperature elevation to between 1.5 to 2°C without significant strategic action.
No silver bullet for the climate crisis exists
Climate change represents a complex problem that's interlocked in sometimes unforeseen pairings – all of which will impact and define our future. Given the expansive nature of these challenges an equally complex solution is required.
What's called for is an energy transition consisting of a chorus of different initiatives working in unison, towards the same goal, at scale, and with the right level of investment to have the genuine impact.
There won't be one single technological breakthrough in the next two to three decades that will address the climate issues of today. However, technology will certainly play an important role in shaping the industry's future.
Hydrogen, carbon capture utilization and storage and biofuels are all likely to contribute to decarbonizing the interconnected global energy system. In fact, research we undertook in partnership with Breakthrough Energy identified a total of 55 high-impact technologies as the most likely to deliver transformational results, speed economic recovery and help ensure Europe can meet its over the coming years1.
The viable solutions we have identified present a clear economic argument for climate action. Together they have the potential to create an annual market of net-zero goods and services totalling up to €790 billion of gross value added per year, to reduce emissions by 871 MtCO2, and to create nearly 13 million jobs by 2030 (through both new jobs and the transformation of existing ones). More so, every €1 invested in this portfolio of clean technologies is predicted to generate €9 of turnover in European markets by 2050. This represents a welcome and significant result in the face of a major recession likely to follow the Covid-19 pandemic.
Paving the way ahead
Despite the financial impact of the Covid-19 crisis, we're seeing that energy and utilities players are taking positive action by prioritizing the fulfilment of energy transition projects, and energy transition is set to define 2021.
For major oil and gas companies, it has become critical to respond to green opinions and stakeholder pressure, and leverage energy transition to diversify their business at a time when oil peak has probably been reached in various regions. These conditions mean oil and gas players must urgently find ways to move forward, while also considering the incredible challenge of reducing their Scope 3 emissions – which make up 75 per cent of their total emissions – to be carbon neutral by 2050. This will include investing far more in energy transition than just 0.8 per cent of their CapEx – the current low average that must be considered against pandemic-induced financial pressure.
Energy transition funding will increase this year at both government and organizational levels, resulting in the green recovery funds accelerating development of technologies such as smart grids, green hydrogen and batteries. We will soon see more public funding made available for green hydrogen (inter-seasonal energy storage carriers) triggering a positive impact on renewable gencos down the line. Meanwhile, smart grid deployment at scale has begun in earnest for major transmission and distribution projects. Over the next decade, hundreds of billions of euros will be invested into these technologies to drive progress.
While global energy transition requires the development of several technologies, its long-term success is tied to meeting various market conditions. This includes keeping technology costs acceptable and scaling technology quickly to create large markets. The transition also involves the evolution of grid tariffs, skills development, political willingness and public support – including subsidies.
These are all ingredients available to us in 2021. Consumers are increasingly demanding a cleaner and greener planet and even financial institutions are beginning to respond by investing in clean generation sources, decarbonized energy uses and energy efficiency. In truth, these are obvious moves, given that the RE100 (the global group of businesses committed to 100 per cent renewable power that Capgemini is a member of) demonstrated two years ago that the firms leading in energy transition outperform their peers financially.
Yet while energy transition has become the raison d'être of most European energy and utilities players and a core mission statement of many governments, the world isn't moving fast enough. Even in areas like Europe, where energy and utilities players are aligning climate vision and strategy with advancements in technology, their efforts are not aggressive enough to meet the demands of the climate agenda. There is no silver bullet solution, no technological breakthrough expected to address these issues. And so, we need to act now – every country, every company, every consumer. Europe alone cannot fix the problem.
1FIT FOR NET – ZERO: 55 Tech Quests to accelerate Europe's recovery and pave the way to climate neutrality – Capgemini
CAPGEMINI
Philippe Vié is Group Vice-President Energy & Utilities at Capgemini. Capgemini is a global leader in consulting, digital transformation, technology, and engineering services. The Group is at the forefront of innovation to address the entire breadth of clients' opportunities in the evolving world of cloud, digital and platforms. Building on its strong 50-year heritage and deep industry-specific expertise, Capgemini enables organizations to realize their business ambitions through an array of services from strategy to operations.
For further information please visit: www.capgemini.com