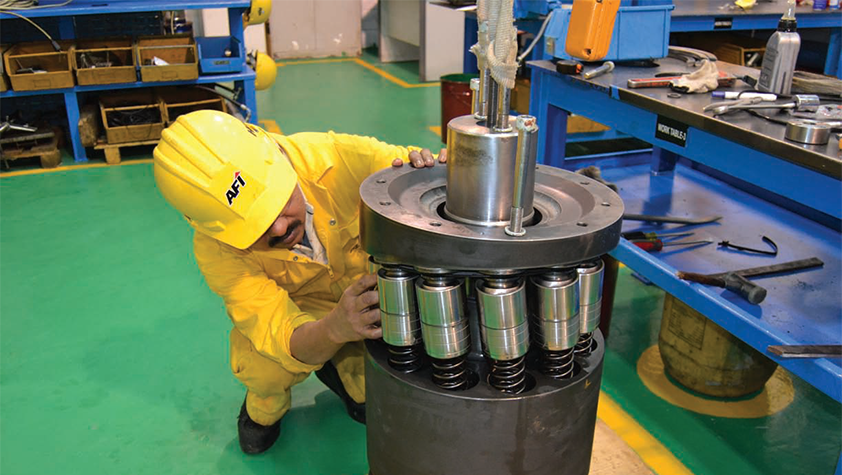 Success for industry
The full name of AFI – 'Alaa for Industry' – is a perfect representation of how the company regards its customers and operations.
"Alaa is an Arabic word which is connected with 'success' and it encompasses a lot in terms of how we serve a variety of industry sectors with a vast range of products," explained Brian O'Sullivan, CEO. "Our objective is to provide high quality, in-depth engineering solutions to industrial companies in the GCC region, with a strong focus on customer service."
Founded in 1984, AFI remains a privately owned Saudi company. "We have grown to have 1000 employees based in 18 branches across four countries – Saudi Arabia, Bahrain, Kuwait and Qatar. We are financially a very strong company and we have ambitious aims to grow further over the next few years," added Brian.
Although the range of services offered by AFI is too vast to list here, its main activities include:
Fluid power – hydraulics, pneumatics
Design/manufacturing of hydraulic systems, power packs, cylinders, seals and hoses
Supply and after-sales of components
Power transmission products – bearings, belts, chain drives, electric motors, gearboxes, etc.
Capital equipment
Truck mounted equipment
Foundation equipment
Weighing & lifting products
Manufacturing
Vacuum jetting tankers/super suckers
Hydraulic cylinders, power packs
Rubber and gasket products
AFI provides these and many other products to over 2000 customers in the GCC region, including renowned blue-chip names such as Aramco, SABIC, Qatar Gas, KNPC, Arcelor Mittal and Halliburton. Brian credits the diversity of the product range as one of the company's main strengths, but also highlights several others: "We also cover the full lifecycle of products, so we distribute products, have manufacturing solutions in-house and offer after-sales services," he said.
"We represent some of the leading brands, so our strategy is to represent the number player in the global market. So for example we represent Parker Hydraulics, ASCO Pneumatics, SKF Bearings and are an agent for DuPont.
He added: "In the oil and gas sector this is obviously very important. So our approach is all about getting it right first time. This works hand-in-hand with our technical expertise and can-do attitude – companies know they can come to AFI for solutions to their technical problems."
When it comes to the oil and gas sector specifically, AFI is a leading provider of loading arm installations and service and overhaul work for loading arms. "We represent Emco Wheaton for these products and we have been winning a number of contracts with Saudi Aramco with KNPC in relation to loading arm overhaul, supply and installation. Last year we did over $5 million worth of loading arm projects," noted Brian. "A recent addition to our product line up is Ingersoll Rand air and hydraulic winches, which are used on oil platforms and refineries."
He continued: "I think what our oil and gas customers want is a total solution, they want us to deliver on time, to the highest quality standards with the correct documentation and with proper backup and after-sales service. They return to AFI because we can provide that level of service and that coverage across the region."
Brian sees this combination of strengths as the foundation of future accomplishments. "We want to continue to be successful in winning contracts with large scale industrial customers and develop expertise in new areas," he said. "So for example in the last three months we have won some significant maintenance, repair and overhaul (MRO) contracts with international corporations."
In 2013 AFI is also focusing on a major expansion project, as Brian highlighted: "We are building two new factories, to meet the increasing demand for local manufacturing. And in fact, one of these factories is going to be a facility where we undertake the refurbishment and repairs of products for a local company, which is active in the oil and gas sector.
"Both of those factories will be taking up a lot of our time this year in terms of getting them finished, and we are also expanding our workshops in Qatar, as well as working on ASME certification for pressure vessel manufacture.
"It is our target to double our turnover in the next three years and so far this year we are well on the way to achieving that objective. I think we are well positioned for the challenges and the engineering opportunities that present themselves in the oil and gas sector in the GCC and I believe there is more potential in this market.
"Our message to any company, whether they are in engineering, drilling or servicing, if they are looking for an engineering or maintenance solution or a fluid, then they should contact AFI. We can give professional assistance, access to a network of technical expertise available throughout the GCC region, and offer an exemplary standard of quality."
AFI
Services: Engineering products and services for hydraulics, pneumatics, transportation, power transmission and industrial equipment