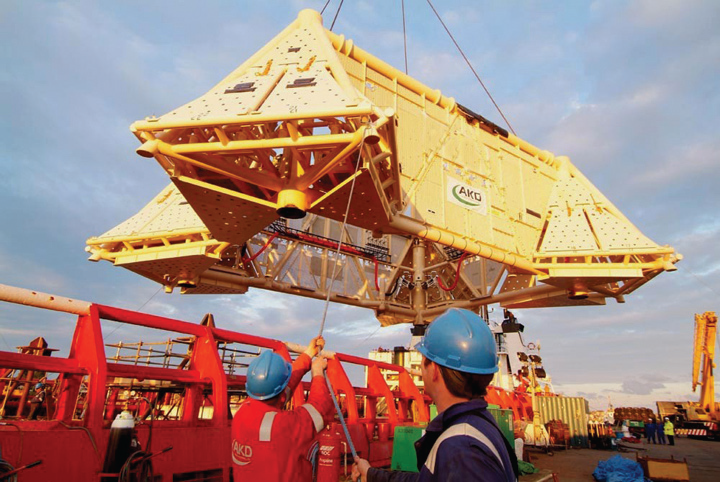 Engineered to last
Since its foundation in 1955, AKD Engineering Ltd has been providing medium to heavy fabrication, machining and assembly services to a wide range of industries.
Specialising in long-term supply partnerships, AKD can also provide a full suite of offshore services to cover most workscopes on any offshore installation in the world. Based in Lowestoft, UK, with adjacent dockside facilities, the AKD site spans 7.5 acres, with major continuous investment making it one of the best-equipped facilities of its type.
Having primarily served the oil and gas industry in the past, in recent years AKD has diversified its activities into other markets and capabilities. "We have expanded our portfolio into the design and project management of contracts, in order to bring added value to these projects. We've also moved into other market areas such as nuclear, renewable energy and decommissioning. Rather than just being a supplier or subcontractor to original equipment manufacturers (OEMs), we now also work directly with operating companies, so we've seen a move up the supply chain," explains Mark Jones, managing director of AKD.
One of the most prominent activities in these new areas has been AKD's role on the major decommissioning of the Inde Field, which ran for 22 months at a value of £12 million turnover. In addition, the project was completed without a single lost time accident (LTA) in line with AKD's impeccable safety record. "During this project we became a major supplier for both the onshore and offshore engineering sectors, and this has added a new wing to the business," notes Tim Crane, projects manager of AKD. "Since then we have been approached by other companies, and have become more of a turnkey supplier interfacing with subcontractors, undertaking design and installation work, and other complete lifecycle services."
Whilst the offshore decommissioning market is still an emerging sector, it is apparent that demand for these services is increasing, as well as within other industries such as nuclear. These activities include the removal of platforms and facilities, or work to place them in a safe condition for maintenance, as well as supporting engineering and fabrication work. "The oil industry is also changing as the wells become less economic, with smaller end of life operators acquiring these assets from major oil companies, and in doing so they also incur the decommissioning costs. In order to make these activities more cost-effective often you see modification of assets into unmanned facilities, or part decommissioning," describes Mark.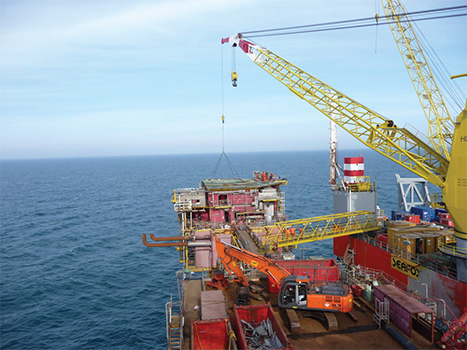 In recognition of the many different activities within this sector, AKD is looking at establishing partnerships and joint ventures with other companies that have complementary expertise in the decommissioning industry. In particular the company is in the process of finalising a major agreement with a leading industry specialist. Mark comments: "I think that this a key driver in this market – looking to bring together different skills in order to offer a single solution to the operating company and this is something we are keen to be a part of. Certainly we see partnerships as a way forward, rather than the subcontractor/contractor relationship that is currently adopted by the industry."
AKD enjoys ongoing support and investment from its parent company Camellia PLC in bringing these new services into the company's portfolio. AKD has also invested in the development of new procedures in order to deliver them effectively. The company has a long-term history of considerable investment, not only into its equipment and facilities, but also into its workforce. "We've certainly developed our personnel and skills set, which is subject to an ongoing review, as well as other aspects like new welding and cutting techniques," highlights Mark. "I think the strategy is to become a one-stop-shop provider, as clients are looking for that single solution, so our aim is to be able to provide engineering, project management, fabrication and transport services from the local quayside, and then installation and commissioning work on site. Located where we are, with easy access to the water, means that we are also increasingly looking at bringing our services to areas that are not easily accessible by land."
One of the more progressive features of AKD is its extensive apprentice programme, with approximately ten per cent of the company's current workforce made up of apprentices, in a bid to reduce the skills shortage in the local area. This commitment to training and expertise is also apparent throughout AKD's entire workforce, and it is this investment into each employee that enables the business to yield such high quality results. In addition to supplying its personnel to its own projects, AKD also offers a one-stop-shop personnel service to other companies requiring skilled labour. This includes engineers of all trade disciplines, both onshore and offshore, for all sectors.
Despite the fluctuating oil price, the oil and gas industry has remained relatively flat in terms of manufacturing work in recent years, although AKD benefitted from the ongoing Inde project when the recession struck. However the company is already seeing signs of an upturn for 2011, as demonstrated by its current project for repair of waste heat recovery units for West Africa. "This is quite a sizeable high-value contract that is likely to run for a number of years," explains Tim. "There are several parties involved in this project, and again this is where our engineering capabilities have been utilised in developing several different solutions. We estimate that this will require approximately 10,000 hours of fabrication in total, which indicates the scale of the project."
With these positive signs of recovery apparent, and the company actively working on bids for other decommissioning projects, AKD appears to be strongly positioned to take advantage of these growing, and lucrative, new markets. Looking a little further ahead, Mark concludes with his vision for the business: "We would like to see the company at twice its current turnover with strong joint ventures in place, which will increase our offering and market share in our chosen sectors. I think we need to continue to diversify into the nuclear decommissioning market, as well as offshore decommissioning, whilst still maintaining our foothold in the oil and gas industry on projects such as end-of-life modification and gas compression. Security of energy supply is critical to the UK and AKD will be a major link in that supply chain."
AKD Engineering
Services: Engineering, manufacturing and offshore Services