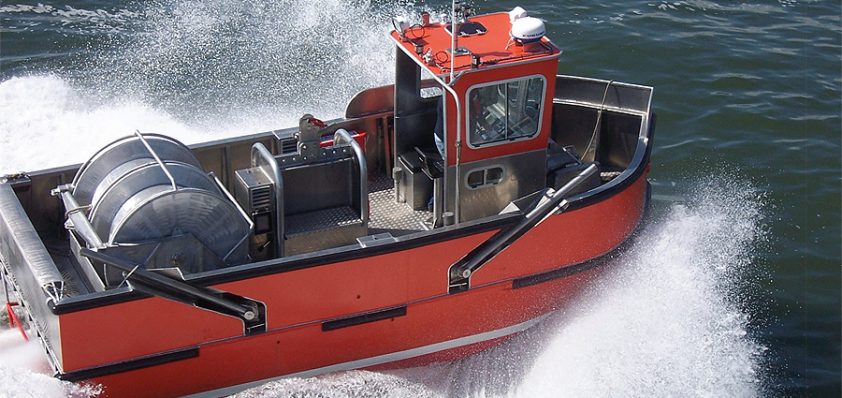 Every boat counts
As a specialist in the design and fabrication of aluminium alloy workboats, British-based Alnmaritec provides solutions for clients across an array of industries.
The company employs 40 people in the construction of boats designed to survive in some of the harshest conditions worldwide, and has, through its reputation for quality, built a global customer base.
Managing director Chris Millman attributes Alnmaritec's success to its flexibility in confronting new challenges: "We have five naval architects here in our design office, and provide our employees
with comprehensive training programmes. Owing to their expertise, every one of our boats is bespoke according to our customers' requirements. Our team works closely with clients during the concept and production stage to ensure that we get everything right.
"It is possible for us to modify boats from our existing range, but last year we started from scratch with three completely new designs. We provide our clients with precisely what they require, rather than forcing them to select from a standardised range. Once built and sold, our teams will frequently visit the boats when theyare in operation, in order to help us further improve our designs in the future."
Over the course of its 15-year history, the company has worked on hose and line handling boats, aquaculture and fish farming boats, fire and rescue boats, and passenger ferries, amongst a variety of other designs. Some of its creations have been particularly successful; for example, the company developed a line and hose handling boat that has become an industry standard. Alnmaritec has since built around 20 of these, and they are now operating on FPSOs all over the world.
"Each offshore client has its own operating methodology," says Chris. They might ask for water jets, or propellers, or different stern arrangements. Some of them may have weight or space restrictions, or a need for explosion-proof electronics or a deluge system; there is a huge variety of specifications to which we need to work."
Alnmaritec has delivered boats, for a variety of purposes, to more than 25 countries around the world, and boasts several blue-chip companies amongst its client base. "We have sold many line and hose handling boats into operation with Exxon Mobil and BP," says Chris. "Several of those are now operating out in places like West Africa, Angola, Nigeria, and Cameroon. Furthermore, SBM, who operate many of the FPSOs, have bought a number of our boats."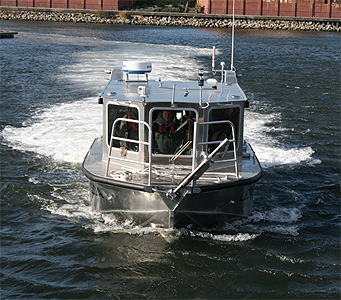 Alnmaritec's commitment to the design and construction of tailor-made boats is accompanied by the company's guaranteed provision of life support services for each of its products. As part of this, Alnmaritec is able to offer training for both basic boat maintenance and operation, which can be completed in one of two ways. Firstly, it is possible for the company's instructors to support clients on site, offering bespoke training to crews. In this way they can help to ensure that the proper working practices are adopted, and that an effective maintenance programme is in place.
Alternatively, a UK-based training programme is offered from RYA and MCA-approved instructors. Once more, courses can be designed to suit customers' needs, and range from basic introductory lessons to five-day courses. The latter of these provides a full range of practical and theoretical skills required for the safe operation of the boat.
Despite Alnmaritec's prestigious variety of clients, the company is working to further broaden its presence in the market in the next few years. To this end, the business is in the process of further broadening its product range. "We are currently finishing the prototype of a combined fast rescue and workboat," says Chris. "That has come out of the needs of our customers in West Africa, and hopefully we are going to be able to develop and deliver it to them. Elsewhere, we are building three line handling boats for an LNG terminal operating out in Yemen, and this will be the first time we have been operating out on LNG sites.
"There are a variety of operational needs in the offshore sector that we must continue to meet with our boats. We have, for example, just designed a boat from scratch for a seismic company, which will be used for tending to their streamers. That is another part of the offshore market we are looking to move further into in the future."
Continued growth is clearly an important objective for Alnmaritec, but Chris believes that maintaining high standards, rather than making radical changes within the company, is the key to this. "We'd like to build on what we have at the moment," he says. "We have no plans to dramatically change what we are currently doing, and hope mainly to consolidate our position as a supplier of quality products to the market."
Alnmaritec Ltd
Products Aluminium alloy workboats