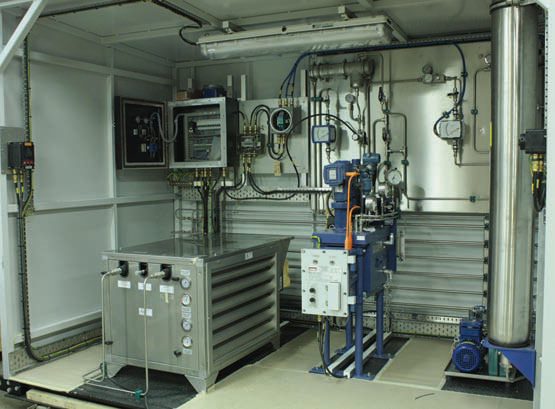 Analytical Technology & Control Ltd (ATAC)
Centre of excellence
Leading manufacturer of American Society for Testing and Materials (ASTM) approved online physical property analysers for the world's major refining firms in the oil and gas markets, Analytical Technology & Control Ltd (ATAC) also designs and manufactures a wide range of bespoke analyser systems, such as analyser cabinets, field houses, sample conditioning systems and sample recovery units.
Established in 1993, the Wiltshire based company enhanced its service offering and system integration capabilities with the acquisition of Sysco Analytics in 2002; Advanced Holdings, a Singapore based leading global supplier of equipment and products to customers in the energy industries, acquired ATAC eight years later in 2010. "Through acquiring the assets of Sysco we gained two established brands, Hallikainen and Hone, which have both been synonymous with physical property analysers since the 1960s," says Daniel Merriman, sales and marketing director at ATAC. "Meanwhile, the synergistic acquisition of ATAC by Advanced Holdings has led to us working with two other divisions, California based Guided Wave, which manufactures NIR & UV/VIS analysers for the petroleum and chemical industries, and Advanced CAE, a larger scale system integration firm that is able to execute turnkey packages to the oil and gas industry."
The acquisition of ATAC has resulted in the company gaining a unique position in the market as it now has the facilities to offer turnkey analyser packages to its customers on top of its core business; these packages include equipment such as sample systems and analyser houses. "This extended capability results in a greater added value to our customers," enthuses Daniel. "Being part of the Advanced Group also gives us the opportunity to develop new product lines and also update various other systems in our product range for release. The recent acquisition of ATOM Instruments is an example of this, by gaining access to the company's advanced technology, we can create new and exciting products for the petrochemical and refining industries."
A recent new product, the ATAC 1077 viscometer+, was added to the company's portfolio of online physical property analysers in January 2013. Setting the standard for viscometers, the product incorporates a unique responsive touch screen that has a Zone 1 IIC rating without the need for purge air. Its modular control assemblies are all plug and play, communicating through an internal CAN-bus that offers immediate and comprehensive diagnostic capability. Furthermore, the optional addition of a second oil bath to the viscometer+ enables measurement of viscosity at two different reference temperatures, providing a very precise Viscosity Index in accordance with the ASTM strandard. "Through the development of our new viscometer, particularly with its unique touch screen capabilities, we have effectively developed a new common platform for our other products. Over the next two years we will be launching new versions of our analysers, which will boast innovative electronics, touch screen and software," says Daniel.
With increased demand expected, the company is busy expanding its R&D facilities, as managing director Paul Warburton highlights: "We currently have a very active R&D programme, which has led to an increase in personnel to be a part of these exciting developments. We are also in the process of expanding our R&D facilities here, with two more rooms being constructed. Advanced Holdings is also supporting us financially during this process as it views ATAC as a centre of excellence for research and development."
Following the recently launched viscometer+, the company is also due to release a new and enhanced version of its cloud point analyser. As well as having a more rugged measurement cell, the new analyser utilises digital rather than the earlier analogue control to significantly improve the precision of cloud point detection. The new version cloud point analyser is also capable of switching between very different petroleum products without the need for operator intervention. ATAC has also introduced hardware improvements that have reduced the product's maintenance requirements. "The introduction of our newly upgraded physical property analysers is a major focus for us right now; a new vapour pressure analyser is also due to be released soon," says Daniel.
On top of manufacturing, the company offers maintenance, training, commissioning and consulting services to its customers, so it is imperative staff are fully trained and prepared for working in hazardous areas, as Paul elaborates: "We invest a lot in the training of personnel, particularly when you consider everything we do is related to hazardous operations, we need to ensure our staff not only design and build analysers, but can also offer high quality services such as maintenance to the required standards of the industry." By rigorously training its staff to be fully qualified with up-to-date credentials, the company can retain a competitive edge over other firms. "When we present these credentials to our customers, we prove that we are competent, trained and certified to any current regulations that are in place at any refineries around the world," adds Paul.
Following the acquisition of ATOM in 2013, the company is focusing on the aggressive schedules it has in place to develop new products throughout the rest of the year. It is also executing a major new project to supply multiple analyser systems for the BP Claire Ridge offshore platforms. Looking further ahead, ATAC has a strategic aim to double the size of its business over the next three to five years through increased product developments and acquisitions. "We are also looking to develop a presence in areas that we may not have had much focus on in the past, such as the Americas, and being part of the Advanced Group gives us immediate access to China and the wider Asia Pacific territories, there is a great deal of economic growth and potential," concludes Paul.
Analytical Technology & Control Ltd (ATAC)
Services: Manufactures online physical property analysers