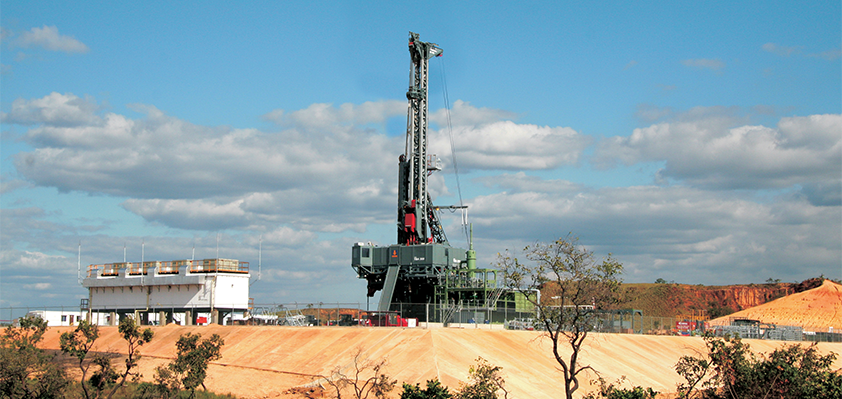 A depth of talent
"As it has only been five years since the company made the concerted decision to enter the oil and gas sector with its TBA Series of rigs, Bauer is still very much a young upstart in this industry," says Ulrich Schoepf, deputy sales director of Bauer Maschinen's deep drilling division.
"Looking back on this decision, one can see quite quickly that it was a sensible move to make, with the decision to introduce its deep drilling rigs into this field of expertise subsequently opening up oil and gas based opportunities to the complete group of Bauer companies."
A part of the Bauer Group, Bauer Maschinen is today recognised as one of the most respected names in civil engineering technology. Drawing upon its 40 years of experience manufacturing civil engineering equipment, the company first began selling drilling rigs to third parties back in the 1980s. With its first deep drilling rig concept complete by the end of 2007, then being displayed to the public in April 2009, the company now offers a full range of automated deep drilling rigs."
Central to the group's success, in Ulrich's opinion, are three major strengths, the work of its research and development team, the expert design of its equipment and its unrivalled level of service, elements that are naturally tied together in a number of ways: "One of the things the company has always been renowned for is its ability to innovate, and it is in part because of this work by the research division, carried out in conjunction with Bauer Maschinen's product management team, that its equipment and design possesses a level of flexibility that offers perfect solutions to meet the different market and project requirements of its customers," Ulrich continues.
When it comes to providing an unbeatable quality of service the company is able to call upon Bauer Group's extensive global network of over 100 subsidiaries in approximately 70 countries. As well as being able to harness the capabilities of these in-house service centers, Bauer Maschinen is also able to offer tailor made service programmes to suit individual client needs, these are supported by tailored training programmes that its clients' employees are able to attend prior to commencing operations.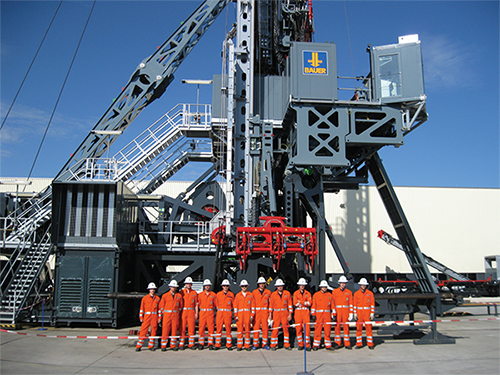 "The last time we spoke, back in 2010, the focus was primarily on the capabilities and introduction of the company's TBA 300 series rig," Ulrich says. "Where the company is today, the rigs in question have been fully tested and are now in place, a fact that has allowed Bauer Maschinen to downsize and upgrade its product range, giving it two distinct lines, the trailer based line and the modular line. The trailer based line was downsized to a 100 tonne rig, making the TBA 100 the company's smallest deep drilling rig, while the largest is its modular TBA 440 M2, a rig it is particularly proud of and one that has received a great deal of praise for from many of the market's major players."
Used for double drill pipe operations, a special feature that sets the TBA 440 M2 apart is its specially designed vertical pipe handling and storage system. The rig's hands-free pipe handling system is an added feature that answers to increased customer demand for a high level of equipment automation and safety. The complete pipe handling and storage system is able to remain situated on the rig, including fully loaded pipe racks, during rig moves with skidding, walking or wheel systems.
"The increase in rig size, epitomised by the TBA 440 M2, has been a logical consequence of the company becoming much more of a global entity," Ulrich highlights. "Establishing itself in different markets – from desert to arctic areas – inevitably means having to tackle different depth applications and by having rigs that range from 100 tonnes to 500 tonnes, the company is able to cover a much wider spectrum of drilling applications than it previously would have been capable of."
With the level of competition in the deep drilling market intensifying on a constant basis, and with US and Chinese manufacturers continuing to dominate the market for conventional drilling equipment, business conditions for Bauer Maschinen clearly remain challenging.
Nevertheless, for Ulrich, the company's priorities remain crystal clear: "What Bauer Maschinen will continue to do is strengthen its product range and expand the degree of automation of the rigs while also focusing on improving its manufacturing capabilities in local markets. This will in turn increase the amount of local content in the company's products, satisfying the demands of particular countries and ultimately playing a part in achieving the company's main goal, and that is making itself a much more prominent player in the years to come."
Bauer Maschinen GmbH
Services: Drilling and civil engineering equipment