Modern thinking
With decades of experience and heavy investment in technology, the Wabtec owned company, Bearward Engineering Ltd is one of the largest producers of industrial radiators in the world.
Growing annually since it was founded in 1958 the business is now based on a 40,000 square metre site in Northampton, UK. Supplying to the world generating set market, as well as supplying radiators for pumping and construction equipment, off highway, and other specialist equipment, the business manufactures over 35,000 radiators a year with a turnover of £50 million.
In an industry that has seen increasing requirements in the reduction of noise and emissions pollution, the business puts great emphasis on innovation and technical expertise. Leading the way for the industry, it has developed a new range of sectional radiators that provides customers with the most advanced range of cost effective material, backed by the worldwide and immediate after sales support. The applications and installations of the products are many and varied, from engine mounted to power modules, and purpose designed low airflow, high pressure reserve units for high acoustic applications, and as such, Bearward manufactures a range of radiators to cool engines from 500 KW to 3MW including conventional jacket water radiators and water/charge-air configurations.
The company works closely with a large customer base covering the main manufacturers in the power generation and construction market such as Caterpillar, Cummins, MTU, Mitsubishi and SDMO. Recognised as a leader in innovation, the success of the business is attributable to a combination of modern thinking and a base of traditional experience as UK sales manager Matthew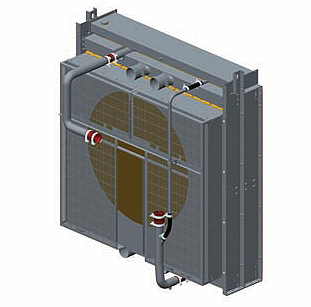 Eggleton explains: "Bearward has a number of old-school engineers combined with modern technology, which allows us to be very quick to market with new designs/bespoke applications. We have developed a product, which allows on site serviceability for any size of engine, and which is also designed to eliminate the failures associated with thermal expansion within cooling systems – this is our innovative sectional core solution."
Sectional radiators give huge benefits to end users for all markets. The sectional cores principally split one large cooling surface into many smaller modules, and the sectional product is designed in such a way that they can be individually removed whilst the cooling system is in situ for maintenance or replacement. Ultimately, a cooling system that is maintained will provide superior cooling performance against one that is not. Section removal can be completed by hand without the need for heavy lifting equipment and for critical applications and sites, spare sections can be kept on site for quick changes. "We use the analogy that it is similar to a spare wheel in a car," points out Matthew, continuing: "The sectional core removes all gasket joints associated with traditional cooling systems. The section is designed to float within rubber seals removing the thermal stress to the cooling surface and isolating from heavy vibration." If a radiator is damaged, sections can be replaced on site making repairs much quicker and easier, additionally assisting cleaning if the radiator is operating in dirty conditions.
Belonging to the Wabtec Group, the business benefits from the ability to expand globally, setting up facilities in the local regions as it does. "Enabling local serviceability and manufacture reduces the total cost of the product. As part of the cooling group within Wabtec we have the ability to share technology and resources with sister organisations such as Young Touchstone and Unifin," explains Matthew. "One of the biggest threats to Bearward are the many lower cost producers of cooling systems, which are popping up globally. However, it is our trusted sectional product and global manufacturing ability that ensures we can keep these threats at bay," he adds.
Renowned worldwide for its customer service, Bearward remains focused on its clients beyond the point of purchase, offering its comprehensive world-wide aftercare service. As part of its fast and efficient response to all service and repair issues on a global level, all parts are supplied with full warranty promoting the quality and reputation the company has worked hard to build. "We have state-of-the-art R&D facilities that are continually sharing data within the group, which ultimately supports new developments," says Matthew. The most recent introductions are aluminium sectional radiators that have a direct cooling performance and dimensions to the copper brass sectional product.
Manufactured with the aid of the latest automated processes, quality is absolutely consistent, and Bearward's sectional radiators give the highest levels of process control. Beyond the continuous and targeted developments of the product line, as the company looks towards the future Matthew highlights the strategy, destined to ensure that the next five years will be as positive as the last few decades: "Our aim is to keep a heavy focus on pushing our global presence, setting up local sub assembly and service locations, effectively complementing and supporting our continually improving portfolio."
Bearward Engineering Ltd
Services: Manufacturer of industrial radiators