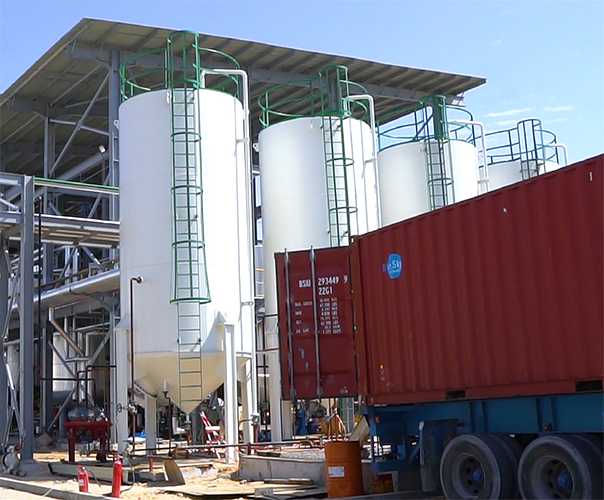 Clean and green
Working for the benefit of the world's future, the BioD group is striving for a sustainably conscious society through its processing of waste-based feedstock into biodiesel
With COP26 at the forefront of many governments' agenda, it is imperative to bring together sustainable strategies to prevent the rise of the average global temperature by 2.5°, an increase which could have devastating consequences across the world. This is why BioD Energy is determined to play its part in supporting India and the United Arab Emirates to reach their net zero goals. The business' model, which
processes used cooking oil feedstock into biodiesel, was built on the idea that any sustainable development should be 100 percent independent of alternate activities, such as those that have been leading to increased deforestation. Accordingly, the BioD Energy model was created to be able to perform without contributing to water wastage or environmental harm.
In 2015, when the business was established, Shiva Vig, the current CEO, decided to explore the market of used cooking oil (UCO) collection, with the intention of exporting the end-product to Europe. "When the construction of our plant was almost complete in 2018, India's government placed a ban on the import and export market of biodiesel. Our original plan was to set up our unit, access waste-based feedstocks and exploit the potential of the European market, but as a result of the ban, we were forced to focus on local markets. The policies in place continue to be a challenge as we cannot import or export our feedstock or end product. At the moment, the biodiesel industry in India is in quite a bad shape. We have about one million tons of capacity in the country, yet we're only utilizing about five to seven percent. This is why we decided it would be better to move where we have access to good feedstock, and where the policies are stable, and won't be changed overnight without consulting the target industry," Shiva says.
This is what lead the business to plant stronger roots in Dubai. The Arabian emirate was one of the first few countries in the MENA region to setup a biodiesel production facility that utilized used vegetable oil. In 2012, the Road and Transport Authority launched Green Buses that further confirmed the benefits of producing biodiesel. Under the name BioD Technology, operations and directives from
BioD Energy aligned their goals according to the Dubai Integrated Energy Strategy 2030, which aims to focus on improved energy generation and consumption practices, and contribute to the development of a sustainable future in which carbon emissions and fuel costs decrease significantly.
With two locations set up and running successfully, there is no doubt that operations of this level depend heavily on state-of-the-art facilities, and Shiva notes how the company's infrastructure was conceptualized to lead by example. "We have 200 tons per day feedstock-based plants,
and we own the technology because we do not get a third-party to do the installation. Instead, we reached out to chemical engineers and architects and purchased the machinery from around the world to bring the refineries together. Additionally, we have our own water treatment facility to ensure that no waste leaves our boundaries.
"The goal within our team is to drive sustainability and value. In Northern India, we are the largest UCO collector, and the truth is that waste collection of cooking oil is not easy. However, it's within our DNA as a company to ensure that we are striving to overcome the challenges that are inherent in being a clean and green company," shares Shiva.
Keeping on the topic of its social responsibility, Shiva believes that biofuels will remain one of the most successful avenues to utilize on the path to net zero. "Although it might be limited by the number of feedstocks available, biofuel is also an immediate winner in that it doesn't require an extended wait time that releases carbon emissions before it is burnt and used."
The UAE and Saudi Arabia have announced their goals to reach net zero by 2050, while India has agreed to 2070. It is crucial that renewable energy sources are utilized in order to meet these targets. "Achieving those cuts means that we need to exploit every measure at our disposal. In India, our company is contributing to the circular economy by working closely with our partners, and collecting their UCO to replace that with biofuel. In the UAE, we are maximizing the full potential of our technology and investing in new materials to ensure that we're bringing down our carbon emissions by as much as possible."
Looking further ahead, Shiva and his team are working aggressively with India's government to come up with improved policies that will allow for India's biofuel industry to flourish. "There are so many opportunities here, and so far, the government have been very receptive, which is encouraging. I think it's only a matter of time until we truly understand the value of biodiesel, and once that happens, I feel it will open up tremendous opportunities for India," Shiva concludes.
BioD Energy
www.biodenergy.in
Services: Biofuel refinery