Great strength
Fully operational since 2010, Bow (Breakbulk and Offshore Wind) Terminal's core focus is to meet the long-term needs of the offshore industry through the provision of ultra-modern facilities and equipment.
Strategically located in the port of Vlissingen, the Netherlands, BOW is a subsidiary of the Kloosterboer group, a financially strong, independent, family run organisation that was established in 1925.
A leader in the logistic provision of temperature-controlled goods in Western Europe, Kloosterboer boasts more than 600 efficient and dedicated personnel at its seven terminals in the Netherlands where it offers services such as warehousing, processing, forwarding, stevedoring and customs. While the group has a clear interest in developing a strong foothold in the booming North Sea, it also has terminals located in Canada, the US and France.
Benefiting from the financial strength of its shareholder, BOW was developed to meet the demands of the offshore industry following a spate of investment into renewable energy in 2008. The market response to the newly established dedicated terminal proved positive upon its launch in 2010, with BOW's first contract awarded by Statoil for the Sheringham Shoal Offshore Wind Farm project in the UK. Comprising of the heavy lift of 88 transition pieces and monopiles for wind turbine foundations, the successfully completed project resulted in a spate of further contracts with major oil and gas firms throughout 2011 and 2012.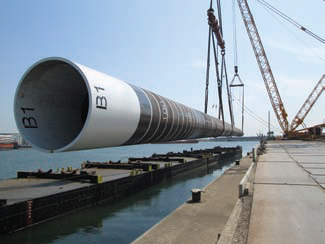 Previously featured in European Oil and Gas Magazine in November 2012, sales and purchase manager Arjen Pattenier discussed the terminals projects and services: "From 2011 to summer 2012 we have carried out more than 12 offshore projects from the small to much larger scale ones, including Moray Offshore, Ekofisk Offshore project, South Arne Offshore project, and Teeside Wind Farm development. During 2013 BOW terminal worked with the project teams on three major wind farms simultaneously. For Humber Gateway, Northwind and Dan Tysk we handled more than 490 heavy components including the cable reel and grout logistics. This was a big achievement for our team. The quality and safety standards were ensured by our OHSAS 180001 and ISO 90001 procedures, where BOW management committed itself to DNV.
"In 2014 the quay of BOW terminal will be extended with another 175 metres, including a heavy lift platform of 20 tons per m2. As well as the offshore wind sector, we also focus on breakbulk, project, and heavy lift cargoes for many of the same clients. In particular we see that more and more of the large oil and energy based companies also require storage and lifting capabilities for their general cargo, such as steel pipes, bars, and plates, which we can offer."
As increased growth of its operations continued, Kloosterboer acquired a further seven hectares of land from Zeeland Seaports in 2012 and invested in the largest fixed heavy lift crane in Europe the same year; the Gottwald MK,which has a lifting capacity of 1200 tonnes, was purchased to meet the anticipated continued growth of cargo size in the offshore market and offers customers of the terminal permanently available high-level capacity. On top of this, BOW has mobile harbour cranes, mobile telescopic cranes with a lifting capacity ranging from 40 to 400 tonnes, a range of cherrypickers, various mafi trailers, tug masters, flatbed trailers and SPMT's for loads up to 1000 tonnes to ensure complete flexibility for customer requirements.
Following these huge investments, BOW today ensures optimal logistical expertise through its experienced and committed personnel and high quality, cutting-edge equipment. Wholly capable of the reliable and efficient handling of customers' valuable materials 24 hours a day, seven days a week, the terminal runs an expert team of heavy lift supervisors, operators and riggers for the specialised heavy lift operations at its deep sea quay. Focused on riverbarges, jack-up vessels, installation vessels, river pontoons, coasters, floating concepts and northsea barges, BOW has a comprehensive portfolio of materials and equipment available to ensure its stevedoring department delivers high quality loading and unloading operation as well as the stripping and stuffing of containers, trucks and wagons.
Focused on breakbulk shipments and sawn timber shipments, the terminal's multi cargo division specialises in direct over board big bag shipments; to carry out these operations, the division operates six mobile cranes that boast a lifting capacity up to 100 tonnes as well as a fleet of forklift trucks with a broad range of lifting capacity. For container handling the terminal has reachstackers available, while IMO containers are handled or stored via the IMO stacking area.
With a strategic vision to become an integrated part of its customers' whole business operations, BOW owns and operates a 20 hectare storage facility, where it offers services such as the provision of all load bearing materials, skidding and jacking systems, smart engineering for the storage of heavy loads and the covered storage of high value cargo. On top of this, the terminal offers a broad portfolio of services including port agency and chartering, scaffolding, coating touch-ups, engineering and design and pre-rigging arrangements.
Ideally situated between the ports of Rotterdam and Antwerp at the mouth of the Western Scheldt estuary, BOW's strategic links and direct connection to the open sea makes it an attractive option for European oil and gas companies working on North Sea projects. Having developed an excellent reputation for providing high quality facilities and permanent heavy lift in a unique area over the last four years, BOW has accumulated an impressive list of returning customers. This trend for ongoing growth looks likely to continue as the terminal focuses on engaging customers at an earlier project stage and offering a total package solution of storage, shipment and handling.
BOW Terminal BV
Services: Heavy lift specialists