A new plastics recycling paradigm
Founded in San Francisco in August 2016, Brightmark Energy (BME) has a very clear mission statement, and that is to change the way the world views waste. Led by an executive team made up of highly experienced renewable energy industry veterans, the company is driven by its desire to create significant long-term value – and have a positive global impact – by delivering waste and energy solutions.
It is perhaps fair to say that the emergence of a company like BME could not come at a more critical time, with the vast majority of people throughout the world agreeing that we presently find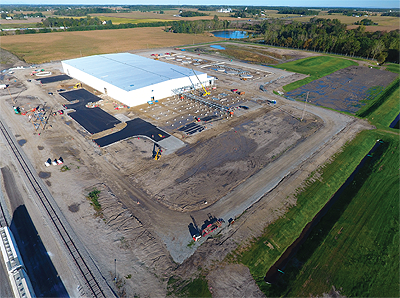 ourselves in the midst of global waste epidemic. "One of the big motivations behind the formation of the company was our collective will to create an entity that could take a fresh, independent look at some of the profound waste issues that we face as a planet and identify ways to tackle them," begins BME's Founder and Chief Executive Officer, Bob Powell.
With an executive team that averages over 20 years of experience within the energy and waste space, in which time each member has overseen repeated successes, BME possesses a virtually unrivalled degree of knowledge, expertise and insight. "This collective strength has provided BME with the ability to access and identify the optimum technologies to deal with the various issues posed by inorganic and organic waste: technologies that are not only viable, but also able to be commercialised and scaled for applications in the United States, and on a global level," Bob continues. "Our team also has a proven track record when it comes to engaging with prospective project partners and customers, as well as an incredible success rate in attracting capital and investors."
BME's maiden project was its first biogas project – the 1.546 megawatt Sumter project in South Carolina. Using an on-site anaerobic digester to recover methane gas generated by its customer Pilgrim Pride's poultry processing facility, BME is able to produce electricity and hot water. The success of this undertaking really helped to put the company on the map, and within a matter of months it had successfully secured investment to the tune of $250 million from Jackson Investment Group to support the development of new projects.
Just short of two years on, in November 2018, the next key phase in BME's development began to take shape when it acquired its plastics renewal technology from the energy technology business RES Polyflow. "What we are able to do is take post-use plastic – which includes all forms of plastic including the most difficult-to-recycle types – and through the use of our plastics renewal technology, transform it into fuels and other products," Bob explains. "Once we receive the plastic waste, it is prepped for conversion by shredding, removing metals, drying and pelletising. That pelletised material is then heated and vapourised in an oxygen-starved environment. Finally, the vapour is captured, cooled into a hydrocarbon liquid, and processed – depending on the temperature – into commercial grade ultra-low sulphur diesel, naphtha or paraffin wax. So, it is a very robust process, and one that gives us the ability to adjust our product output based on market demand."
Positive changes
Buoyed by the confidence in the technology, in April 2019 BME secured $260 million in financing, comprised both of its equity funding in the project and proceeds of green bonds underwritten by Goldman Sachs, for the construction of the United States' first commercial-scale plastics renewal facility in Ashley, Indiana – a project that continues at pace. "Once the first phase of construction of this advanced recycling facility is complete and comes online in late 2020, it will divert 100,000 tonnes of mixed plastic waste each year from landfills and incinerators, and convert it into 18 million gallons of ultra-low sulphur diesel fuel and naphtha blend stock, and six million gallons of wax," Bob says.
Away from Indiana, 2019 has also seen BME set about launching further initiatives. These include its launch of the Augean RNG project, a dairy biogas project converting 150,000 gallons per day of dairy waste into renewable natural gas and other products, in Yakima County, Washington, and the Demeter project located near Madison, Wisconsin. The latter was acquired from Clean Fuel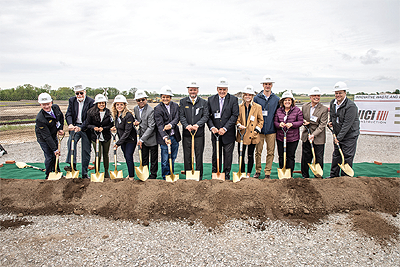 Partners in July 2019 and will ultimately convert 90,000 gallons per day of dairy waste from three local farms into biogas and bio fertiliser. Furthermore, the company has also announced the greenlighting of the Yellowjacket project, which will be made up of four anaerobic digesters at dairy farms in upstate New York. These will ultimately convert a total of 225,000 gallons of dairy waste per day from 11,000 cows into biogas and other useful products.
Being a relatively young company utilising cutting edge technology, for BME educating the public of the benefits of its operations is another vitally important aspect of its day-today life. "Convincing the hearts and minds of people or businesses that may not be aware of what our technology is able to do, or indeed of the great environmental challenges we face as a species, is hugely important to us," Bob states. "First and foremost, a company such as ours needs to show itself to be a sustainable one, providing sustainable solutions that are executed perfectly. This is the foundation upon which credibility is earned from those external of the BME team.
"From there, we can focus on our engagement with people, businesses and communities, and this occurs on both a local level, where we look to educate individuals and groups of the environmental and economic benefits of our solutions, and from a wider angle, where we attend various conferences and events, or engage with the media. Going forward, we will also look to establish a form of education centre at one or more of our locations, providing visitors with a first-hand experience of the work that we are doing."
By the end of 2020, BME expects that its plastics renewal facility in Ashley, Indiana will be completed and operational. "With this facility being brought to life, we will have firmly planted a flag in the ground that declares that we refuse to let the plastic waste crisis we face get away from us," Bob proclaims. "From there, we will then become much more visible in promoting the next set of plastic renewal projects that we want to start advancing, which I believe will provide a very clear indication that we intend to take this technology well beyond the state of Indiana."
So, where would Bob and the rest of the BME team like to see the company in five years' time? "By the end of 2024," he says, "we intend to have diverted up to 8.4 million tonnes of plastic out of the environment, and over 22 million tonnes of CO2 equivalent from our RNG activities, which is the equivalent of planting over 26 million acres of forest in one year. These are massive figures, and to make them come to fruition you will see BME aggressively expand in the coming years, both nationally and internationally.
"At the end of the day, the driving force behind all that we do is our desire to be a positive global participant in making change happen, and we whole-heartedly believe that BME will make a significant impact in the years ahead."
Brightmark Energy
Products: Plastics renewal and renewable natural gas technologies