A sustainable approach
Although the Burkhardt Group has been successfully run by the Burkhardt family for several generations, Burkhardt GmbH was established in 1978 as part of the organisation's plan to develop and grow continually. Today the group has five sites located in Muhlhausen, Dresden, Ladbergen, Bozen and Borkeide/Berlin where employees retain the group's long-term principle at the heart of operations: 'Customer satisfaction is the yardstick by which the quality of our products and services is measured.' Alongside this commitment to clients, the company also believes customer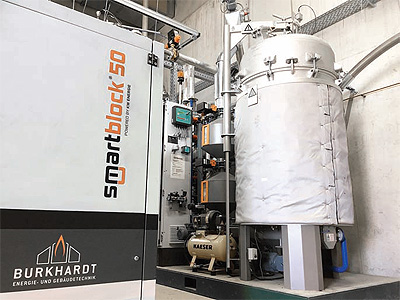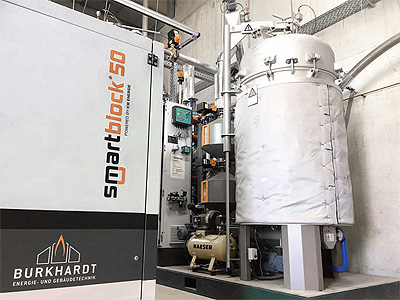 proximity, quality and sustainability are key to delivering the best possible solutions – a philosophy that has been proven through the company achieving several certifications such as the unit certificate of the BDEW or the ISO 9001 certification.
Based in Muhlhausen, Burkhardt GmbH was originally focused on the sale and installation of heating systems, plumbing, ventilation systems and panel beating, however in 2004 the company became active in the energy sector with the design and development of its own products. "Our work in the energy market is predominantly in the combined heat & power (CHP) sector and we make cogeneration units and plants for the thermochemical conversion of wood pellets. Around two-thirds of our employees continue to work in the building sector, for which work is regional, while the rest are active in the energy market, which is global," says Claus Burkhardt, Sales Manager at Burkhardt GmbH.
A more efficient form of power generation due to the fact the losses from transmission are lower, cogeneration provides greater fuel efficient from generating power on-site. Converting a single fuel into electricity and heat in a single process at the point of use, the well-proven CHP technology delivers a number of positive financial, operational and environmental benefits while also being highly energy efficient and supplying heat and power. So far, Burkhardt has installed more than 300 cogeneration plants in Germany, Italy, Slovenia, the UK, Luxembourg and Japan.
"For the natural gas CHP market our main clients have a high consumption of electricity and heat throughout the whole year, while our clients in the biomass sector have a high demand of thermal power during the year," explains Claus. "Our main market in the natural gas CHP sector is Germany, while our biomass products are sold in countries that have a feed-in tariff for electrical power from biomass and where its mandatory to have the right fuel – wood pellets according to EN 17225-2. Over the coming years we anticipate big opportunities in Japan since there is a high feed-in tariff existing for electrical power from renewable energy."
Starting with the utilisation of vegetable oil as fuel, the company went onto continually develop its products and today offers cutting edge woodgas CHPs ECO 180 HG pilot injection gas engines,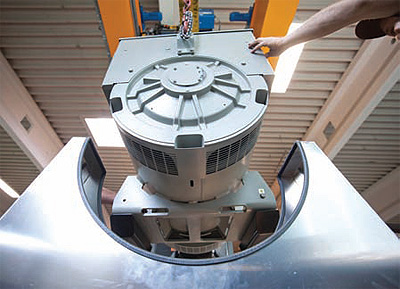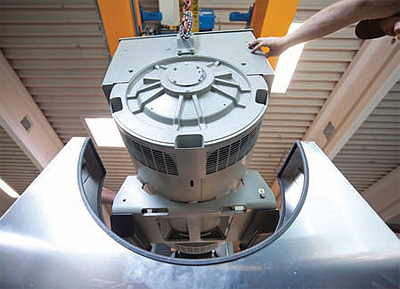 and ECO 165 HG combustion engines that are run on wood pellets and the CHP series with natural gas. For the ECO 180 HG and ECO 165 HG CHPs, the company uses sturdy six-cylinder engines by MAN and is committed to the ongoing development and optimisation of the units in order to achieve the most effective result with wood gas.
In 2008, the company's R&D team created the wood gasifier with the goal of rethinking the gasification process and to use wood pellets as standardised fuel. Using the updraft gasification method and stationary fluidised bed to transform the fuel wood pellets into wood gas so it can be utilised in a specially adapted CHP plant, the company converted its existing vegetable oil CHPs to wood gas and together with new plants, it was able to create a strong power and heat generation system. "Due to the production of electricity and heat in combination with a high efficiency, our clients are able to sell both for an interesting price. Furthermore, the advantage of such small systems compared to big power plants is that we can use electricity and heat where it is needed," highlights Claus.
Wood gasifiers available to customers are the V 3.90 and the V 4.50, the latter of which wasexhibited at Ligna 2017 alongside a CHP in a container and an engine of its bigger unit. "Since we have a lot of clients from the sawmill sector we had many visitors, which are short of signing the order, and of course a lot of new potential clients. The fair was interesting for us as it's an international trader fair and our regional market is limited due to low feed-in tariffs for electricity," notes Claus.
The V 4.50 delivers parallel glow gasification, during which fuel and air are fed to the gas reactor from below in a controlled manner and dosed with such precision that the pellets fluidise in certain areas without being carried away. Due to the size of the wood pellets, the fluidised bed stabilises on its own and an efficient gas-Otto CHP takes over the electricity generation from the wood gas. Manufactured in a modular design, the V 4.50 generates approximately 50 kW of electricity and about 110 kW of heat respectively, which means one kg of wood pellets yields 1.25 kW of electricity and 2.75 kW of heat.
Currently working on a project with ten gasifiers at one location in Japan, the company is anticipating further demand as it seeks todevelop a stronger presence outside of Germany in markets where the government is pushing for renewable energy.
Burkhardt
Services: Provides wood gasifiers, cogeneration units, heat and power networks and fuels