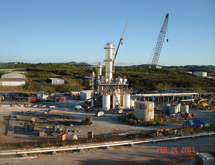 Mike Burrow knows how to grow a company. As a 46-year veteran in the oil and gas industry working with engineering, procurement and construction (EPC) firms, Burrow has served in top management positions for the majority of his career. One of his most recent positions was as president and CEO of ENGlobal Corp., from which he retired in mid-2007. During his tenure there, ENGlobal was ranked in the Zweig Letter Hot Firm List as the No.1 fastest-growing in the nation for 2004 and 2005 and No. 2 for 2003 and 2006. During his retirement, he still stayed in close connection with the industry by serving as a consultant to financial institutions in the global engineering and construction sector. In 2009, Burrow jumped back into being a direct player in the market and founded the fast-growing EPC firm Burrow Global Corp.
"I spent a year talking to Demar, Ltd. of Houston whose primary focus was on detailed design of petrochemical projects and as an architect and builder for industrial buildings," Burrow says. "Demar became our gateway to re-enter the EPC business. After acquiring Demar, we acquired Eagle Pro, which was a Houston-based company that got us a presence in the Beaumont area where there's lots of activity. We then focused on hiring key managers and began building the company around a well-known and respected team. ."
Burrow Global acquired Demar in January 2009 and the Eagle Pro acquisition followed that March. In 2010, the company purchased Arcenaux & Gates Consulting Engineers Inc., and in January 2013 it purchased Industrial Engineering Management (IEM).
"2009 and 2010 were really bad years in the industry so it made more sense to buy a company than to start from scratch, so that's why we started with Demar," Burrow says. "We've integrated Demar and Eagle Pro and we are in the process of integrating IEM. We are keeping Arcenaux and Gates separate because it's a bit different since it serves the municipal industry more so than industrial. But we've integrated the first two and are in the process of integrating the last one."
Beginning to End
The purpose of all this, Burrow says, is to create a cradle-to-grave services company able to take projects from conceptualization to realization. To Burrow Global that means from conceptual process design through plant operations. The firm has organized its services into three encompassing areas: engineering and plant services, construction and automation.
Under its engineering services arm, the company offers all disciplines of engineering and architecture, procurement in-plant services, consulting and civil engineering and land planning. Within the construction arm, it offers full direct hire construction for mechanical, civil and electrical and instrumentation work as well as startup, commissioning and plant operations. The automation arm does plant, pipeline and oil field automation projects including DCS, PLC, and SCADA systems and specializes in SIS implementation services.
Burrow Global's focus has not only been on expanding its service lines, but its geographic reach, as well. The company's corporate offices in Houston and Beaumont, Texas, are backed by offices in Deer Park, Port Arthur and Crystal City, Texas, as well as two additional offices in Houston. It also operates offices in Tulsa, Okla., and Baton Rouge, La., and it has grown the company to 1,100 employees at peak.
"The clients were telling us they wanted us to be in more geographic locations and to show more depth of capabilities, so we were driven by that to grow so as to ensure success for our clients," Burrow says. "Once we started doing that, it became our business model."
The company grew so quickly that it outpaced growth in the oil and gas industry itself, growing more than 1,000 percent since 2010. It won the distinguished honor of ranking No. 1 in the 2013 edition of the Houston Business Journal's Top-100 Fastest-Growing companies list and Burrow says the company has been able to maintain its quality of services all the while.
"We now have a solid infrastructure in place and a great foundation to grow off of," Burrow says. "We are in a hot segment right now and many companies in this segment are at their all-time highs. Because of the fracking industry and the resulting increase in the amount of natural gas and oil production in the country, many people want to get into this segment."