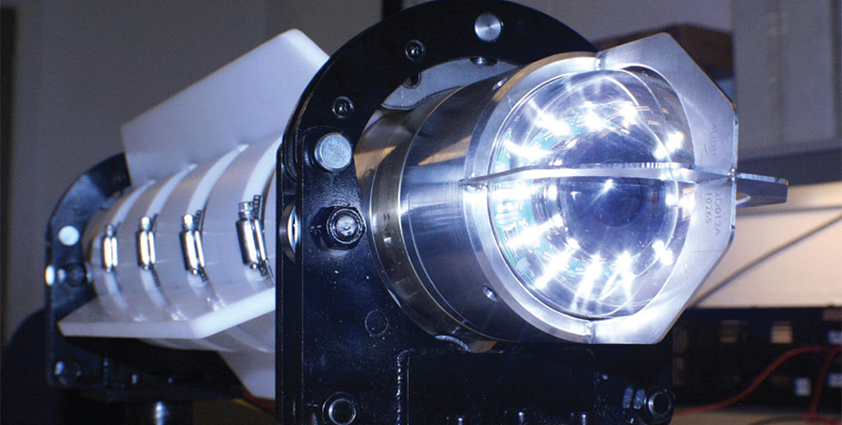 Moving on up
In just 12 years Calidus Engineering has managed to build a worldwide reputation for driving innovation and delivering excellence in the fields of downhole, subsea and extreme geothermal engineering.
Providing services and development capabilities that include precision engineering, custom design, product development and product manufacturing, the company has experienced near continuous yearon- year growth since 1999.
"In the last 18 months the company has taken on a further eight people, taking the workforce past 30 employees as a direct response to the fact that Calidus Engineering has been busy working on a wide variety of projects and activities in that time," says Nigel Halladay, managing director of Calidus Engineering. "Today the success of the company lies in its ability to take on custom designs and produce prototypes and full-blown commercial instrumentation systems that are expertly built to customer specifications."
The growth of the company will continue in the summer of 2011 with the much anticipated move of Calidus Engineering's operations to a new custom-built facility, at a cost of £1.8 million: "The building programme for this new 18,000 square foot site finally began in the later months of 2010," Nigel explains. "A third of the building will be dedicated to a new machine shop, thus doubling the company's existing capabilities, while the other two-thirds, so some 12,000 square feet, will be for research and development. This part will also incorporate offices and laboratory facilities.
"The new building will also house its own borehole, which is really a stunning and unique feature. This 130 metre deep hole provides the company's engineers with theopportunity to function test tools without having to cope with any of the obstacles that come from working outdoors. The aim is to make this a facility available for hire, allowing other companies that are testing new pieces of kit the chance to do so in extreme secrecy."
As Nigel points out, this development also opens up the possibility of exposing Calidus Engineering to a larger client base: "The new facility raises the company's profile dramatically and really helps wave Calidus Engineering's flag in the direction of prospective customers who will see that what we have here is a very substantial outfit. The plans to continue growing the company are considerable and the hope is that, between this new building and the reputation the company has already, client Engineering in their projects, no matter the size of the undertaking."
With such extensive resources being devoted to research and development, it goes without saying that this area of the business is crucial to the company's successful operations: "There are a number of long standing clients that Calidus Engineering develops equipment for," Nigel states. "Often the work carried out involves taking an existing device and modifying or upgrading it to meet a more challenging situation, but sometimes the process can be more complex, starting with little more than a blank piece of paper and a good idea. There is now a more concerted effort being put into using these development facilities to establish a line of products unique to Calidus Engineering. The latest example of this is a range of wireline tools that include a 200°C downhole TV system and a suite of production logging tools, which it is hoped will be rolled out towards the end of 2011."
In the past four years Calidus Engineering has managed to double in size as a business and, as Nigel says, this has been achieved simply by sticking to what works: "As a company we are very, very good at what we do and our ability to build one-off devices that function exceptionally well is not insignificant. Another key strength of the company is that it has all its core skills together under one roof. This allows it to carry out the electronics, mechanics, hydraulics and all of the manufacturing before piecing the product together and testing it. What this means is the company has the ability to assimilate and undertake every aspect of a project utilising its own skill set."
Though it operates independently from its parent company Badger Explorer, which owns 75 per cent of the business, Nigel is well aware of the benefits the two companies share: "The relationship is certainly a two-way street in that Badger requires the skills of Calidus Engineering to develop products and meet the goals it is striving to achieve. At the same time being a part of the Badger group provides a secure workload with increased financial strength and stability
"The coming together of the two companies also gave Calidus Engineering the confidence to grow as a business, at a time when outside influences may otherwise have prevented it doing so. Key to everything though is the fact that Calidus Engineering has been able to maintain its technical independence, which allows it to continue working on products, solutions and applications so that it can then feed 'know-how' back into Badger's systems."
As we head into the second half of 2011, there are a number of positive signs ahead: "Everyone involved with Calidus Engineering predicts 2012 will be an extremely busy and challenging year as business levels increase even more. While the bulk of the company's work continues to come from the North Sea, there are plans to increase its presence in the US and venture into the Middle East for the first time, so substantial growth is something the company is very committed to achieving," Nigel concludes.
Calidus Engineering Ltd
Services: Downhole, subsea and geothermal engineering