One leading provider
Established in 1926, NATCO offers services that range from process solutions studies through engineering, design, and project management, to manufacturing, training and operations support and services. A developer of many of the products used in oil and gas production today, NATCO has a staff of more than 2500 employees.
In November 2009, NATCO's people and businesses were added to Cameron, a leading provider of flow equipment products, systems and services to the worldwide oil, gas and process industries. NATCO brings a manufacturing capability for processing, and a separation product that fills an area that Cameron did not have until this acquisition. By integrating the complementary service and product offerings of NATCO and its subsidiaries, customers of Cameron and the united businesses will benefit from the industry's broadest range of custom engineered and standard process products.
NATCO's resources and expertise are to be integrated with those of Petreco, to create a world-class provider in separation and processing, called Cameron Process Systems. Founded in 1909 and headquartered in Houston, Petreco is a world leader in high performance process solutions, providing custom-engineered process packages for separation and treatment of oil, gas, produced water and solids. The combination of NATCO and Petreco validates Cameron's commitment to the separation and processing industries – both upstream and downstream – and strengthens its position as a supplier of subsea processing solutions.
As a single, united entity, the newly created Cameron Process Systems division has the technologies, global reach and innovative solutions to deliver the highest levels of service and support to customers around the world, all backed by a commitment to lead the industry to the next level in separation and processing solutions.
Cameron Systems AS, based in Trondheim is specialised in verification, design, manufacturing and installation of high tech separator internals and works towards four key business ideas:
1.Development and sale of high technology separator internals for: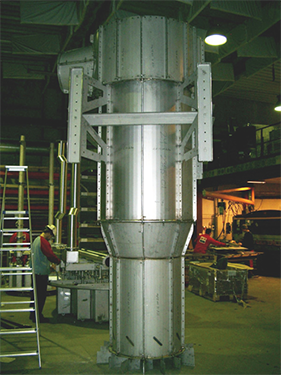 Gas scrubbers, 3- and 2- phase separators, degasser, glycol contactors, slug catchers
FPSOs as well as offshore and onshore facilities
2.Sale of complete primary separators and gas scrubbers
3.Troubleshooting separation processes for mature field installations:
4.FEED studies for new field developments
A major business segment for Cameron Systems AS has been gas processing, with a focus on high pressure demisting technology. This technology is patented and Cameron Systems AS has retrofitted numerous malfunctioning scrubbers. In addition, Cameron Systems AS an exclusive license for marketing, further developing and selling Statoil's Spinlet technology worldwide.
Customers will benefit from the merger, as the new division will offer greater efficiencies, increased responsiveness and the advantage of a strategically positioned in-house manufacturing network that enables it to shorten both production and delivery times. In addition to providing complete process performance assurance, customers can enjoy the confidence that comes from dealing with a single, industry-leading source that is accountable for all their separation and processing needs – from concept to completion.
The acquisition has also enabled Cameron to enhance the industry's largest global separation and processing infrastructure with the addition of NATCO locations to ensure reliable accessibility and increased responsiveness for customers around the world. Its global network of sales, service and strategically located in-house manufacturing centres allows for more points of contact for clients, faster ordering times and quicker deliveries, wherever customers are located.
Cameron's increased global resources include regional project execution centres in Calgary, London, Singapore, Abu Dhabi, Kuala Lumpur and the US, plus strategically located manufacturing facilities, and a presence in southeast Asia, West Africa, the Middle East and Brazil. Finally, the company also has a standard process equipment and services network in North and Latin America. Further, Cameron Systems AS uses local fabricators around the world when it is advantageous, and has worked particularly closely with IKM Mekaniske AS in Stavanger for many years.
When it comes to R&D, Cameron is committed to developing innovative technologies and comprehensive solutions to solve its customers' separation and processing needs. It follows through on its commitment with best-in-class technologies that enable quicker, more efficient solutions such as CO2 membranes, a MEG reclamation system, compact separation, subsea processing and heavy oil treating technologies. Its dedication to providing comprehensive processing solutions around the world also extends to markets that are interested in subsea processing, where it now offers enhanced technologies through the expertise of its CAMFORCE Subsea Processing Systems.
Around the globe, customers depend on Cameron for advanced design solutions, innovative technologies, custom and standard products and highly responsive service. Cameron's reputation for successfully acquiring and integrating complementary companies is once again proven by combining the resources and expertise of NATCO and Petreco to create Cameron Process Systems, the industry's total solutions provider.
Cameron Systems AS
Services: Key supplier of high-tech separation technology, and process solutions