The heat is on
The origins of the business reach back to 1915 when engineer, Edwin L. Wiegand, patented a resistance-heating element that would eventually be applied across a large array of processes.
Chromalox was formed in 1917, when the company received its first order for a strip heater to be used in a product that became the modern household clothes iron. As growth continued, it developed a manufacturing presence in the 1920s, targeting new industrial heating products and processes. It expanded into the nuclear industry in the 1950s, supplying pressurising heaters, and was a supplier to the aerospace support industry in the 1960s, with a strip heater included on the first Apollo Lunar Module.
Chromalox entered the global market by acquiring two manufacturing facilities in Europe and a series of further acquisitions positioned it as a leader in the industry with international acquisitions continuing in the 1990s, adding a Hong Kong regional sales office in 1993 to service Asian markets. "We manufacture heat exchangers and control systems for the oil and gas industry for use in production both on and offshore, and into the refining and petrochemical complexes. Products are manufactured to almost every international standard and certification so we are able to supply to anywhere in the world," begins Richard Ackerman, sales director of process.
"The main growth over the last 30 to 40 years has been seen in the oil and gas and petrochemical industry, particularly due to the environmental benefits," adds Richard, pointing out that apart from the initial footprint from the production of electricity, there are no further emissions. "In several applications there is also a significant amount of power produced on site, so running costs are low. Higher operational temperature ranges up to 620° C for the Hydrocarbon market and the maintenance and physical size of our systems is much less than other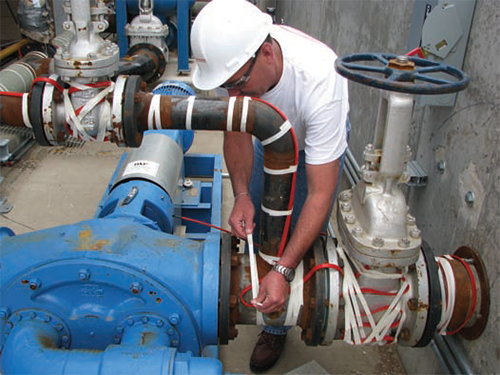 traditional forms of heating," he continues. When decisions are made on the primary source of heating all considerations of temperature of operation, lifecycle cost, availability and environmental issues must be considered. It is fair to say electric heating constitutes a far higher percentage of the Hydrocarbon process heating requirement than 20-30 years ago.
Joining in the discussion, Herman Geveke, European sales manager adds: "We make bespoke electrical heaters and associated control panels according to customer specifications. When gas is extracted from the ground it is full of impurities and heat is required in the separation process. In the extraction of oil, heat is required to lessen the viscosity to transport it through pipelines and further heat is required in the separation and refining processes to manufacture the higher grade fuels and feed stocks used today. The challenge is to meet the customer requirements as some applications are in very corrosive mediums, so a choice of materials is all important.
"Our worldwide presence is effective through regional offices and well established agents. With manufacturing facilities in the US, Europe and China, our Croydon office is the sales and project management centre for Europe, Middle East, Africa and India." The US company is headquartered in Pittsburgh, alongside its R&D facilities, which spearhead innovative product development. Over the past four years the company has opened up offices in India and Thailand, and has grown into Germany, China and the Middle East.
"As we move forward over the next 12 months, we will be targeting product development and focusing on new project areas. We aim to remain as a global and competent company that can be relied on," explains Herman, as Richard highlights: "We are advancing our existing products for Arctic and colder climate development down to minus 60 degrees Celsius. We have also been working on additional products that are not yet in our portfolio that will take the business forward in an exciting direction." In February 2014 the business announced a new design patent that has a specific use in power generation where excess power is produced. Essentially the development can heat and store energy into a large mass of fluid. Significantly, this product has explosion proof certification and can operate at 4160 volts, reducing the size of cabling, ampage and switchgear.
The announcement coincides with the UK government investment plan for the oil and gas industry over the next four years to 2018. "There is a potential for a growing market in shale gas, and although there are some challenges, we are trying to find ways to make our product suitable for the market. We work with a varied customer base, such as oil and gas companies, but also EPC contractors. It is important to work with all customer groups from the earliest stages to achieve the best result," says Herman.
Chromalox recognises the North Sea is still a market of significant investment, but equally notes that the Gulf region off the US and South America is growing substantially. "There is massive investment off the coast of West Africa, Asia, and on the Pacific Rim, and key developments are ongoing with national oil companies involved in several different projects," highlights Herman. Drawing to a conclusion on the future outlook, Richard says: "Steady growth and expansion into geographic areas where the business is less represented forms part of our long-term vision, and we strive to become stronger in those areas. There is a lot of activity in the subsea market and we see a gap for an effective heating product."
Chromalox
Products: Supplier of electric heaters, associated control panels and trace heating cables