Super movers
With origins as a structural engineering company dating to 1993, in the last five years Conbit has developed its expertise as a special lifting company.
The duelled approach is a distinguishing factor in the market, and as a privately owned business operating from Eindhoven in the south of Holland, its flexible approach is shaping a fulfilling future.
"Our special lifting projects are mainly focused on the offshore industry where we perform turnkey projects in a process that begins with engineering and continues through to final installation and completion of the project. We organise the crew, the equipment and every aspect of the operation," begins Bramvan Oirschot, sales manager. The structural engineering division supports the special lifting crews whilst also undertaking specific projects that
focus on demands such as lifetime extension analysis, heli-deck recalculations and design of jacket support structures.
"We have witnessed a growing demand for lifetime extensions in the North Sea over the past 12 months. Platforms are designed with a life span of 20 to 30 years, and as these structures near the end of this period operators are looking to extend the lifetime. This has resulted in the demand for structural analysis, a speciality for our engineering division. Additional workload is coming from Western Africa, the North Sea and South-East Asia for the lifting of modules underneath deck structures such as helidecks or weather decks. The demand for our special lifting techniques is coming from any location that a regular crane is unable to reach," Bram points out.
In particular demand is its flare tip handling service, which is divided into three portions, the first being traditional flare tip replacement as a result of an existing flare tip burning out. "Requirements for material handling to be incorporated into the design of the new platforms and new FPSO's has also grown and we have developed a dedicated flare tip handling system for this purpose, which can be supplied as a complete kit for future operation. We can also assist the manufacturers of flare tips to offer them a handling solution for future purposes," explains Bram.
Previously, the replacement of a flare tip was carried out using a helicopter and in some regions of the world this is viewed as the only method of replacing a flare tip safely. Highlighting the difference Bram says: "With our system, it is a mechanical, temporary system just for the replacement of the flare tip. This method has developed from the early innovation to be just as efficient and safer than the helicopter replacement method. Introducing this has been the biggest challenge faced over the last few years but it is now quickly gaining ground. It is an alternative approach to the flare tip handling that is interesting for operators in the offshore and onshore industry."
Since the business entered the special lifting market, it has increased its fleet of equipment and grown its crew. The rapid growth, through a combination of structural engineering and real operation in the field has been a real milestone. "We have been growing tremendously over the last couple of years and have moved to new premises employing over 50 engineers, technicians and team leaders. We have established good relationships with the universities in Holland targeting future civil and offshore engineers. Beside that we have a growing base of foreign employees from Europe and Asia," says Bram.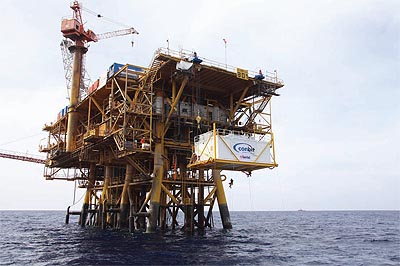 Operating with a strong no nonsense culture within the organisation clients are drawn to the trustworthy company. Commenting, Bram says: "We always like to give out a clear message. During a project there are always challenges that arise but we try to overcome them with honesty and an open line of communication towards our clients, and that is appreciated. As a business we are still expanding and the engineering capacity will continue to grow steadily while the main area of growth will be related to offshore platform modification. By increasing the number of technicians and team leaders, we will be in a position to act on these opportunities."
Looking further ahead, Bram says: "We will be developing more and more into a real transport and installation company with the structural engineering bankground and special lifting as combined aspects. Taking more of a turnkey approach, we aim to be able to take on a newly manufactured module and transport it directly from the manufacturer to the quayside, and onto the installation offshore. That is where we see that we are going to develop in the next few years and this will require growth from all aspects of our business, from the project management side, for logistics and for the engineering and field operations.
"Our lifting solutions use lightweight components to lift quite large modules up to 80 or 90 tonnes. The lifting system configuration is assembled from regular truss system or aluminium tubes and is operated by sophisticated lift winches. This is where we have the added value as we are trying to eliminate the use of large crane vessels. Our main focus at the moment is promoting ourselves as a good alternative to the crane vessels."
Conbit
Services: Structural engineering and special lifting for offshore