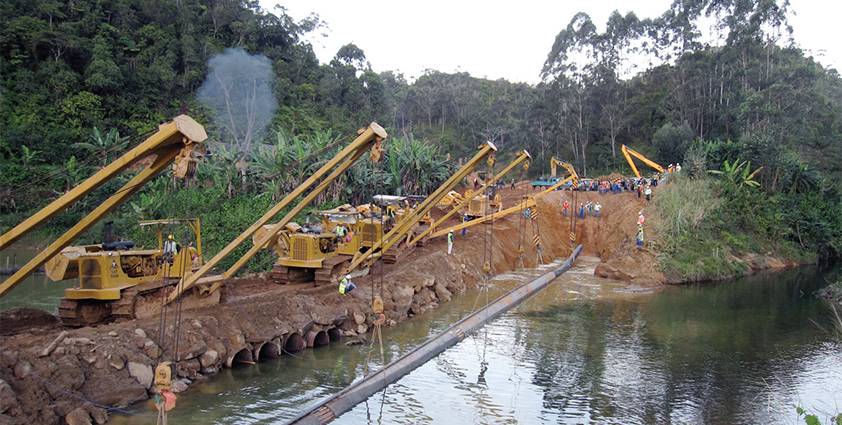 Consolidated Contractors Company
Strong standing
As one of the first Arab construction companies, the roots of Consolidated Contractors Company (CCC) stretch back to 1952 when three entrepreneurs – Kamel Abdul-Rahman, Hasib Sabbagh, and Said Khoury – founded the business in Lebanon.
Since that time, CCC has continued with the same style of management based on mutual trust with clients, and smooth communications between locations and Group divisions. Today, from its headquarters in Athens, Greece, CCC employs over 109,000 personnel located in almost every country in the Middle East and Africa, with an approximate turnover of five billion USD per annum. The company's construction activities cover various industries including heavy civil construction; high quality buildings; pipelines for water, gas, and oil; mechanical construction and infrastructure such as roads, ports and airports.
In fact, such is the success of the business that CCC is currently ranked by the Engineering News Record (ENR) magazine as the 19th largest international contractor in the world, and 2nd largest in the Middle East. Standings such as these reflect CCC's position as a leading diversified company carrying out construction, engineering, procurement, development and investment activities, with an emphasis on the MENA region. The company remains committed to providing reliable and professional services to its clients, as well as maintaining strong corporate social responsibility (CSR) and environmental credentials. In particular, CCC believes that not only should its business be profitable but it should also offer something of lasting value to local communities.
Certainly, the oil and gas industry has had a large role to play in the economic expansion throughout the Middle East, and as such, for the past six decades CCC has been one of the leading contractors contributing to the development of this sector. Since the early 1950s, CCC has participated in the construction of some of the most complex oil and gas plants, refineries, petrochemical plants, pipelines, and offshore production platforms and jackets in the region. The company's experience in both the onshore and offshore industry has seen it also gain projects in other countries.
In order to strengthen its capabilities in both the upstream and downstream sectors of the market, CCC has developed strategic partnerships with various engineering firms. The company has also developed its own engineering capabilities for upstream oil and gas projects through the establishment of its Engineering, Procurement & Support Office (EPSO) located in Abu Dhabi, United Arab Emirates
CCC has always been at the forefront, it has adopted the latest construction technology to improve efficiency, and provide more rapid execution whilst ensuring high quality performance. This commitment to technical enhancement and innovation is key to the company's strategy for growth and profitability, along with adaptability to all of its markets. The company's other core strengths emanate from its distinct culture, strong and close relationships with its clients, employee competence and expertise, and focus on quality, safety and commercial acumen.
CCC executes all projects on a direct hire basis utilising its two major assets – its qualified and skilled manpower, and extensive construction equipment. To this end the company is committed to implementing strong health, safety and environmental practices in all of its activities, in line with ISO 14001 Environmental Management Systems and OHSAS 18001 for Health and Safety Management Systems accreditation. With an individual focused division tackling these concerns, CCC has established a strong safety record, as indicated by its work on the Khursaniyah Gas Plant project in Saudi Arabia, which resulted in 107 million man-hours without any lost time accidents.
One of the more prominent contracts that CCC has been involved with in recent years is the Pearl Gas-to-Liquids (GTL) plant – a joint development between Qatar Petroleum and Shell. Over its lifetime Pearl GTL will process around three billion barrels of oil equivalent (BOE) from the world's largest single gas field – the North Field in the Arabian Gulf. With the plant now complete and expected to ship its first product in 2011, full production is anticipated to begin in 2012. The project scope comprised the development of an onshore GTL plant with two trains to produce 140,000 barrels per day (BPD) of GTL products, and around 100,000 barrels of oil equivalent per day (BOEPD) of natural gas liquids. CCC was awarded the entire construction contract for the two trains and the associated process and utilities area of the onshore facilities, which required the mobilisation of over 15,000 personnel and 2500 pieces of construction equipment to great success.
With CCC fast approaching its 60th anniversary in 2012, the company seems secure in its ambition to offer its clients a service that is second to none. By remaining close to the prime management directives of appreciating client interests, through meeting requirements and ensuring high quality work, CCC continues to grow its presence, whilst delivering the same standards of service as when it first entered the market.
Consolidated Contractors Company (CCC)
Services: Engineering, procurement and construction