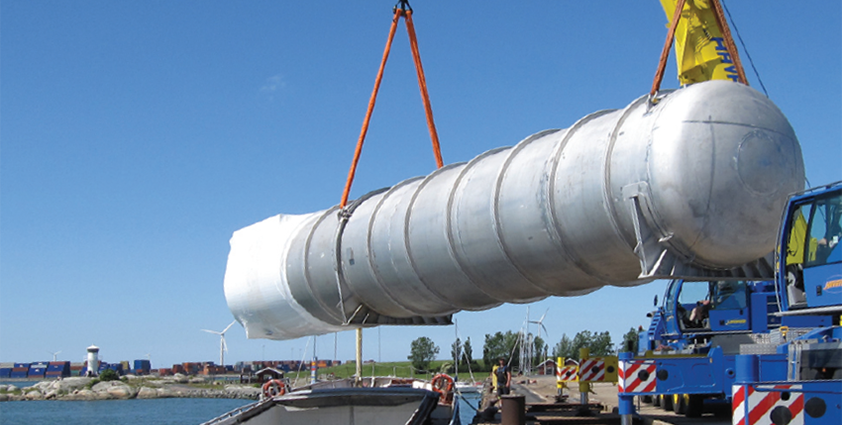 Satisfaction guaranteed
An independent company belonging to the Linde Engineering Division, CRYO AB is recognised as one of the world's leading manufacturers of cryogenic equipment for the storage, transportation and handling of liquefied gases.
A partner of many industrial gas companies in the selecting of efficient and economical equipment, CRYO AB has provided its skills and state-of-the-art technology to the global gas industry for more than 50 successful years.
"In the last several years the company has strengthened itself to handle the growing market demand for various different energy applications," highlights Gunnar Lennerås, managing director of CRYO AB. "During 2010 and into 2011, the company has made investments in the field of marine applications and tank trailer production. This includes developing a new production system for helium tank containers and investing in the use of liquefied natural gas (LNG)."
Utilising a combination of broad competence, innovative techniques and international experience, the company always strives to provide its customers with technical solutions that will significantly improve profitability. The most important goal at the heart of all the company's operations is guaranteeing customer satisfaction. The type of customers that have benefitted from the skills CRYO AB offers include multinational and national gas companies, transport specialists, chemical industries, shipyards, submarine producers and engineering organisations.
Based in Gothenburg, Sweden, much of the work undertaken by CRYO AB in its illustrious history has come from companies operating in the Nordic countries, however as Gunnar states, this is very much a worldwide organisation: "Today there is a lot of growth in the South American market where CRYO AB is operating and the company foresees a rapid return to growth in its activities in the Middle East."
In May 2011 a special ceremony marked the opening of Sweden's first LNG receiving terminal, based in Nynäshamn. As Gunnar explains, this CRYO AB project will play a vital role in meeting the rise in LNG demand in the Nordic region: "This terminal acts as both an import terminal and a land based distribution facility and supports the company's belief that there is an even bigger future ahead for LNG. For the past 11 years CRYO AB has supplied energy fuel tanks for marine applications, ferries and supply ships for example, that run on LNG, not diesel. By using this form of energy these applications reduce their output of carbon dioxide by 20 per cent, noxious gases by nearly 90 per cent and eliminate the output of sulphur and particle emissions.
"Due to the frequency with which these coastal vessels are travelling, it has been calculated that 40 per cent of all the nitrogen emissions being created in the Nordic countries are coming from the marine industry. Therefore it gives CRYO AB a great deal of pride that it can help make an environmental difference and have a positive impact through its supply of LNG products."
Another fast growing area of the business is the company's after sales service. An increasing number of CRYO AB's customers are now able to benefit from the competence of its skilled staff, who carry out activities including cryogenic workshops, rebuilding and maintenance, installation and supervision, spare parts and container rentals: "CRYO AB is the official partner of Cryostar, the main supplier of cryogenic pumps in the Nordic countries. The service maintains and repairs cryogenic pumps and serves the 600 plus vehicles and transport trailers operating in the region," Gunnar continues.
In order to deliver its services CRYO AB has a comprehensive infrastructure and, as Gunnar says, the company is actively working to create a streamlined business strategy that will carry it forward in the years to come: "Recently, CRYO AB has been working to create a lean way of thinking throughout all of its operations. Two external coaches are working closely alongside the company during totally 18 month to help it take that next step forward and become a truly high performance organisation."
Following a drop in group profits during the financial crisis of 2009, business for CRYO AB picked up substantially in 2010, leading to a sustained period of activity that continues to this day: "In truth the company is somewhat overloaded with work at present, both from an engineering and workshop perspective," Gunnar reveals. "The company has moved quickly to strengthen its activities and continues to watch the market closely to identify future developments. Looking ahead the business is aware that both the marine and land based sectors will remain very important and it will continue to work towards satisfying customer demand in these fields. Of course everyone involved with CRYO AB knows it will face lots of competition as these industries grow, but this is welcomed as it helps the company stay on its toes and at the top of its game."
CRYO AB
Products: Cryogenic equipment