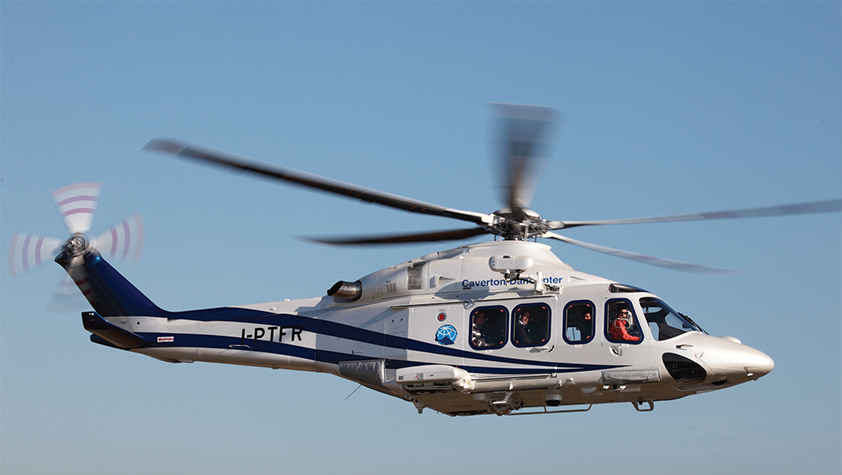 Safety, flexibility and precision
The offshore transportation of personnel and materials has perhaps traditionally been the role of crew transfer vessels, but with benefits such as faster flying times and the ability to bypass difficult wave conditions, helicopters are increasingly seen as a practical and costeffective alternative.
Operating out of Esbjerg, Denmark, DanCopter A/S undertook its first flight on February 1st 2003, having entered the market in late 2002. At the time Dong Energy was looking for an alternative mode of supply on the Danish market, and vitally, chose DanCopter as a brand new business to fulfil this need. Since this time the company has also served Hess, Shell, and as of last year, Maersk Oil and Gas. In 2009 DanCopter was also successful with a multiannual contract in the Norwegian sector for Det Norske and Wintershall, which ran until earlier this year.
The company's position in this market was further strengthened in 2008 when the Norwegian Blueway AS Group acquired 100 per cent of its shares. Blueway has many years experience in the provision of both on- andoffshore helicopter services. Examples of these onshore activities include installation and construction of power lines and other infrastructure, spreading of fertiliser, chalk and ash, and search and rescue services on Svalbard. As a result of this take-over, DanCopter and Blueway formed a new daughter company in 2009, known as Blueway Offshore Norge, specifically to service its customers in the Norwegian sector.
From its conception DanCopter's aim has been to provide safe and punctual transportation of personnel to platforms and vessels in the North Sea region. In meeting this aspiration the company adheres to three core values; safety, flxibility and precision. By focusing solely on the flight and maintenance of helicopters, DanCopter has rapidly established itself as a leading provider of offshore transportation, known for its experienced employees, and track record in reliable and safe flying. With 95 per cent of its business based around crew transportation, DanCopter recognises the importance for clients in having personnel arrive at their destination in a timely fashion, and fit to work. Crew transfer by vessel not only takes a significant amount of time, but also poses the problem of issues such as seasickness.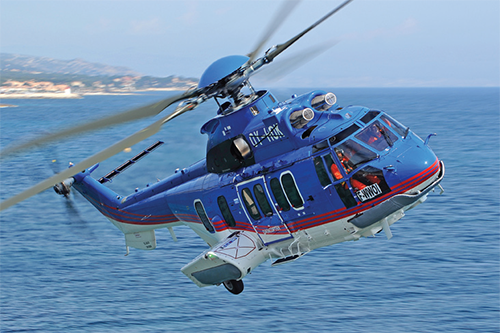 The company began life with just two helicopters but today has expanded its fleet to a total of 15, including six Eurocopter EC 155 B1, and four AgustaWestland AW139 helicopters. "In the past we have always been a mediumsized helicopter operator but as of this summer have strategically expanded into the larger end of the market with the delivery of four new Eurocopter EC 225 LP helicopters," highlights Lars Skov, chief executive office of DanCopter.
"This is a sector we have been quite focused on entering, beginning with the operation of the EC 225's for a new contract with Maersk Oil and Gas in the North Sea. Having these assets in Denmark has also gained us a new contract up in Norway for EC 225 operation based on our experience with them on the Danish market. We are now focusing on covering the needs of our customers on both the medium-sized side with the EC 155 and AW139's, and the heavier side with the EC 225's," he continues.
Some of this fleet is currently being put to good use as part of a new contract with Shell, which sees DanCopter operating two EC 155's out of its bases at Dan Helder in the Netherlands, and Norwich in the UK. The aircraft are being used to serve platforms for Shell across the southern part of the North Sea up until at least 2017. This follows the general pattern of DanCopter's contracts with the business deploying helicopters from its locations in Norway, Denmark, the Netherlands and UK to cover its clients' assets in those particular countries' offshore waters.
This builds upon a relationship between DanCopter and Shell which extends back to 2007. Most notably, this has seen the company expand operations into a second continent having flown its first helicopters to Nigeria in July 2010 to commence a multi-annual contract for Shell. "These activities are delivered in co-operation with our local partner in Nigeria – Caverton Helicopters," describes Lars. "In order to fulfil our obligations to Shell we invested in six new AW139's that are working on a fleet basis, with two in Lagos, two in Warri, and two in Port Harcourt. From Lagos, as with our work in the North Sea, we are flying personnel out to a rig or platforms in benin Bay, whereas from Port Harcourt and Warri we are flying the short distance out to the Niger Delta area.
"We see West Africa as being very interesting from the perspective of oil and gas, as this region looks to be very positive with regards to these resources for a very long time. This means that not only Shell, but all of the world's other major players are looking to West Africa and this will create a huge demand in the future for helicopter transportation," he adds.
Having secured a number of long-term contracts for its helicopters, the immediate future looks relatively secure for DanCopter. In terms of the company's plans beyond this, DanCopter is carefully selecting which tenders to bid on in line with its strategic plans for future expansion. The company is also looking to not introduce new helicopter models to its fleet, but will likely increase the numbers it holds at present.
"DanCopter has seen tremendous growth over the last three years and we are now looking to consolidate this and to start moving our focus towards other areas where we want to increase our activities. This may include looking at some of the other players in the Blueway Group. On a general business level though we have two main areas of interest; the North Sea and West Africa, and it is here that we will continue to try and grow over the next five years," concludes Lars.
DanCopter A/S
Services: Offshore helicopter transportation