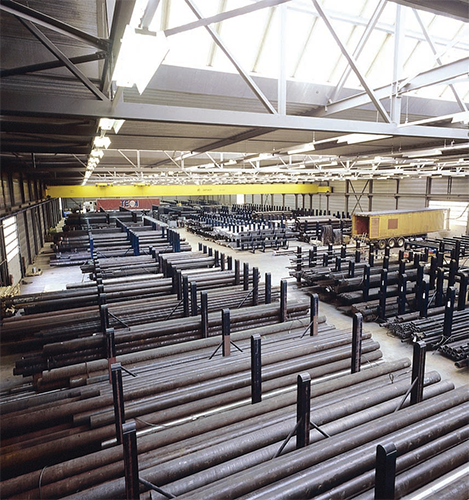 Infinate steel solutions
Established in 1981, Dylan Group is a stockist and distributor of steel piping materials for the petro-chem, oil and gas, and power generation industries providing pipe, fittings, flanges and valves across all sizes and grades.
In addition to the large variety of low temp carbon steel, high yield carbon steel, stainless steel grades and duplex stainless steel in accordance with ASTM and EN standards, the business also trades in special grades such as super duplex, nickel alloys and ancillary materials such as stud bolts, gaskets and strainers.
From its head office in Holland, Dylan Group operates sales offices in Belgium, Germany, UK, Spain, Abu Dhabi and Singapore. Holding numerous MRO contracts (Maintenance, Repair and Operations), Dylan works for major oil companies, refineries and petrochemical companies that require materials to be supplied from stock at very short notice. As Peter Staat, the group's business development director, explains: "Our MRO contracts depict the need for our business to have stock close to our many customers' sites. Initially founded as a company supplying specialist materials for projects, as we grew over the years, we began to stock more standard materials, and also established in-house machining facilities."
Commenting on the current trading conditions and demand, Peter points out: "The market has recently been quite flat, following a brief upturn at the beginning of 2013. However, we are still particularly busy with day-to-day sales across Holland and Belgium where we have a decent market share, from EPC's and construction companies as well as projects with power generation contractors. We are not dependant on just one market, and this diversification has allowed us to be successful despite the difficult market."
As a specialist supplier the business has a strong knowledge of both the industries to which it supplies and the value added products that it can offer. There is a drive in the business to live up to its motto of 'infinite steel solutions', as Peter highlights: "We always try to find a solution for every request, using materials of all possible grades or origins. We always fulfil customers' requirements and our knowledge and experience across a very wide range of products is important. In comparison with many of our competitors, we have a very proactive, 24/7, nothing is impossible mentality."
By sourcing the appropriate forgings for its in-house machine shop, Dylan is able to machine fully to customers' drawings and specifications, in any grade or size common to the piping industry. Through its global presence, Dylan Group is able to achieve worldwide fulfilment, supplying from stock or directly from mills anywhere in the world. Under a contract with SBM Offshore, Dylan Group has supplied materials for several FPSO contracts, most recently on a project simultaneously providing the materials for two vessels to be leased to Petrobras in Brazil. There is an increased demand for more FPSOs in order to exploit the oil reserves quicker, which has ultimately led to the increase in supply demand for complete packages with faster and more intense delivery schedules.
Holding maintenance contracts with companies such as DOW Chemical, BP, Total, Neste, and Exxon, Peter explains: "For many years we have had continuous orders through ongoing contracts, with growth supported by the decision of such customers to consolidate all the European MRO interests under one contract. For day-to-day business it is of course important to have stock to supply to customers within a very quick time, but for MRO it is essential to have this material available and according to the right specification, from the right origins and in the right sizes, and shapes, so there is a lot of pressure on having the correct material available."
As Peter looks towards the future, faced with an ever growing market place he speculates: "The power generation market, handled mainly by our Belgian office, working with companies such as Siemens, Alstom, NEM and the associated construction companies, has started to improve. The offshore market too is growing, but the process and refineries markets are slowing somewhat in the European market. However, although difficult to enter, the Middle East market is certainly driving forward.
"In the European petro-chem industry there is generally over-capacity, and there are little or no new-builds. However, the significant amount of maintenance requirements which we cater for keeps the business very busy." Operating across a number of geographical regions, the company has to remain flexible to ensure its efficiency. "We maintain a focus of concentration on European possibilities but further ahead we expect to grow our offices in the Middle East and the Far East, increasing our market share in those regions. To achieve this, it is important that we hire and train the right people. Beyond this we look towards Brazil, which is a booming market. Growing through our current agents in India, and our office in Singapore, we are hopeful to increase our market share in Asia and possibly Australia too," he adds.
Companies are often looking for materials that are used for standard applications but because of their specific processes they require adaptation. "We closely follow the market to ensure that we have the right material available for such projects. It is important that we solve any problem for our customers," Peter concludes.
Dylan Group
Services: Complete solutions in steel piping products and services