Always a length ahead
Formed in 1936, Erndtebrücker Eisenwerk (EEW) is a privately owned and family-run company producing a variety of steel pipes for the onshore power plant, construction and general offshore sectors.
Until 1973 the company has been producing steel oil tanks but, due to the oil crisis of the same year, the company made a decision to begin manufacturing steel pipes in 1974. This has led EEW from strength to strength and today it is one of the foremost industrial pipe-producing firms in the world.
In 1994 EEW invested in a 13 metre production line and since then has been specialising in longitudinally welded pipes (LSAW) manufactured in a variety of measurements, from sixteen inch up toseven metres in diametre with wall thicknesses ranging from eight up to 125 millimetres; it produces these pipes in materials ranging from mild to high nickel alloy steels. The company makes many pipes of different functions including clad pipes, line and process pipes, structural pipes, risers and prefabricated sections. This year EEW will be introducing its new compound liner-clad pipes at the Stainless Steel World exhibition, which is to be held at the beginning of October in Houston. Double-seamed pipes have also been recently introduced into the company's portfolio, which has given it the ability to manufacture pipes up to 84 inches in diameter and 51 millimetres thick in double random lengths.
Though its headquarters are in Germany, the company has offices and production facilities across Europe, North and South America, and Asia. It has customers from all over the world and as James Heather, marketing manager for EEW, explains, having locations all over the world is particularly helpful for business: "If someone has a project located in the Far East, for example, we can manufacture pipes at our site in Malaysia or Korea. On the other hand, if the project is being fabricated in Europe then we will make use of our facilities in Germany. This helps greatly with transport costs."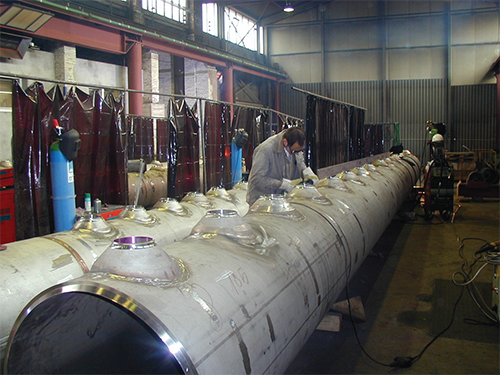 EEW delivers more than just pipe manufacturing however: it is able to offer a complete design package to its customers, ensuring maximum convenience for its clients. The company called this 'point-to-point engineering' and covers every stage of the process from approved for construction (AFC) plans to on-site delivery.
James gives more details about this service: "It is predominantly for structural steel pipes such as those used in offshore jackets and building construction but we also offer this service for slugcatchers. We look at the master drawings and respond to the client by informing him exactly how we can deliver each section. We will do a pre-construction by making detailed parts drawings and numbering these against the master drawings, when the prefabricated pieces arrive on site the ends have already been profiled. Knowing exactly where the sections have to be placed, the fabricators can then simply slot them together and weld. This can reduce production time by anything up to six months and saves a lot of scrap."
The success of EEW has seen it maintain steady growth. With an output of over 400,000 tonnes per annum across all of its facilities and an employee level in excess of 1000, the business has forged a global reputation as one of the industry's leading specialists. Further boosting its operations, EEW has recently become a majority partner alongside Saudi Steel Pipe, Ahmed Hamad Al-Khonaini and Pan Gulf Holding in the joint venture Global Pipe Company (GPC). GPC is expected to produce 200,000 tonnes of longitudinally submerged arc welded (LSAW) pipes annually. This will go some way to meeting Saudi Arabia's demand for such products that until now have been imported into the region.
Further expansions for EEW has been seen at its German facilities. After the site at Rostock wasn't able to meet the full demand of its offshore windfarm pipe production, it opened a new factory in Lubmin. This handles the production of circumferentially welded pipes up to seven metres in diameter, 122 metres in length and 1000 tonnes in weight used in the subsea monopiles, tripods and jackets structures.
It has also recently finished constructing a new storage area and railway sidings at the headquarter facilities in Erndtebrück. James comments on what it required and how it will benefit the company: "We had to excavate huge volumes of earth, moving more than 200,000 cubic metres. However this will allow us to start using more environmentally friendly transport, meaning more of our products go out by train rather than truck. In 2009 1100 railway wagons delivered 61,000 tonnes of plates and 902 railway wagons carrying 36,000 tonnes of pipes left our works, but in the same time we had 625 lorries delivering plates and 3315 lorries collecting pipes. That volume of traffic is not reasonable for the environment, our roads or for the local population." New rail tracks will allow the local train company Siegener Kreisbahn to pull EEW's wagons directly without having to use time- and cost-consuming shunting areas.
Having just delivered 8000 tonnes of LWDS piles to the Ormonde offshore windfarm, its expansion into the renewable energy sector is also looking to be thriving. With these developments being just a couple amongst a much wider collection of expansions and major new projects, the future for EEW looks set to continue its already strong history.
EEW Group
Services: Steel pipes