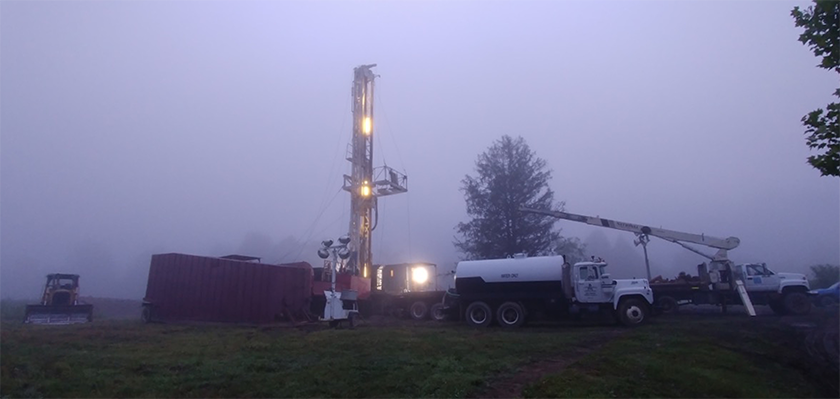 Encore Energy has high expectations for the Berea Oil Sandstone in Kentucky and plans to drill multiple horizontal wells over the next few years.
Encore Energy Inc. recently began drilling its first non-conventional horizontal well using state-of-the-industry technology in eastern Kentucky's Berea Oil Sandstone. Founder, President and CEO Steve Stengell says the Kentucky Geological Survey reports the area as being the best shallow oil play in the state and the Kentucky Oil and Gas Association has referred to the Berea as a "game changer."
In June, the company announced its well permit approval and began moving equipment onsite in the first week of July to begin drilling the Encore Adkins Bud #H1 horizontal Berea oil well. "We have been reviewing the Berea for the last several years and just in the last year we started making plans, deals and acquisitions in planning the horizontal well project," Stengell explains. "This is my first well in the Berea, but not my first time drilling horizontal."
Stengell previously served as the well operator for a successful horizontal Woodbine oil discovery in Texas. He holds an MBA from Western Kentucky University and has graduate certification in reserves and valuation from the Harold Vance Department of Petroleum Engineering at Texas A&M University. In 2011, Stengell founded Bowling Green, Ky.-based Encore Energy after serving as president and CEO of a publicly traded E&P company. He also has experience in drilling in Oklahoma and Texas, the latter in horizontal drilling as well.
Encore Energy began as a lease acquisition and brokerage company that worked with large E&P companies in the Utica Shale to acquire horizontal lease projects. In 2013, Encore Energy started acquiring leases in south-central Kentucky and drilling conventional oil wells. "Encore has drilled more than 30 vertical oil wells and is the most active well operator in south-central Kentucky," Stengell adds. "Encore is acquiring assets, drilling multiple well projects to prove-up acreage and creating a platform to bring in investment from larger E&P companies in the future."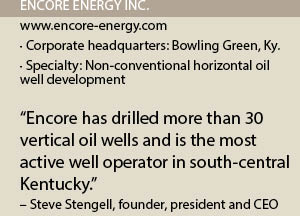 Berea Oil Sandstone
The Berea Oil Sandstone is attractive to Encore Energy because using non-conventional methods on a conventional reservoir produces higher-quality oil and better results than the shale plays. The oil play began to mature about the time oil prices tanked a few years ago, Stengell says, at which time Encore began looking for lease opportunities.
"Shales are big blanketed 200- to 300-foot reservoirs that are lower quality, thick and unpredictable," Stengell says. "The Berea is where horizontal, non-conventional methods meet a beautiful, conventional reservoir."
The Encore Adkins Bud #H1 horizontal Berea is considered a "tier I" horizontal well using state-of-the-industry technology. "The plug-and-perf well completion multi-stage frac technology allows us to better frac the well and better enhance production and reserves," Stengell explains. "It allows us to better penetrate the formation with propping agents and better create channels of permeability back to the well board.
"It's a learn-as-you-go technology," Stengell continues. "Every single well drilled utilizes what was learned on the previous location, so you have an ever-changing and improving well technology in the Berea."
As the company begins to drill the horizontal well, minimizing its environmental impact will be key. "We understand the Bluegrass is beautiful and our non-conventional methodology is more friendly to the environment and leaves a much smaller footprint per dollar invested in the ground," Stengell explains.
Joseph Hooper, Encore executive vice president and director, adds: "The application of nonconventional methods to a conventional oil reservoir better mitigates many of the risks associated with oil and gas investments."
Prudent Investments
The horizontal Berea attracted Encore because of the lower well cost associated with producing at a shallower depth. Horizontal Berea wells undergo extensive multi-stage frac treatment that typically result in higher first-year production and higher cash flows in year one.
"Although larger operators can utilize the 100 percent intangible drilling costs tax deduction from their drilling operations, these larger companies cannot pass on these tax benefits directly to their shareholders," Stengell says. "At Encore, each qualified accredited director investor can deduct 100 percent of their investment against all forms of income, which results in a first year cash-out-of-pocket estimated tax savings of about 40 to 54 percent of their total investment. The combined cash flow and tax savings in year one is a critical component of Encore's business model and return on investment to investors."
SEC Regulation D, Rule 506(c) of the JOBS Act requires the SEC to eliminate the prohibition on using general solicitation where all purchasers of the securities are accredited investors and the issuer takes reasonable steps to verify that the purchasers are accredited investors, as defined by the SEC. Encore only makes investment opportunities available to SEC-defined accredited investors who are sophisticated in making investment decisions and can afford the loss of their entire investment.
Encore Energy says Rule 506(c) has made the investment process much more transparent. "This disclaimer allows us to advertise our investment to high-net-worth, accredited investors who can involve themselves with us," Stengell explains. "They come looking for us and it makes for a better business relationship. It ensures investors are informed about their investments and we verify they are accredited. It makes for longer-lasting relationships."
Communication and transparency are key to maintaining investor relationships, which is why Encore Energy offers its investors an oilfield experience. "They visit the site, get a hard hat with their name on it and are put directly in the field so they can see everything that's going on," Stengell explains. "We let them get as close to being an operator as possible. Most of our investors visit two to three times per year when we drill. They love it and it's all about the experience."
In addition to field tours, Encore Energy also provides its investors with real-time information and hosts online webinars. About 80 percent of the company's investors are repeat backers.
Greater Opportunity
Moving forward, Encore Energy plans to drill three additional horizontal well locations in the Berea oil play this year and next. Long-term, the company expects to drill 10 or 15 more horizontal wells in Kentucky's Lawrence and Johnson counties.
"More than 20 percent of the state's annual oil production is reported from the horizontal Berea operations of Johnson and Lawrence counties," Stengell says. "Encore is planning to drill horizontal wells with total measured depths exceeding 6,000 feet accompanied by a multi-stage hydraulic sand frac treatments, targeting up to 18 frac stages."
Encore Energy says it will add jobs to the area, although it does not have an exact estimate yet for the total number of subcontractors it will need on site. "It's a rural part of the state and there is not a lot of money there, so our well will bring jobs and that's a big deal," Stengell says. "It will make a major economic boost to the community, so the community is very excited about the opportunity, as well. They are very engaged and want to help."
Encore Energy will remain focused on Kentucky as it sees an unlimited amount of potential throughout the state. "We like it in Kentucky because everyone does a fabulous job," Stengell says. "[That includes] everyone in eastern Kentucky, especially the residents want to take care of the environment and do things right."
Disclaimer: Oil and gas investments involve a high degree of risk and are only suitable for SEC defined accredited investors who can afford the loss of their entire investment. The information herein may contain forward-looking statements and actual results may vary. No assurances can be made as it relates to production, reserves, income, timelines or any other estimates.