Enventure Global Technology
Expanding horizons
At its core, Enventure Global Technology is a company that utilizes proprietary technology to expand the diameter of liners after they are set to depth downhole. This is done through a cold-working process in which a cone mandrel is pumped through a liner using hydraulic pressure. The company can enlarge the inner diameter of its liners by anything from five to 20 per cent.
The world leading provider in this area of solid expandable solutions, Enventure has been using its technology to solve drilling, completion, and production issues in the energy industry since its start in 1999. From extending wellbore depth during the drilling phase, reinforcing and repairing casing, to relining an entire production lateral for a refracturing operation, Enventure's solid expandable technology provides a permanent, cost-effective solution for a range of downhole challenges throughout the life of the well, during well construction or well intervention. Matt Meiners, the company's Director of Technology and Product Development, explains more: "I've learned that expanding pipe downhole can sometimes be thought of as a risky operation to some people in that we are purposely deforming steel, but the fundamentals are clear – if you take a paper clip, you can bend it. If you bend it once, it stays where it is; there is really no harm to the paper clip. In fact, you actually get slight hardening of the properties. However, if you bend that paper clip several times, it's going to break. At Enventure, we're expanding a liner, not bending a paper clip, but the same theory applies. We're only doing it once and doing so just above the yield point of the material and staying far away from the ultimate limit. It is a very safe and reliable process.
"Of course, the connection is an important element in the system too," Matt adds. "Oilfield liners typically come in 30 to 40-foot joints and must be screwed together. Over the years we have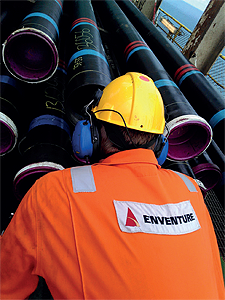 developed, and continue to refine, our patented Expandable Premium Connection, or what we call our 'XPC'. These connections are designed to expand to the same inner diameter of the liner and they then have to withstand the same loads and hold the same pressures. As part of our new refrac liner tests we expanded our newest XPC connection, and cycled it over 120 times to maximum frac pressure and the connection still held strong with no leaks."
Formed in 1999 as part of a joint venture between Haliburton and Shell Technology Ventures, Enventure celebrated its 20th anniversary in 2019. In over the two decades, the firm has notched up 2285 jobs and installed 1.8 million feet of solid expandable liners. Enventure's Corporate office is in Houston, Texas and it manufactures parts, assembles and tests, then mobilizes from its operations facility in Katy, Texas. Boasting a global footprint, Enventure has performed installations across a number of continents and is building on experience in Asia Pacific, alongside continuing activity in North America, The Middle East and the North Sea.
"Global interest in our product is derived from the fact that we are the pioneers of solid expandable tubulars," Matt states. "All of our product segments fit into two different buckets: Drilling solutions, which are typically open hole installations, that will provide the client with a larger inner diameter at the bottom of their well, and then Completion & Intervention solutions, which generally involves cased hole installations such as patches and refrac liners. In the early 2000's, three quarters of our work was on the drilling side and a quarter of the work was in interventions, but there has been a significant shift over the past decade. Now we are installing about 70 per cent in intervention and 30 per cent in drilling applications."
Strong product portfolio
Among Enventure's key products are its industry-renowned SET® (Acronym for Solid Expandable Tubulars) Openhole Liners or Openhole Clads for Drilling Solutions, as well as the firm's ESeal™ offering, including the expandable ESeal Liner, ESeal High Performance (HP) ESeal Flex and ESeal Refrac (RF) Liners. Soon to be joining the company's existing portfolio is SameDrift®, a MonoDiameter technology currently undergoing field trials. Matt described the benefits of the new product: "Generally, each time you set a conventional casing or liner string, its inner diameter is going to be smaller than your previous casing. When installing an expandable liner, the inner diameter is larger than that of a conventional liner, but still slightly smaller than the previous casing, but after SameDrift is installed, it actually does have the same inner diameter, or 'same drift' as the previous casing or liner. For example, when you use a 13-3/8-inch casing, it is typically drilled out with a 12¼-inch bit and the next casing string is typically 9-5/8 inches. However, with the new technology, we can ream beneath the 13-3/8-inch casing, install SameDrift, tie it back to the base casing, and still drill ahead with a 12¼-inch bit This has significant impact on wellbore slimming, and enabling the extension of extended reach wells.
"That's the big difference between us and our competitors," Matt claims. "Some of our competition have similar technology, but they may or may not be able to offer the 'same drift'. We have this system available in 12¼ inches, 8½ inches, and 6½ inches. No other company has that offering. We have a very broad IP portfolio, significantly more experience, and the ability to provide more reliability than our competition."
Part of what makes Enventure's product portfolio so strong is the company's focus on the needs of its clients. While the fundamentals of its core technology have always remained the same, Enventure has become successful by finding new ways to use this technology to solve common industry problems.
"Here you have a technology that was initially invented to solve one problem and we've continuously worked to diversifying the technology and finding new ways to solve customer problems," Matt says. "In essence, we are always expanding liner, so when you start installing in deeper and harsher environments, you find out where your limitations are and the product needs to be advanced. As a result, over the years, we've continued to enhance the quality of our liners and the strength of our connections in particular. We constantly look at new materials, new ways to heat treat and new ways to inspect the pipe because the quality is extremely important – it has to be without flaw – so there is a lot of quality control that needs to go into place."
A year unlike any other, 2020 and the accompanying Covid-19 pandemic have forced businesses across the world to make changes to the way they operate. The story is no different for Enventure which recently made use of virtual meeting rooms to enable the company to perform product testing in conjunction with a major operator and a third-party testing facility.
"Recently we conducted testing of new equipment for a major operator and in conjunction with third parties," Matt comments. "Normally, our engineers and their personnel would meet in our test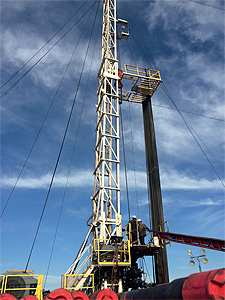 facility in Katy and witness the tests first hand, but with the Covid pandemic, we had to get creative and find ways to do this online. We set up cameras, remote monitors, data acquisition and conducted the tests with ourselves, the operator and third party all controlling and watching the test from three different cities and two different countries. Coronavirus is a game changer for most people, but you can still be creative and get the job done. The virtual tests saved a tremendous amount of money in travel alone and we didn't have to put anybody at exposure risk. It's not something we commonly do, but I think a lot of industries are going to have to make that change and find different ways to do business."
Focus on expansion
Aside from the introduction of remote witnessing sessions with clients online, Enventure has remained largely unscathed by the pandemic. The company may have been required to exhibit a previously unexpected degree of flexibility and resilience throughout the year, but the work appears to be paying off. By the end of 2020, Matt expects Enventure to meet, or even exceed, the firm's business activity for 2019 – an astonishingly positive piece of news that the Director attributes to both the company's reaction to the crisis and the enduring appeal of its product.
"Most of the industry is unfortunately facing headwinds with the current business environment, but we're actually having tailwinds," Matt declares. "It tells me that there is an increase in awareness and interest in our technology. Our customers are also looking at doing business differently and perhaps they're thinking about the value of using expandable liners where they typically wouldn't. It's also testament to the protocols and processes we've put in place to minimize the exposure of the virus to our employees and clients, while still remaining globally operational. I've seen how other companies are reacting to Covid-19 and I would most certainly say we are doing it right.
"I think we'd all like to see things get back to normal," Matt remarks, "but that aside, through communication and marketing, we're trying to shift the market mindset away from thinking of us as a contingency to a planned, first-choice option. We describe it as going from insurance to assurance. Our business has remained active in this downturn, so it seems the shift has already started. That's the direction we want to travel in and we will continue to address market needs and grow the utilization of expandable liners into different facets of the well life cycle."
Winner of a Designated Supplier Award in 2019, Enventure has avoided the pitfalls of the Coronavirus pandemic and is now fully focused on the future. With interest in the company's technology growing, and the firm's customer base growing with it, for Enventure, expansion is inevitable.
Enventure Global Technology
www.EnventureGT.com
Products: Solid expandable solutions