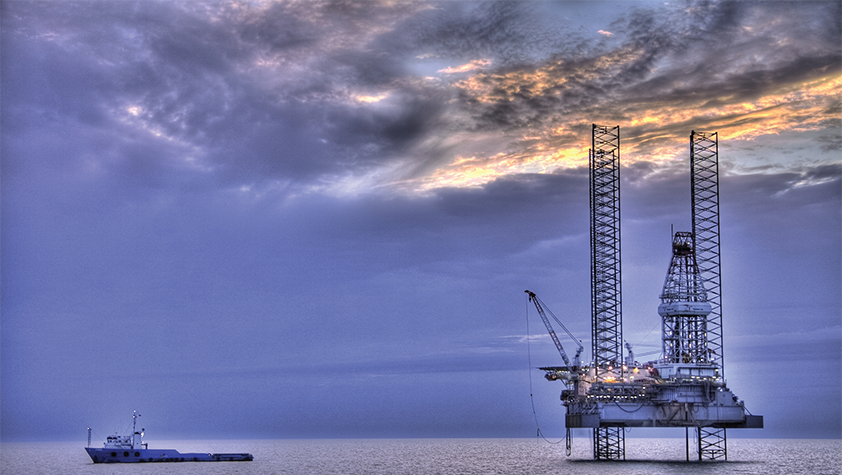 Eurasia Drilling Company Limited
Digging deep
Eurasia Drilling Company Limited (EDC) is the largest provider of onshore drilling services in Russia, as measured by the number of metres drilled, providing onshore integrated well construction and workover services.
In addition, EDC provides offshore drilling services in the Caspian Sea, where it is the only Russian offshore drilling contractor. Furthermore, the company provides onshore drilling services in Iraq.
The business was founded in 2004 through the acquisition of the majority of LUKOIL's onshore drilling assets. Since its entry into onshore drilling services, EDC has transformed the business from an in-house cost centre to a major independent oilfield service provider. These services include the construction of production, exploration and appraisal wells, including vertical, deviated and horizontal wells, ranging from a depth of approximately 1200 metres through to more than 6400 metres.
Furthermore, it also provides a wide range of workover and sidetracking services, which have grown through selective purchases since acquiring LUKOIL's workover business in 2009. As an onshore provider, EDC works with most of Russia's major E&P companies including LUKOIL, Rosneft, TNK-BP, and Gazprom Neft.
"Together these companies accounted for close to 60 per cent of Russia's total crude oil production in 2012," notes Murat Sampiev, chief operating officer of EDC. "Our experience as the country's largest onshore drilling contractor means that these parties rely on us to drill onshore wells for their upstream oil and gas activities. We believe such companies choose us for these services because of our track record, our knowledge of local geological conditions, understanding of our customers' requirements, and our ability to provide a full range of drilling services.
"We have long-term agreements with our key customers. The forward visibility on revenues and operations as a result of these agreements allows us to implement a long-term investment programme and to strengthen our reputation as a trustworthy drilling contractor capable of undertaking large-scale drilling projects," he continues.
EDC also has the largest rig fleet in Russia, totalling 257 land drilling and sidetracking rigs and 413 workover rigs as of end of 2012. Forty-nine per cent of these rigs have been in operation for less than ten years, in comparison to the Russian industry average of only thirty four per cent. The comparative youth of this fleet provides EDC with a high quality asset base and gives it at a competitive advantage within the industry. The rigs are distributed amongst each of the key oil producing regions of Russia, enabling the company to respond quickly to shifts in demand from customers.
In 2006 EDC entered into the offshore drilling market by acquiring a jack-up rig, ASTRA, from LUKOIL. In 2011 it then acquired one more jack-up rig from Transocean. Its ASTRA and Saturn jack-up rigs represent two of the three jack-up rigs currently operating in the Russian, Kazakh and Turkmen waters of the Caspian Sea. Another two new build jack-up rigs are also in the process of being constructed, the Neptune and the Mercury, with delivery scheduled for the third quarter of 2013 and fourth quarter of 2014 respectively. "The Neptune rig will begin operating in the Caspian Sea from later this year, with the Mercury expected to be ready for contracts in 2015. Both of these rigs are going to be the highest spec assets in the Caspian Sea and will significantly expand our capacity and technical capability in the offshore drilling market," describes Mr. Sampiev.
The last two years have seen EDC take several more major steps forward, starting with a strategic alliance with Schlumberger in April 2011 for Russia and the CIS. This involved the purchase of 19 drilling rigs, 34 workover rigs, and 23 sidetracking rigs. "The asset swap with Schlumberger considerably strengthened our existing core proposition," explains Mr. Sampiev. "We have an alliance with them through which we seek to co-operate on future projects as opportunities arise. The fleet we acquired was modern with rig crews that have been amongst the best in the industry, whilst Schlumberger's acquisition of our drilling services business has allowed us to focus on our core operations."
In the second half of 2012, EDC entered into the international drilling market outside of Russia and the CIS for the first time with the acquisition of four active drilling rigs in northern Iraq. "We see many opportunities in the market, and whilst only an initial move, our presence in the Middle East is a key part of this. We anticipate that 2013 will be another good year for EDC, with onshore drilling volumes that are slightly up from 2012. In 2013, we will continue to work with existing customers and add several new clients in Russia," begins Mr. Sampiev.
"Based on the current services mix, we expect LUKOIL and Rosneft to be our largest customers, with LUKOIL accounting for about a half of our drilling volumes and Rosneft about a quarter. Workover and sidetracking activities are expected to be strong contributors to revenue in 2013 as we continue to expand our operations on a solid platform built through a series of successful acquisitions in prior years," he continues.
Notably EDC is able to offer its clients deeper drilling capabilities, horizontal drilling expertise, and improved technologies, which all provide the opportunity to access reserves beyond the reach of traditional drilling techniques, and take on more complex challenges. "The average depth of Russian wells has increased by approximately 45 per cent over the last decade, and as such is now greater than the average drilling depth capability of the Russian fleet. Our rigs are capable of drilling deeper wells than these assets, and we are focused on buying modern heavier rigs with higher technical capacities to address this trend," adds Mr. Sampiev.
"On a medium-term outlook, there could be an opportunity to address tight oil reserves in Russia," he continues. "These reserves play to our strengths in that they require rigs with a deeper drilling capability, and the significant volumes are to be found under some of our existing brownfield locations where we already have infrastructure in place. With LUKOIL we have signed a memorandum of understanding on the development of such reserves in Russia, where we will provide them with the drilling capacities required for these projects. This mutually beneficial co-operation will help us preserve our leadership position within the market."
Eurasia Drilling Company
Services: Onshore and offshore drilling services