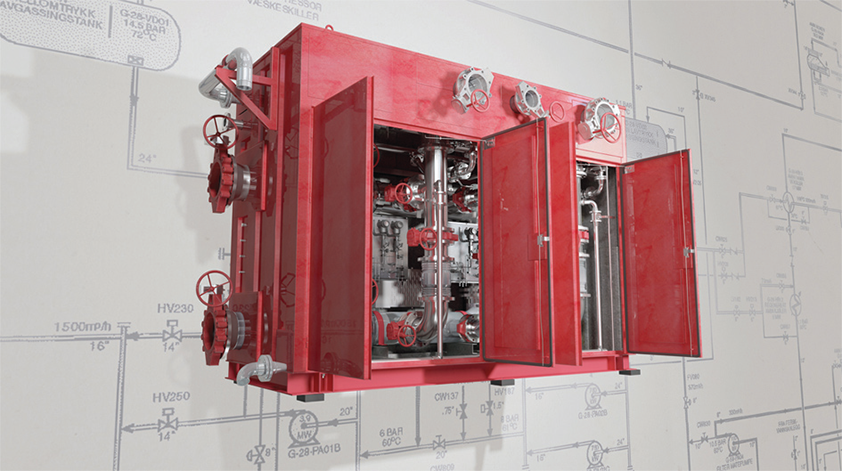 Fire Protection Engineering AS
Safety first
Simply put, the fire fighting systems supplied by Fire Protection Engineering AS (FPE) serve a critical purpose in terms of protecting both people and assets offshore.
In particular, the company is a leading provider to the oil and gas industry, where safety requirements are particularly stringent.
As such, FPE's portfolio includes a responsibility for deluge design, including location of nozzles and design of distribution piping system, complete with isometric layout drawings. FPE is particularly expansive in terms of equipment offered such as deluge systems, nozzle integrated helideck systems, hose reels and hydrants, water mist systems, sprinkler systems, gaseous extinguishing systems, surge pressure compensators, dual agent units, and a series of nozzles and adaptors.
Since 2011 FPE has been part of the Align Group, which is a leading supplier of production and safety critical equipment and solutions to the Norwegian oil and gas, and maritime industries. Just a year before, FPE gained a daughter company in the form of Sontum Fire & Safety AS. Having operated for over 30 years in the Norwegian sector, Sontum has helped strengthen FPE's offering, particularly in regard to servicing and maintenance through its experience in planning and implementing periodic maintenance, inspection and recertification, pressure testing, and training courses.
Looking at the business today, sales and marketing director Svein Roar Sivertsen, describes the positive results that FPE has seen: "The last year has been very good for FPE in terms of revenue and securing of important projects. The growth in revenue has been consolidated at between 30 and 35 per cent, which also includes figures for Sontum, and we are very happy with such levels. In addition, we have been very lucky in regards to hiring more skilled engineers to enable us to grow and meet the coming projects in the global oil and gas market."
From its very beginnings one of FPE's greatest strengths has been its skilled workforce, with many key personnel having started working in the industry as far back as the 1970s. As such, vital experience has been gained through involvement in upgrading and replacement projects on oil and gas platforms, as well as through hands-on service and maintenance. FPE continues to ensure the security of this expertise by encouraging the transfer of knowledge from senior engineers to new employees, and by offering upgrade courses to all staff.
The company has also expanded in other ways through the establishment of a sales office in Houston, US, to sit alongside its main site in Stavanger, Norway. "The new office is focused on the Americas, continuing our strategy for our service and aftersales department by offering wider services to our customers. This will enable us to grow and maintain our position in strategic places like the Gulf of Mexico and offshore Canada," notes Svein. "This is also supported by our existing capabilities, and daughter company. Furthermore, we are looking into using the power of our sister companies within the Align Group to offer more services, such as firewater pumps with Eureka Pumps, and fire and gas solutions in partnership with Origo Solutions. The market will thereby benefit by using one strong supplier for all of its safety critical equipment needs."
Although FPE works across all types of oil and gas assets from floating production units, to petrochemical plants and drilling rigs for major EPCI contractors and oil operators alike, one of the company's greatest challenges remains convincing customers that quality matters. The ture of fire fighting systems means that, in the event of an incident, operators want to take comfort in knowing they will perform as expected, which means investing in high-quality materials and reliable products built to specification.
As Svein describes though, it seems that this message is getting through: "We are seeing that end users are increasingly asking for high end material in their projects, like titanium pipe-spools and valves. They also expect knowledge and engineering competence from their suppliers when completing the design and during the tender process. In this instance FPE is a frontrunner. We also work to help our customers understand the importance of these systems through the FPE Academy, which offers training and seminars on the subject of fire fighting offshore."
Going forward FPE sees many opportunities in both greenfield and brownfield developments, as demonstrated by its current work with ConocoPhillips on the new build platform Eldfisk 2/7 S and the upgrade of the existing Eldfisk 2/7 A/B platforms. On top of this FPE has also recently entered into the green energy sector: "We are currently exploring this market, and are providing services to the offshore wind farm collaboration project between Aibel EPC and ABB. This is focused on the DolWin2 wind farm region near Helgoland in the German sector of the North Sea, which will receive alternating current from wind farms and convert it into direct current before sending it ashore via subsea cables," highlights Svein.
Through both of these business streams, FPE's focus for 2013 is to continue with its growth to date and establish new contracts with operators globally. The company hopes to double its current revenues by 2016 in pursuit of its overarching aim to become the preferred supplier of safety critical equipment and solutions within its markets.
Fire Protection Engineering AS
Products: Fire protection systems