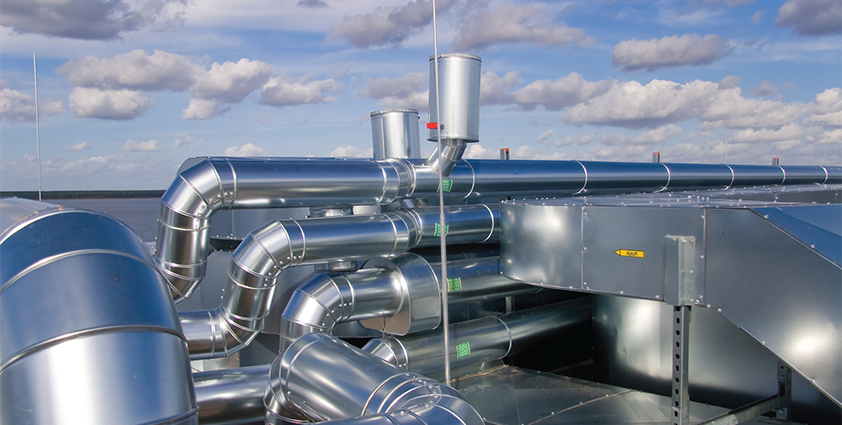 Bringing air to life
Founded in 2002 following the merger of two companies (Fläkt and Woods), Fläkt Woods is now a premium provider of ventilation and air treatment solutions for buildings, as well as fan solutions for industry and infrastructure applications.
With its focus on reliability, quality and technical leadership, the company produces a range of innovative and practical products from fans to air handling units, and components to energy recovery units.
Fläkt Woods has a keen focus on energy efficiency and the development of products that combine efficiency with creating a comfortable air atmosphere. Its energy recovery solutions based on air technology and cooling equipment processes, make up 80 per cent of the company's product range, with the aim of optimising energy consumption. As a result of the above innovation Fläkt Woods has become world renowned for its 'Green' solutions.
A market leader and one of the largest air handling systems and fan manufacturers in Europe, with a unique range of products for ventilation, air treatment and air diffusion, the company holds strong positions in Europe the Middle East, Asia and Australia with a focus on providing solutions to key industry segments
When it comes to the applications for Fläkt Woods' products, they are almost too numerous to mention – indeed, whatever man-made construction in the world you might enter, someone has provided the ventilation solution and there is a good chance it was Fläkt Woods. Its reference list covers everything from offices to cruise ships, from tunnels to oil rigs, from mines to microchip production. For each area the company can offer advice on what special consideration must be taken and what it can do to cater for clients' needs.
In the offshore oil and gas sector, Fläkt Woods' heating ventilation and air conditioning (HVAC) products and systems normally face the most extreme environmental demands. Fläkt Woods has a long experience of most kinds of offshore-related applications in different climate zones and extreme environmental requirements. The company strictly follows classification and regulation related demands. Fläkt Woods' offshore products are manufactured and tested according to valid standards and are designed for quick installation and commissioning. Applications include FPSO's (Floating Production Storage Vessels) FPU's (Floating Production Units) rigs, platforms, accommodation modules, support vessels and on-shore installations.
In this area, its product range comprises air handling units (AHUs), air terminal devices, ducts, fans, chillers and condensing units to build a complete HVAC system. The company supplies spare parts, and utilises the Fläkt Woods global network for any HVAC system to ensure through-life accessibility and profitability for the end user.
The offshore oil and gas sector is served by Fläkt Woods' global oil and gas team with offices/manufacturing hubs in Sweden, Dubai, Singapore, UK, Korea and USA. Apart from supplying HVAC products to customers and HVAC engineering/contractors, Fläkt Woods is also capable of offering services such as complete design engineering, manufacturing and supply of equipment AHUs, chillers/condensing units (water side systems or DX systems), dampers, duct, terminal devices, control and monitoring systems and project management documentation.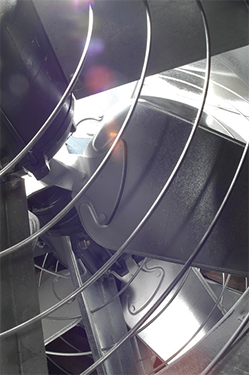 Fläkt Woods has pioneered the introduction of HVAC systems requiring ATEX rated products. Five years ago Fläkt Woods supplied the first ATEX Zone 1 certified AHUs to an FPSO project in Nigeria and has since supplied ATEX certified AHUs, Axial/Centrifugal Fans, plus other products to many global customers. Fläkt Woods has become a preferred partner when HVAC customers need solutions they can rely on for oil and gas applications worldwide.
A perfect example of Fläkt Woods work in the offshore arena is the contract it won to supply 11 air-handling units for the Sea Dragon project, located in the Mexican Gulf through a renowned international Norwegian contractor. The EUMM range, popular in offshore applications, is a modular system offering flexibility of function, size and process. The units feature flush fitting stainless steel 50mm panelling with a double skin, housing rigid sheet mineral wool insulation optimised for heat retention and sound attenuation.
All components are corrosion resistant to cater for the corrosive, saline atmosphere of a working life on the oceans of the world. The units are ideally suited for two of the largest semi-submersibles in the world, which have global ultra deepwater and harsh environment capability.
Such is the experience of Fläkt Woods in providing air handling units for the offshore oil and gas industries that the company has been involved in several of the most significant projects that have been undertaken in recent years. This includes the Sakhalin II Project, where it supplied 21 AHUs, again through a Norwegian contractor. The units were specially equipped with 1.5mm panels to help deal with the harsh arctic conditions.
Moving from the freezing conditions of the Russian Far East, to the heat of the Persian Gulf, Fläkt Woods' HVAC equipment has also been selected for two of the South Pars project phases. In these projects, Fläkt Woods is supplying HVAC products for two production platforms including AHUs, Air Cooled Condensing Units, Fans, Dampers and ATD's. All of the equipment located on the deck area is suitable for Zone 2 hazardous area and manufactured from SS316L for the harsh environment.
Another example of Fläkt Woods' success at gaining onshore and offshore work for the oil and gas industries is the contract through and Italian EPC contractor to supply ventilation fans for the BP Shah Deniz project in Azerbaijan. Fläkt Woods supplied over 40 mixed flow fans from the company's Axicent 1 range, with diameters ranging from 630mm to 800mm. Fans were manufactured with stainless steel casings and impellers, making them particularly suitable for the arduous operating conditions.
In South East Asia, Fläkt Woods recently won the contract to supply the full HVAC equipment package to the Gajah-Baru platform, accommodation and electrical modules, operating off the coast of Indonesia. Once again it was Fläkt Woods' experience in supplying equipment for Zone 2 hazardous areas, and SS316L material that won them the order.
Clearly, Fläkt Woods has vast experience in working with oil and gas companies, and in addition to these applications it has long experience of marine environments and the high demands they place on HVAC products and systems.
Indeed, Fläkt Woods has a long history with the marine and off-shore market, as Fläkt started delivering products for marine applications to passenger ships in 1937, and Woods started making fans almost 100 years ago. The merger into Fläkt Woods created a market leader within marine and offshore HVAC application with a wide range of quality products. It is recognized as a reliable partner to supply high quality products and services, regardless of the extreme environmental conditions or the climate zone where the vessels are operating.
Due to its continual focus on providing innovative solutions such as those mentioned above, Fläkt Woods is continuing to see growth, with a multi-million euro annual turnover, and sales every year in 75 countries.
Speaking in ESCM magazine in 2008, Didier Forget, CEO of Fläkt Woods, explained that the company's growth is spurred by its forward thinking product design and passion to meet the increasing demand for comfortable, high-quality indoor air with energy efficient systems. Didier was positive that Fläkt Woods can continue to achieve in the future and fulfil its ambition of a global presence: "We want to be a one billion euro company by 2014, and having met the target growth with 700 million euro turnover in 2008, I dare say we are on track."
Fläkt Woods Group
Products: Industrial fans, air conditioning units and ventilators