Technology with control
Flamgard has been manufacturing and designing high quality ventilation products since 1981 and these are targeted at the worldwide petrochemical, oil and gas, industrial, nuclear, tunnel and power generation markets.
In 2007 the company acquired Calidair, a major competitor in high integrity ventilation, to create Flamgard-Calidair, and this combination of skills and expertise today provides security to customers, who know they are receiving exceptional quality and support, ensuring employee safety and the long-term success of their assets.
From design to manufacture, Flamgard-Calidair prides itself in assisting and selecting the most cost effective solutions for all HVAC projects. The organisation has a large installed base in the North Sea, where the majority of its equipment has already exceeded the original estimates for its working life. To make sure its products are of consistent quality, the company provides a refurbishment or replacement service to the service operators in that sector, thus decreasing downtime and also proving its reliability to clients.
Another way that Flamgard-Calidair addresses the robust quality requirements of these customers is by implementing a continual product development programme, as well as investing significantly in new CNC and IT machinery at its facilities. It also offers a complete design and build service and through these and many other strategies, the business has gained a loyal customer base that utilises Flamgard-Calidair products.
Dampers form a significant part of the Flamgard-Calidair product range. A damper is a valve or plate that stops or regulates the flow of air inside a duct, chimney, air handler or related equipment. A damper may be used to cut off central air conditioning (heating or cooling), or to regulate it for room-by-room temperature and climate control. The range of dampers from the company includes: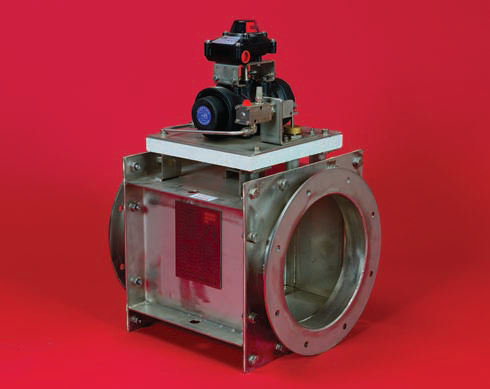 Fire dampers (Create a barrier to the spread of fire within ventilation systems)
Shut off dampers (Low leakage isolation of hot or cold air)
Volume control dampers (Ventilation system balancing, shut off or auto pressure control)
Pressure control dampers (Mechanical control of ventilation air pressure and airflow recirculation)
Blast dampers (Prevent blast forces entering ventilation systems)
Inlet vane dampers (Energy saving fan inlet air control)
Inert gas retention dampers (Energy saving fan inlet air control)
Nuclear dampers (Zero leakage type dampers for the nuclear market)
Tunnel/metro dampers (Specifically designed set of dampers for the tunnel/metro markets)
These high integrity dampers are designed to meet the highest safety requirements (BS 476 (20), IMO 754 pt (18), EN1366:2) and are approved by Lloyds, DNV, ABS, BV and SIRA with the company accredited to BS EN 9001:2008 by the Lloyds Register of Quality Assurance. All products are third party accredited to SIL2.
Continued innovation and a dedicated research and development (R&D) programme gives Flamgard-Calidair the opportunity to offer this wide range of dampers in various materials, such as stainless steel and mild galvanised steel. It specialises in ventilation systems for fire protection, which is where it first earned industry-wide recognition, leading to its systems being sent worldwide to all of the major oil firms. With a proven record of reliability and high performance in a marine environment, Flamgard-Calidair's dampers are designed to operate in the most extreme climate conditions offshore. All Flamgard-Calidair dampers are based around a number of key features, such as low leakage in accordance with BS EN 1751, BS EN 15138 and NORSOK compliance when requested. Safety at sea is the main priority for ship and oil rig operators, contractors, and consultants and Flamgard-Calidair's products form an integral part of the ventilation system. They are primarily installed to prevent smoke or fire spreading in an emergency situation.
As technology develops and becomes more sophisticated, modern ventilation and fire control equipment increasingly has to be compatible with state-of-the-art control systems for integrated fire protection and energy management schemes. With this in mind, Flamgard-Calidair has taken steps to keep abreast of updated and implemented regulations concerning safety; for offshore use, the company has a control system that conforms to the regulations of the Department of Energy's Offshore Installations Guidance on Fire Fighting Equipment and Statutory Instrument 611. The control system has features that include the ability to close the damper automatically during a fire emergency, whatever the condition of the electric and pneumatic signals, and a facility for automatic operation from fire or gas detection systems.
Samples of all Flamgard-Calidair fire dampers have successfully passed the minimum 60 minute fire tests, with offshore fire divisions usually classed as 'A60', along with "H60" and "H120" fire test certification, and also the onshore test BS746 (20) for a four hour duration.
For 33 years Flamgard-Calidair has manufactured high integrity stainless steel dampers for use in offshore petroleum and heavy industrial ventilation systems, gaining a loyal customer base along the way. These three decades of experience, and a dedication to maintaining its leading position will ensure that Flamgard-Calidair remains at the forefront of ventilation and fire safety control for many years to come.
Flamgard-Calidair
Products: Ventilation products, specifically dampers