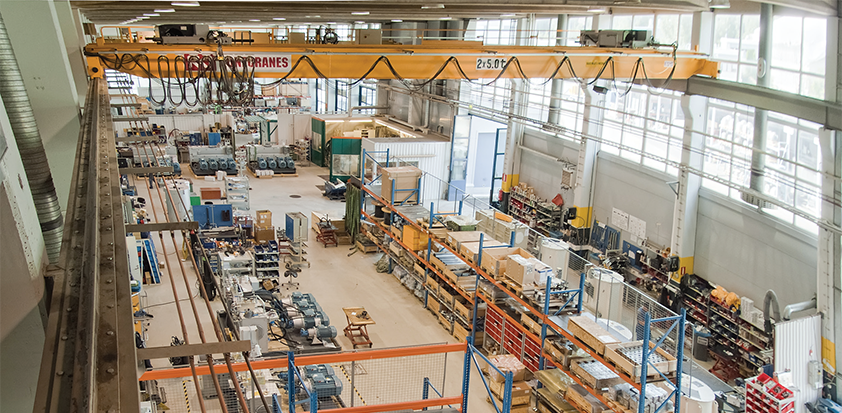 Staying fluid
A relatively small company at its inception, FluidHouse Oy's beginnings lay in the development of different kinds of new hydraulic systems.
The first big shift in the company's business came when FluidHouse acquired an automation workshop from leading paper manufacturer Metso. This move saw it jump into a new league of fluid automation, and for a time it was predominately engaged in producing these systems, as well as hydraulic solutions for paper machines.
"We subsequently began to branch out into new customers and business areas, and worked to create an international business," continues managing director Juha Kyllönen. "As such we established a subsidiary in Shanghai, China which operates under the same principles as our main office in Finland. Whilst undergoing this expansion we began to work together with Siemens on the development of a new oil lubrication concept for gas turbines. The production of these types of devices therefore took us deeper into the oil and gas business."
Although FluidHouse has itself been operational since 2004, the company actually holds more than 30 years of experience in developing fluid power automation systems. As such it seeks to improve its customers'competitive edge by offering some of the most advanced solutions and innovative products on the market. The result is a substantial capability in high-end, cost
efficient, and environmentally sustainable automation and special machinery solutions for global industrial markets such as pulp and paper, marine and offshore, energy and environment,
"We started life as a development company, and therefore we have created a range of lubrication systems which utilise specialist technologies in reducing space and the influence of air and water to ensure the proper treatment of the oil. Our main business lies in the sub-supply of systems to original equipment manufacturers (OEM). As we have developed our own solutions though, we are also able to offer tailor-made versions that meet certain customer specifications," notes Juha.
The latest major development in FluidHouse's history is its merger with former subsidiary Prodatec Oy as of the 1st of July 2012. The idea behind the move is to create a more uniform organisation that is able to serve its global customers as a single partner. Equally, by integrating Prodatec into its core business FluidHouse has gained additional knowledge and technologies within the field of monitoring and performance optimisation.
"Lately we have been concentrating on developing different kinds of high-tech monitoring systems, and as part of this Prodatec has been very active in a number of European Union (EU) technology programmes. Specifically these are the eSONIA, ASTUTE and AESOP artemis JU and seventh framework programmes. Through these projects we are developing, together with major partners, a new technology that could be utilised in the control or monitoring of our lubrication systems. We would like to achieve new technology for monitoring concepts, a different kind of human-machine interface, and either a wireless or over the web solution, which would offer almost limitless possibilities to monitor or control the solutions with only a very light architecture," elaborates Juha.
Whilst these works may have a significant impact in the future, currently FluidHouse is contending with a market that is still seeing some backlash from the recession. Having come through a difficult year in 2009, the business underwent rapid growth but as of this summer the market once again seems to have stalled. However, areas like oil and gas continue to look more positive for FluidHouse but there is still an air of caution as to keep on developing new solutions the company has to place substantial investment, which in turn is dependent upon the financial situation of its customers' customers.
"Oil and gas is a growing market, where we have experience, and whilst to date we have focused on oil lubrication systems for applications such as gas turbines, we can also provide smaller lubrication systems for different components within larger industrial systems such as gearboxes, motors, and generators. These are areas that we see as growing in our business, and will continue to develop going forward," highlights Juha.
He goes on to outline how this therefore fits into FluidHouse's strategy long-term: "We would like to become recognised even further as a specialist company within oil and high-end lubrication systems, and as a business that can develop competitive solutions for our customers. Therefore our aim is to be a world-class provider of specialist technologies for application in critical or heavily operated devices. Although this is our greatest focus, we also continue to offer hydraulic systems as part of our portfolio, and through this combination intend to expand our business into other areas as well."
FluidHouse Oy
Products: Oil lubrication and hydraulic systems