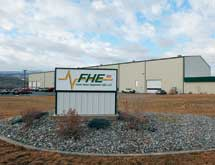 Frank Henry Equipment USA
The oil and gas industry is a competitive one, but Frank Henry Equipment (FHE) USA distinguishes itself with its level of service, President Nick Snoke says. "Our guys, 24/7, are willing to do whatever is necessary to take care of the customer's needs," he expresses.
"We're in a demanding industry," he says. "Our guys work with the customers on any project they may have. [We give] them the highest level of service that we can possibly offer them."
Snoke explains that FHE USA originated from FHE in Edmonton, Alberta, which founders Frank Henry and Keith Snyder started in 1986. At the time, "There was a need for a company that manufactured pressure control equipment and performed annual certification," he indicates.
Two decades later, the firm formed FHE USA in Fruita, Colo. Now in its sixth year of business, FHE USA specializes in distributing and manufacturing wireline equipment, which includes pressure control equipment, perforation products, grease injection systems, annual certifications, in-field training and more.
FHE USA manufactures flanges, pump-in subs, wireline valves (BOP), tool traps, risers, tool catchers, grease injection heads, grease injection systems and so much more. "We have come up with several proprietary designs that we give our customers a decisive advantage in the pressure control business," he states.
"FHE USA primarily services clients in the wireline industry," Snoke declares. "We work locally, regionally, nationally and internationally," he says, noting that the firm has served clients as far away as Australia, Colombia and Oman.
"We treasure the business relationships with every one of our clients," Snoke reiterates. FHE USA has a policy of meeting with its customers in their offices, he notes, no matter where they are located.
On Its Own
"FHE USA's ability to manufacture on its own allows it to better control costs and lead-time," Snoke reports. "We're in an industry where our customers need equipment right away. We eliminate costly hurdles by getting products to them quickly."
This has helped FHE USA win a substantial share of its market. "We will get the customer the product when they want it, no matter the circumstances surrounding it," Snoke says.
A Great Group
Snoke joined FHE USA in 2007. "I was employee No. 1," he jokes. Snoke contributes years of leadership skills, industry knowledge, and an unyielding determination to manufacture the best tools and equipment for customers.
He adds that FHE USA has nurtured a "team" environment with workers who believe in its philosophy. "We've been fortunate to have a great group of employees that are always pressing forward to make Frank Henry a better company," Snoke explains.
Several of its employees have many years of experience in the industry, including Operations Manager Mark Debogorski, who is celebrating his 20th year with FHE. Debogorski started with the company in Canada and came to its USA operations five years ago.
Debogorski manages many of the relationships between FHE USA and its vendors. Additionally, "He has mentored many of our management and leadership [employees]," Snoke says. "He's weaved his knowledge and experience throughout the entire company."
Growing Its Share
FHE USA grew its staff from three to 70 employees in the past five years. "We hope to continue [that] level of growth," Snoke shares. "Frank Henry Equipment USA has become a trusted partner and resource to many industry leaders."
The company has two locations in Colorado and Texas and wants to add a third in Oklahoma, Snoke resolves. Additionally, "I hope that our company will continue to evolve as the market evolves and continues to be a larger influence in the industry," he says.