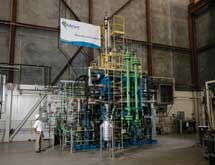 One of the biggest energy-related discussions in recent years continues to be the United States' dependence on crude oil and the need to develop alternative energy sources. With the use of ethanol as an additive to traditional transportation fuel gaining popularity as one of these alternatives, one company is making plans that could not only help solve crude oil dependence but also target another major issue in the process.
Fulcrum BioEnergy Inc.'s approach to ethanol production differs from many methods in that it doesn't use a crop or an edible source. Instead, the Pleasanton, Calif.-based firm uses an abundant source for its ethanol feedstock: garbage.
"We've evaluated third-party technologies and identified what we think are two technologies most ready for commercial deployment," says Rick
Barraza, vice president of administration. "We've licensed that technology and will use it in our plants to convert household garbage into ethanol."
Fulcrum was founded in 2007 by capital firms US Renewables Group and Rustic Canyon Partners.
'A Watershed Project'
The company plans to start construction this summer on its first commercial -scale production facility in the city of McCarran in Storey County, Nev. Fulcrum contracted with engineering, procurement and construction firm Fluor to build the $120 million Sierra BioFuels Plant, expected to be funded in part through a guaranteed loan from the U.S. Department of Energy (DOE).
"Many companies applied for this loan in 2009," Barraza adds. "We are one of the first biofuels companies that's gotten this far with the DOE, which I think is a tremendous endorsement for our business model and our technology."
Fulcrum recently completed a $75 million Series C financing providing sufficient equity capital to complete the Sierra BioFuels Plant.
Once completed in late 2012, the Sierra BioFuels facility will have the capability to produce 10.5 million gallons of ethanol annually and will also generate electricity for use at the plant. Fulcrum contracted last year with national waste services companies Waste Management and Waste Connections Inc. to provide trash for processing. After the waste services companies have sorted the household garbage and removed the conventional recyclable items such as paper, glass, aluminum cans, or metals, the remaining trash is delivered to Fulcrum's plant for processing. This feedstock will include clothing, wood waste, packaging material, non-recycled paper and plastic goods, and other waste normally destined for the landfill.
The plant will use two main technologies to turn trash into ethanol: a gasification process that will convert solid waste into a syngas consisting mainly of hydrogen, carbon monoxide and carbon dioxide; and an alcohol synthesis that will convert the syngas into ethanol.
"Sierra BioFuels is a watershed project for this kind of energy," Barraza says. "We're excited to demonstrate that clean, reliable waste to fuels commercial scale projects are a reality."
The plant also will be capable of recovering heat released during the gasification process and using it as steam for heating. Once the ethanol is purified, it will be available for sale to local blending and refining companies to be used in transportation fuel.
The process' cost is estimated at less than $1 per gallon. In addition, it has environmental advantages beyond diverting waste from landfills. "When we compare emissions from our project to traditional gasoline production, we are producing 75 percent less greenhouse gas emissions," Barraza adds.
Sierra BioFuels is only the beginning of what Fulcrum hopes will be a nationwide rollout of its trash-to-ethanol method. "After this plant is built, we want to start construction on the next one," he says. "We have secured access to enough feedstock to build more than 20 plants with the capacity to produce 1 billion gallons of ethanol per year; we're looking at a very aggressive ramp-up to build plants across the United States to convert trash into ethanol."