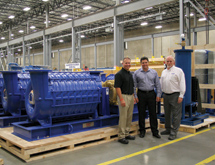 It's been a big year for Gardner Denver Nash. Private equity group Kohlberg Kravis Roberts (KKR) & Co., bought Gardner Denver Incorporated (GDI) (Nash's parent company) for $3.9 billion, while Nash was in the process of consolidating operations and acquiring the CF Blower product line. The high potential is the combination of many elements. KKR has a vast global portfolio and footprint, which increases synergies, business process focus, and supply chain leverage. Nash is part of Gardner Denver's Energy and Infrastructure Group which augments Nash's well-developed global sales, service and manufacturing operations, as well as its focus on quality, service, innovation, and aftermarket. The overall effect should be a strong increase in CF Blower customer satisfaction.
In late 2012, Nash integrated the complete Hoffman and Lamson multistage and high-speed blower product lines from GDI's industrial products and starting producing centrifugal blowers. The team relocated assembly and operations of the brand from Peachtree City, Ga., to the Nash headquarters and North American operations center in Bentleyville, Pa.
The blowers' move coincided with Gardner Denver Nash's restructuring of its America operations and completion of a new, 100,000-square-foot headquarters/operations facility in the spring of 2012. The integration created 70 new staff and operations jobs in the Bentleyville site, with only 15 employees moving north from Peachtree City. The Pennsylvania plant was expanded by 15,000 square feet to make space for production of the centrifugal multistage and high-speed blowers. The company also added a dedicated, high-voltage and fully instrumented ASME test cell and expanded office and warehouse spaces.
A blower's main application is to provide high volumes of air for wastewater aeration and industrial processing. This new product complements Gardner Denver Nash's line of liquid ring vacuum products for vacuum and compressed gas applications. The integration is a natural fit for Nash "as we have global channels to market, and the blowers are a highly engineered product with many common customers for the liquid ring pumps and ejectors," says Vince Trupiano, Gardner Denver Nash vice president.
'More Potential to Grow'
The purchase in July by KKR "brings in additional talent and expertise to enable our growth strategy," Trupiano says. KKR is a leading global private equity company with $80 billion under its financial leadership.
KKR acquired 100 percent of Gardner Denver stock and became the sole shareholder this past summer.
The change impacts Gardner Denver Nash's day-to-day business by "increasing focus on business processes and critical metrics to help us grow organically," Trupiano says. "[KKR is helping] to improve our business functions and making critical investments in the company for long-term growth. They have been quick to support our business plans and also augment them with new ideas."
'Improved Value Chain'
In addition to ramping up production in Pennsylvania, Gardner Denver Nash is expanding blower manufacturing capabilities in existing plants in Boshan, China, in the center of the Shandong province, and in Nuremburg, Germany.
These developments "improve the value chain" for Gardner Denver Nash, Trupiano explains. Since there is demand for centrifugal blowers in many global markets, Gardner Denver Nash has decided to produce locally in the expanding markets and use local suppliers instead of exporting.
Although there has been a lot of change – both domestically and globally – at Gardner Denver Nash, it has been a smooth transition, Trupiano reports.
"Overall the transition and launch has gone very well," he says. "We've met our plans and targets and are continually improving our delivery performance in order to completely satisfy our customers. The team from Peachtree city and our new hires have done a phenomenal job transferring the process equipment and knowledge."
This is especially important, he explains, because most of Gardner Denver Nash's orders include customer specifications for highly engineered products that require strong projects management skills.
Back at Nash headquarters in Bentleyville, Pennsylvania, the state-of-the-art manufacturing plant is "world class and well received by customers and employees," Trupiano says. "The local community has embraced us and is pleased that the company created and retained jobs. Most importantly the new site has demonstrated improved safety, lead time, quality, and customer responsiveness."