Chemical reaction
Geveke Werktuigbouw is one of the biggest players in the Dutch industry and utility sector, with its considerable success attributed to its good quality, above standard lead times and competitive pricing.
It has three offices and several agents around the world, amounting to 300 employees with 200 based in the Netherlands. The company has recently gone through its second management buy-out. Explaining Geveke's main activities, oil and gas manager Robert Hessen says: "The organisation was founded in 1874 to trade technical products. There have been many changes over the years and
we're currently a private company owned by the management and private equity. Our main office is in Amsterdam and serves our core activities in the fields of pumps and pump packages, air compressors and climate control equipment. The other two offices are located in Belgium and Malaysia.
"For the international market Geveke predominantly provides packages for the international oil and gas industry, and includes chemical and methanol injection packages. Its customers are oil and gas companies, FPSO specialists, engineering contractors and yards, and the company has recently won several new contracts. On a worldwide basis, we sell many packages to oil and gas companies, predominantly aimed at the FPSO market and on- and offshore facilities in Europe, Africa, Brazil and Asia."
In considering the company's key strengths, Robert comments: "We try to be pro-active by communicating openly with our customers and suppliers. If you look at the field of packaging, we represent a large number of A-brand pump and compressor manufacturers and, on the basis of that know-how, we design the total philosophy of the package. All items that are put together form a package – we're not just combining individual parts. If there is a flow meter it has to be designed to work in combination with the pump and, in some cases, you can't use certain types because other items in the package prevent that. All our packages are tested as a complete unit and must comply to the design parameters, specifications, third party requirements and local regulations.
"In the field of FPSOs, one of our strong points is our good lead time, which we try to keep as short as possible. We have it all – good products, the know-how, the supporting services, short lead times and very acceptable price levels. Our broad experience is especially important at the moment in respect of the development of new projects."
Its projects include the creation of new products, which the company has invested heavily in for many years. "On the request of customers, we actively look into the development of new products so that we can better serve our clients," explains Robert. "Nowadays, we see a great deal happening in deepwater development, which has some very specific requirements, so we're actively investigating the options to upgrade our systems in order to comply with these new requirements. New developments have always been a strong focus of ours since we started in 1979 with fairly small chemical injection packages at the request of Shell and Saudi-Aramco. The purpose was to reduce the number of man-hours spent in remote areas, where it's very difficult to assemble a plant or an oil and gas location. These preassembled units have grown drastically in size over the years – the biggest chemical injection package we've built so far is 80 tonnes."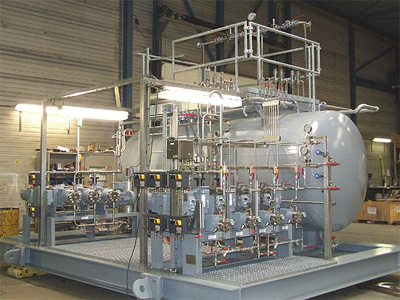 Continuing, he adds: "We meet all the requirements for FPSO applications where we need to make extensive stress calculations on the pressure vessels and piping, because we have to consider the movement of the ship. We received our first orders for a FPSO in Europe in 1995 and since then we have received a large number of orders for chemical and methanol injection packages. Running parallel to that, we started developing transfer pumps skids, IRCD (injection rate control device) distribution panels, which are used for metering chemicals in the well heads, and we built special eductor packages to evacuate fumes from the cargo hold on FPSOs. Most recently we started the construction of nitrogen generator packages."
Geveke's outlook is extremely positive as more opportunities present themselves in new areas, though they bring challenging aspects. "We are actively involved in the oil and gas business at present and we see a great future with great developments and great opportunities in that area. We see field development going to more remote locations, so the systems involved are growing larger and more complex. Recently we received our first order for a chemical injection package for the first FPSO in the Gulf of Mexico, which reflects the requirement for complex installations – particularly for deepwater projects. Operating pressure on this package is nearly 900 bar and the design pressure exceeds 1000 bar. We see great opportunities in these high-tech projects and, if you look at the world market, the number of FPSOs under construction or under review has never been as high.
"We also see a large number of local investments in many countries, which is why we started our facilities in Malaysia," he continues. "For the local Malaysian and also partly for the Asian market, we started with the production of chemical injection packages and other packages in Malaysia."
In terms of challenges, Robert comments: "At the moment, the bottleneck is basically availability of materials and people. This is not simply on our side – customers and engineering contractors are experiencing this problem too. They are having major problems in getting work done and giving approval to proceed."
Despite such difficulties, the market is currently very strong for Geveke, which has a forward-thinking approach to new challenges: "We're growing the business at a very rapid pace, which means that we want to increase our worldwide presence. For that we are increasing our staff numbers, especially here and in Malaysia. We're also involved in the development of new packages for our customers and we keep track of all kinds of new and interesting products and applications. For a long time the maximum operating pressure for production units was about 350-400 bar. That has recently risen to 500 bar for packages that we have supplied for a West African project and it has now gone up to 900 bar for the Gulf of Mexico. We see the development of these complex high pressure units as a great opportunity to progress the business."
Geveke Werktuigbouw
Products: Chemical & methanol injection packages