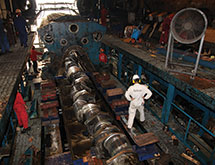 Goltens has the ability to work anywhere in the world, but it's smart enough to know which areas need its help more than others. As a diesel engine specialist, Goltens has served ship owners, shipyards, industrial plants and power stations by planning and performing critical engine maintenance and specialized in-situ machining repair work. With 1,300 skilled employees across 15 countries, the 74-year-old company services more than 3,000 clients each year.
In its early days, the company focused on the global merchant marine market, but in the past 10 years, COO Roy Strand says the company has made great strides pushing into other parallel markets. Those efforts have been even more important following the Great Recession.
"When the global recession hit, our core customers in the merchant marine sector went into a tailspin," he says. "It's still a long, drawn-out recovery but we are fortunate to have diversification. The merchant market is expected to be in the doldrums for a while but markets like stationary power, oil and gas, offshore merchant and heavy industrial are more consistent."
Although the merchant marine sector remains a valuable client base for Goltens, the company has made an aggressive push to diversify into other markets. The company has taken its comprehensive engine repair and maintenance skillset once largely focused on merchant marine and translated it into working with stationary customers such as power plants, mining operations, oil and gas operators and hydro, gas and steam turbine generators. And in addition to expanding the industries it serves, it has also expanded the regions in which it works. For instance, Goltens recently opened a Houston facility to gain a significant presence in the U.S. Gulf market.
Reaching Out
"That's why Houston is so interesting to us," Strand says. "It's the largest port in the United States with merchant, oil and gas, offshore merchant and significant petrochemical and power customers. There is also a third set of locks opening in the Panama Canal in the next year which will increase the vessel traffic in the Gulf significantly."
Other geographic expansions in recent years include stations in the Philippines, Indonesia, Mumbai, Vietnam and Saudi Arabia. Strand says Goltens focused on developing these new locations in the past six or seven years to expand its footprint, but now that it has a presence in many of the growing global markets, Goltens is focused on deepening those presences with investments in personnel, capabilities and tooling. With its widening footprint and targeted investments, Goltens is effectively living by its three-part mission of presence, precision and response.
"All of our diesel engine and in situ machining services are focused on minimizing downtime and cost for our customers – that's the biggest driver for us," Strand explains. "We're not an engine manufacturer. Unlike the manufacturers, we don't carry a large stock of parts that we need to turn over, so we are motivated to find economical repair solutions rather than replacement solutions. We ask ourselves how can we restore the engine with the least amount of interruption and cost to the customer."
Strand recalls a job in which Goltens Singapore orchestrated the relocation and reconditioning of an 80-ton Wartsila engine block carried out by its in situ machining and diesel engines teams. The 120 MW barge-mounted power plant in Haripur, Bangladesh, owned by power generation providers NEPC and Covanta Energy, required significant repair work to one of its Wartsila 18V46GD engines, including the supply of a fully reconditioned engine block.
The engine block was transported from the Philippines, where Goltens had dismantled and extracted the block to perform visual inspection and nondestructive testing. It was then transported 50 kilometers by trailer and lifted to a vessel headed for Singapore. Once in Singapore, Goltens converted the engine block to use dual fuel using specialized in situ machining equipment. Once it was reconditioned, the engine block was shipped to the Port of Mongla in Bangladesh.
"For us, location is not an issue," Strand says. "We can respond anywhere in the world and we have found that to be a critical request from our clients. They know that we can respond no matter where the problem occurs. Our business is global and our customers' problems are everywhere.
"What makes us great is, because of our background in marine, we never knew where the customer was going to be so our ability to mobilize teams and to go wherever the customer is, is a core competency of Goltens," he adds.