Move, measure and control
Since 1926, when it began looking into ways of efficiently lubricating vehicles, Graco has developed its equipment and knowledge not only in the lubrication world, but also in painting, coatings and sealants. "As long as it's a fluid we can handle it," says Marc Zantinge, channel marketing manager at Graco Europe's Industrial & Automotive Division. "And the more complicated it gets, the more we like it.
"Over 2200 people work for Graco either at its worldwide headquarters in Minneapolis, its European headquarters in Maasmechelen, Belgium (also serving the Middle East and Africa), or in Shanghai serving the Asia Pacific region," says Marc. "Most of Graco's production is carried out in the US and in the various regions we have warehouses for storage and assembly and our own local sales and marketing department offering technical assistance and customer service. We work with many distributors and service partners each with their own expertise throughout Europe to guarantee customer satisfaction."
Graco's online system gives its partners direct access to its stock and other information. The company has a wide and broad range of products for painting and coatings, sealant and adhesives, process and lubrication. The oil and gas sector is a big market for Graco as all pipelines need to be coated inside and outside, which requires specific experience and expertise. Graco has been working in this field since the middle of the last century. In addition, Graco Europe has a modern training facility in Maasmechelen where training and testing is carried out in order to keep its specialised distributors up-to-date with new products.
As a market leader in fluid-handling equipment Graco strives for sustained profitable growth where a dedicated part comes from new developed products. The company invested $37 million in product development in 2008 and kept on investing during 2009 and into 2010, and this will continue in the future to ensure a healthy product line adapted to market requirements.
Looking more at the oil and gas business, the company has specialised contracts for coating pipelines in Central Europe, Russia, and the Middle East and Africa. "The question we tend to get from customers in several regions is can we coat the pipeline in the field?" says Marc. "Our distributors have direct contacts and have made mobile units to measure that can spray protective coatings on the pipes during installation. This ensures a proper coating on the seals where two pipes are connected. We are also able to carry out the interior coating of pipes, however this is more often completed in one of our factories."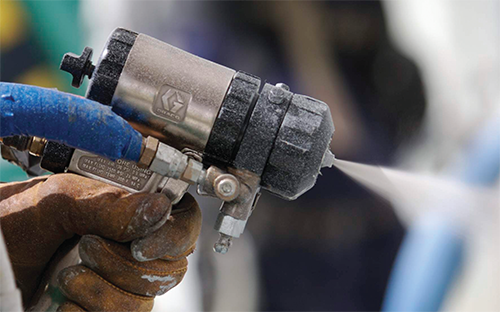 Graco has carried out a number of projects recently, including one for an Algerian oil pipeline. In this particular project Graco's distributor Eurimpex received a specific request from the client. It needed to apply hot coatings on pipeline sealings in Algeria where the temperature ranged from between 20 to 60 degrees Celcius. Other challenges included a dusty environment, the need to be able to work non-stop ten hours a day, easy maintenance because of distance, mobility and the application of a minimum 200 joints a day.
The customer chose the Graco Hydracat product, which has been working for three years constantly without repair, while offering easy maintenance and the ability to work with different paints and configurations. The system was built on a skid in a 10" or 20" container, being transported on a 4×4 truck. So far 35 units are running in the field.
In addition to the above project another Graco distributor was involved when carrying out re-isolation works on a gas pipeline in Russia. The application of polyurethane and polyurea materials in a 2K proportioning system needed to be integrated into a mobile system and for this the Hydracat and XM proportioners were chosen. This was because of the high viscosity of the materials and because a high-pressure output was needed. Both systems were successfully installed in containers.
Material development
In the field it is easy to witness the constant development of applied materials, including normal protective coatings, zinc-coatings, fast curing polyurea coatings and foam applications for the insulation of pipes. "Each material requires different handling and specialised machines," Marc explains. "Therefore we offer a wide range of products to be able to spray these materials. If you are spraying zinc material you can do this with a normal pump but the parts will wear quicker because of the zinc particles in the coating, so you need a pump with a dedicated metal-surface on the 'wetparts' – the parts in connection with the abrasive zinc-particles.
"Another example of our development is for polyurea coatings, which react within three seconds, meaning that mixing is done with a gun instead of at the machine. You cannot apply this material with just any kind of pump or gun, particularly in the oil and gas industry, where there are a lot of cases that require ATEX approved equipment. In general for coatings we are seeing a movement from solvent borne to waterborne materials and the equipment used needs to be able to handle this.
"As a consequence, if you want to maintain a position as a market leader you are under constant pressure to do things right," Marc continues. "However, just doing things right is not good enough, if we can improve we will. Graco has always had a top-class electrostatic gun, a system with a built-in generator so there are no electrical lines. To have this system adapted for waterborne material was not easy but we succeeded, and we now have a top-class gun for this application."
For high solid protective coatings the clients' main request is for high pressure airless spraying. Here Graco has its XTR gun line, which can handle up to 500 bar of pressure, has a very ergonomic design resulting in no operator fatigue while spraying, and a reversible spray tip. Working with pneumatic pumps requires compressed air for the operation. Last year Graco introduced a complete product line where all pumps consume less air to keep them running. This results in more efficiency and less costs for the end-user.
Looking to the future the oil and gas industry has been a relatively stable business for Graco in recent years. The company's growth perspective lies in new products and markets, meaning that it is always looking into developing countries and other markets.
"After almost 90 years we are still in the oil business and have huge experience in lubrication. From crude oil on rigs through to changing the oil of a car, Graco knows every step of each process," Marc concludes
Graco
Services: Fluid handling systems