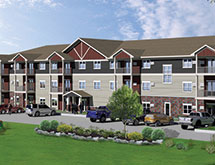 Formerly Helgeson Development, HDC Development got its start in 1970 and has built its reputation by specializing in the construction management and general contracting of commercial and multifamily housing. Its portfolio of successful developments includes more than 4,000 housing units and numerous other commercial projects. Thanks to its extensive experience, HDC Development can provide clients with expertise in development, market analysis, architect and site selection and construction supervision.
Leading the company today are President Roger Holtberg and Senior Vice President/Project Manager Jim Lemke. Holtberg has 43 years of experience in senior housing and is a licensed nursing home administrator, while Lemke has 34 years of experience as an expert in the construction of senior housing and multifamily housing. Lemke works in all facets of project development, including architectural services, design, estimating and overall project management.
"We package complete projects consisting of assisted living units, congregate housing, memory care units, foster care, nursing home units, hospital additions, commercial office buildings, and multifamily housing and remodels," Lemke says. "We do so in a cost-efficient manner utilizing our strong management team and our reliable network of contractors."
Ties that Bind
HDC Development's roots are in Minnesota, and it is now licensed in 11 Midwest, Southern and Western states. HDC Development primarily serves commercial, senior and multifamily housing. Doing exceptional work and getting the job done on time or before the expected completion date have established the company's reputation for quality performance.
"The owners are extremely happy when we can complete a project ahead of schedule," Lemke says.
The company has a number of notable projects in its portfolio. These include the Annandale Care Center, Blum Office Building, Country Manor, Edgewood Vista (Hermantown), Edgewood Vista (Virginia), Health Dimensions Office Building, Maple Manor and Steeple Pointe in Minnesota; Elk Pointe Apartments, Meadow Ridge Apartments, Southwood Apartments and The Pines on 37th in North Dakota; Syracuse Good Samaritan in Nebraska; Echo Ridge in South Dakota; Crest Ridge Estates in Iowa; and Bonell Good Samaritan in Colorado. Minot, N.D., has been one of its most active markets in recent years.
HDC Development believes the key element to successful construction management and general contracting is having a qualified working team from the office to the field. HDC currently has an experienced, highly qualified and knowledgeable management team of two other project managers, seven job superintendents and office personnel.
"Our team has assisted owners with their projects from the development of the idea through project evaluation, design, construction and marketing to obtain a high-quality project with less expense," Lemke says.
HDC Development works to develop strong relationships with the client market and the subcontractor community. Each of its individual projects is personalized and targeted to the needs and desires of the owner. Their personal requirements are all worked out according to their needs or wishes, as HDC Development takes a wide array of issues into consideration. This includes which AIA contract document to use, how the client needs the monthly draw process to be handled, how many O&M manuals they need, and more.
As for establishing ties with contractors, the best subcontractors that HDC Development works with have learned the company has certain guidelines that must be followed in the office and in the field. For HDC Development to successfully complete a project, the subcontractors must meet those guidelines.
"That is why we have a following of loyal subcontractors, as they know what we want, when we want it and how we want it," Lemke says.
Ongoing Efforts
To continue its evolution as a company, HDC Development makes regular investments into the organization to improve and enhance its service offerings and internal operations. HDC Development has tried to keep up with today's technology in the office and in the field, and it recently updated all the computers and phone system in the office. All plans, specification books, addenda, ASIs and more are submitted and disbursed electronically.
"If a subcontractor needs a hard copy we still have the large format scanner and printer to accommodate them," Lemke says. "All of the job superintendents have updated cell phones and iPads. They are able to receive emails and documents electronically in the field. This makes for quicker response to issues that are urgent and therefore resolving them in a shorter period of time."
HDC Development also works to stay on top of the major trends taking place in the industry. Among the major trends and challenges that the company sees on the horizon are keeping a large experienced workforce and trying to hold down prices. That is why the company is looking to buy smart while successfully dealing with the local elements and importing the right goods into its market. Getting utility hook-ups such as gas, power and communication services to its projects, as well as having to build entire projects by diesel generators are other challenges that HDC Development is working through.
Fortunately, HDC Development has already established a track record for longevity and success. Lemke is confident that the company will continue to find ways to adapt and grow. "Our employees have been with us for many years and can handle our projects," Lemke says. "We have the experience, and I'm very happy with the way the company is performing."