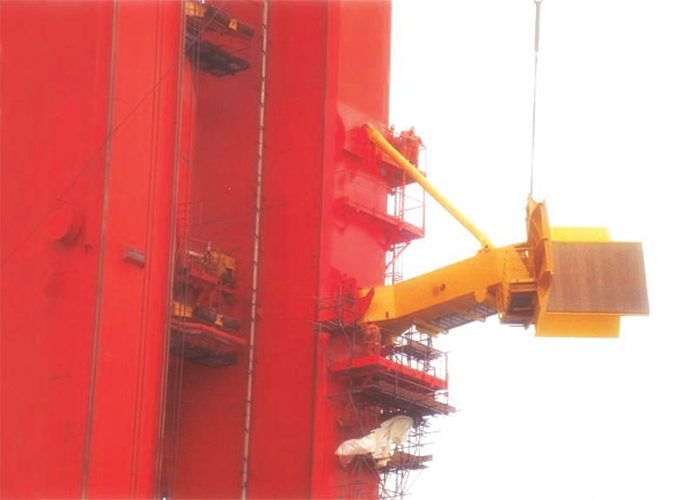 Redefining boundaries
Perhaps more so than other companies operating within the oil and gas sector, Innovative Input is a company founded on a principle.
During 2001 Innovative Input was established by its current managing director Piet Kalkman with the vision of supplying specialised heavy equipment for offshore, onshore and civil applications. Coming from an acclaimed background within the sector Piet founded the company with a profound commitment to knowledge, creativity and experience. As such, it is renowned for expecting that its engineers are able to judge what is technically possible; thinking as inventors and acting innovatively to reach goals. By committing to this philosophy of innovation, the company has set itself apart as a forward thinking and progressive partner. Innovative Input is headquartered in Ridderkerk, Holland and started life purely as a design office. However, following the success of its product applications it expanded into the delivery of tailored equipment and began to co-operate with external partners to facilitate the production of its bespoke designs. Furthermore, the company is able to work with its clients at every level of product application including concept studies, basic designs, calculations, detailed designs, drawing plans and the final delivery of manufactured equipment.
Although the company provides specialised designs based on its customers' requirements its product portfolio can be broadly separated into cranes, winches, lifting gear and special equipment. Its cranes have been designed for applications including heavy lifting work, floating derricks, A-frame constructions and pipe handling systems and can be manufactured for weights of 400t, 600t and more. All of its cranes are delivered completely assembled and are fully tested for functionality in the presence of an independent, certified inspection authority.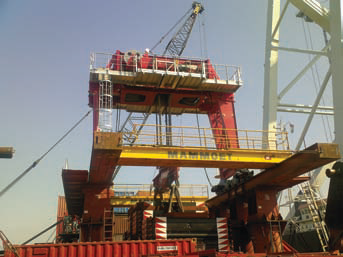 Similarly, a global network of aftersales support ensures that service levels are maintained and that customers can operate the company's innovative design with confidence. Complimenting its cranes, Innovative Input's range of lifting gear is likewise designed to meet the requirements of its customers ranging from lifting, cantilever/equaliser and spreader beams to yokes, swell compensators and more. As well as supplying its clients with tailored design applications, Innovative Input is able to recognise industry trends. To this end it includes equalisers as part of its standard delivery programme in anticipation of customer requirements.
In terms of its winches, Innovative Input is able to provide lifting solutions of a capacity up to 650 tonnes for a variety of offshore and onshore applications. Winches are often subjected to high stresses and demands and as such, special designs are often required to ensure the suitability of the equipment. Owing to its bespoke design portfolio, Innovative Input is able to provide winches for a host of applications including anchor, traction, hose and umbilical winches as well as capstans and for floating derricks.
At the core of the company's vision is its commitment to providing unique solutions to more unconventional jobs. Over recent years Innovative Input has delivered a number of highly specialised and challenging solutions to clients all over the world. These include the engineering of an Upper Side Arm to aid the pipelaying process onboard a deepwater vessel operating within a high swell environment. The arm was designed to guide special pipe-parts vertically and consists of a stable arm and 'hand' coated by a polymeric material. The arm is designed to be rested on a diagonal pipe that also serves as storage for the equipment when it is not in operation. As well as fully designing this custom machine the company also carried out full FEM calculation to assess its working capability. For all of its design applications, Innovative Input's specialist team are on hand to help customers establish how to best meet their requirements.
Innovative Input is able to count itself as an industry leader when it comes to cutting edge design solutions. It has developed a close relationship with its producers and subcontractors as well as with its suppliers to ensure that it can service its customer effectively. This spirit of co-operation helped the company win a challenging project for a modular spreader beam system during July 2013. The requirement for the system was that it was able to spread from 2m to 26m in multiple steps with a design load of 1250t. The beam sections were required to fit in a single 40ft container for transportation purposes and had to be designed according to DNV specifications. The relatively short delivery time of the project meant that many companies were not able to meet these requirements in a satisfactory enough way to convince its client to award the contract, however Innovative Input was able to demonstrate its readiness and take on the project. Piet elaborates: "We have very good contact with our suppliers, classifying bodies and subcontractors. In this case got them all together in one room along with our client to host a meeting showing that we had every stage of the project in hand and accounted for. The client was impressed to see how effectively we could manage and centralise all of the project's needs and awarded us the contract, which we were able to undertake successfully."
The company's dynamic product portfolio and bespoke solutions find it servicing a global market, however despite the international placement of its clients it is interesting to note that increasingly its operations are focused in China. "A lot of European firms are keen to build in China because they think it is cheap," says Piet. "However, when you are building ships you need to produce the equipment there too due to the cost of transport. Because of this we are becoming increasingly active with partners in China in the production of equipment for European clients." As it moves in to 2014 and beyond, Innovative Input is committed to continuing to provide robust and revolutionary design in the ever increasing demands of the oil and gas industry, as Piet concludes: "Conformity becomes an enemy for us. We see new inventions as not being a threat to shareholders and business, but as the key in driving industry forward. We are keen to improve the efficiency of the industry and we are looking for people with the courage to try new designs and innovations, both as part of our company and as partners."
Innovative Input
Services: Unique design solutions