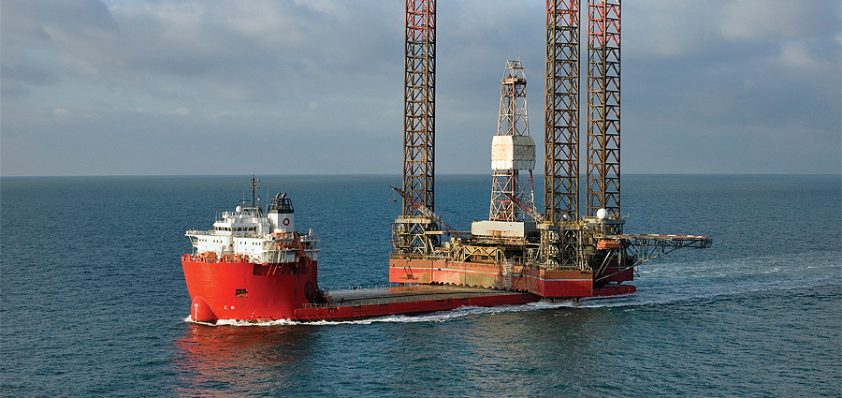 New horizons
Now a part of the Rigmar group of companies, a globally leading source of support services to the offshore energy sector, Interocean was originally formed in 2007 to provide rig move services to the industry. "We were established primarily to focus on the marine and engineering services surrounding the requirement to relocate semi-submersible and jack-up rigs, and we have been very successful in doing this," begins Group Development Manager, Duncan Cuthill. Historically the company has been active internationally in the UK, Canada, Angola, UAE and Singapore. Interocean's success comes from its market leading technical expertise and know-how in marine operations and offshore engineering, combined with its ability to provide flexible and cost effective solutions. The
expansive range of services offered by Rigmar also helps to support and add value to its clients. Critically, with such a robust set of strengths at its core, the company is able to adapt its market offering in response to market conditions, something that is proving particularly useful in today's pressurised oil and gas market.
"It is a very challenging environment to be in at the moment," Duncan explains. "This means that we have to focus carefully on making our core business as efficient as possible. However, we have also found that a lot of our skills and competencies are very transferable and as such we are making significant efforts to diversify the business, both geographically and in terms of the service lines that we can provide."
Over the past year, for example, Interocean has taken great strides in introducing an improved business management system, which underpins many of its activities, and this has allowed it to implement a new survey and positioning service in the market whilst ensuring quality demands are met. "Historically we would contract rig positioning services out to trusted third parties, but we have now brought this in-house, secured two major rig positioning contracts in the North Sea and recently completed our fourth rig positioning operation," he continues. "We have also opened a new office in Newfoundland, Canada, as we have been carrying out offshore work in the region for a while and thought it necessary to develop our local presence further, especially amidst an increase in activity there. In addition to establishing and staffing our new office, our financial commitment to the area has included a significant investment in marine equipment. This has already rewarded us with a contract with a major operator and we are starting to integrate with the local supply chain."
Back in the North Sea, Interocean has recently secured a five year marine technical services contract with a major oil & gas operating company and also been awarded the marine and engineering work for a major decommissioning project for a floating production installation. Due to be completed in the third quarter of 2016, this contract is very important for the company as it looks to apply its skill set to a much broader range of activities. "This is almost a step change for us as it allows us to use our full range of marine and engineering expertise, and decommissioning will be a significant direction for us moving forward," Duncan adds. "However, beyond this we would also like to change the perception that we are firmly set within the oil and gas market."
As a company, Interocean performs a number of other services in the wider marine industry, including being flag state inspectors for the Republic of Marshall Islands and the Republic of Vanuatu, providing casualty response, marine warranty and assurance services and mooring equipment hire and installation services. "It is a real benefit for clients who would usually employ mainstream
consultants to turn to someone like us who also has long standing experience of being a contractor," Duncan says, commenting on the business' consultancy capabilities. "We've done the hands-on stuff so it's not a challenge for us to monitor work being carried out by another contractor."
Breaking into the renewables sector will also be a key part of the company's vision as it moves forward, with it recently completing a major survey and positioning project for offshore cable repair at a wind farm off the west coast of the UK.
Diversifying in this way is a smart reaction to the current market conditions, and whilst the company has been rewarded with new contracts, plus two contract renewals in the UKCS and the Eastern Mediterranean regions, Duncan carefully recognises that this doesn't equal security. "We are very lucky having won these contracts and it demonstrates confidence in the quality of our services, but in order for us to get the work the activity needs to be there," he says. "This is why we have made an effort to look outside of our traditional sphere of work to apply our skills to other applications and industries. Being part of the Rigmar Group helps to support this and gives us the chance to think a little bit more creatively as to where we can target our efforts."
In this respect then it is no surprise that Interocean has set itself the vision to be recognised as a contractor perfectly capable of working across a broad range of sectors over the coming years. With a number of contracts under its belt and a clearly outlined expansion strategy, the business looks ready to experience even more success.
Interocean
Services: Marine and engineering consultant and contractor