Engineered for success
As one of the world's largest, and most innovative pipeline and subsea engineering and management contractors, J P Kenny prides itself on adding value to its customers' businesses.
The company, which has over 25 years of industry experience, has a powerful, and impressive track record of reducing project costs, managing risks, maximising safety and improving schedules for the most demanding operations.
"J P Kenny has been operating for about 28 years," says Gerwyn Williams, group managing director at the company. "Two pipeline engineers, John Kenny and Paul Davies, started the company to create a business that would bring analysis and method to the engineering of offshore pipelines, which had become a high cost item as the complexity and number of offshore oilfields increased. At

heart, the company still maintains the original ethos that method and analysis are the means to add value to projects.
"With more than 1000 staff worldwide we are today the biggest engineering and management company specialising in subsea and pipelines, and we have been involved with many of the innovations in materials, installation techniques, and design methods that have taken place throughout the industry," Gerwyn continues. "We have an extensive record of adding value to projects. This arises from our culture of problem solving, the fact that we have great people, and our software and knowledge management capabilities."
The company provides its services to many major customers throughout the industry, and Gerwyn explains that customer service and close co-operation is crucial: "Our key customers are the major international oil companies such as BP, Chevron, Statoil, and Anadarko, together with the national oil companies such as Petronas and NIOC. We also supply services to some installation contractors.
"Almost all of the work that we undertake is bespoke and tailor-made," he says. "Whilst the oil and gas industry is increasingly interested in standardisation to cut costs and ease the burden on supplier companies, this hasn't altered the need for a professional services company, such as J P Kenny, to deal with the specific site conditions that might exist, or to consider the best supply chain strategy that should be adopted."
J P Kenny has one of the longest, and most proven track records of any subsea company, and, as such, provides a broad range of services. Gerwyn elaborates: "We provide a full range of engineering and management services for the pipelines, manifolds, control systems, risers and other facilities needed to produce oil and gas underwater, and to transport it to users.
"Additionally, we help oil companies throughout all stages of the development cycle beginning with conceptual studies, through FEED, detailed engineering, management of installation operations and commissioning," he continues. "We also help our customers to operate their facilities and have a number of specialists experienced in trouble-shooting operating issues. Importantly, we are independent of all equipment suppliers and installers and are simply focused on proposing the best technical or managerial solution for our customers."
Gerwyn expands on the company's recent operations: "We are currently working on some of the most exciting projects in the world. For example, we are leading the subsea engineering for BP's deepwater programme in Angola, which is one of the five strategic areas in which they aim to increase production over the next ten years. It is a challenging location that involves work in water depths of up to 2000 metres.
"BP is proposing to adopt a programme approach to the operation, where they will carry out a series of developments that will utilise common building blocks, and follow on from each other, over the next ten years," Gerwyn continues. "The FPSOs will be of a similar design, and we have been awarded a contract for each of the developments, which means that we are expected to carry over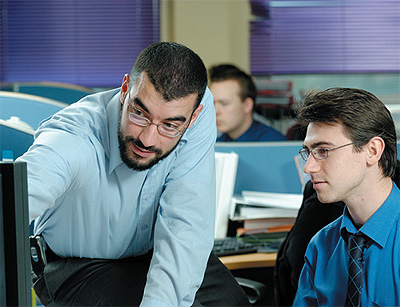 the knowledge and design from one development to the next.
"This programme approach, which is a first for BP, is innovative in that the offshore business has traditionally been tailored to very individual needs, so this will be one of the first serious attempts at standardisation," he says. "We have a technical role to ensure that the engineering is undertaken successfully, but we also have a management support role, to assist BP in achieving all their objectives."
Further to this, the company is currently involved in a demanding project in India: "We are also leading the engineering of facilities for Reliance's exciting new subsea development in the Bay of Bengal, offshore India. This fast track development will involve one of the biggest and most complex underwater installation campaigns when it takes place in 2008."
As an industry leader, J P Kenny is regularly recognised for its services, most recently winning 'Subsea Company of the Year' award from Subsea UK: "We are very pleased to have received this award as Subsea UK represents 150 of the leading companies in our industry, including Technip, BP, and FMC, who are our competitors as well as our customers. We met the criteria that Subsea UK defined for company of the year, specifically, we have an international profile, we achieved high growth in 2006, including a 38 per cent increase in staff numbers, we have a great business and technical reputation, a commitment to people, and a focus on safety and the environment."
This success, compounded by the company's consistent focus on providing its customers with the best possible service means Gerwyn is confident for the future of J P Kenny: "A number of forecasts suggest that worldwide expenditure on subsea and pipeline facilities will continue to grow in the future. Not only are there an increasing number of developments planned for deepwater areas where subsea facilities are the only solution, but also advances in subsea technology mean that it is the lowest cost option for an increasing percentage of offshore developments.
"We are very conscious that we must maintain our culture by keeping it outward looking and focused on customer solutions, with no time for politics, bureaucracy, or apathy. We will continue to be the provider of the best engineering and management services to the subsea and pipeline industry. We want to lead the industry as it tackles even deeper water, seeks oil and gas in the arctic regions of Russia Norway and North America, and becomes even more aligned to the plans of the National Oil Companies," Gerwyn concludes.
JP Kenny
www.jpkenny.com