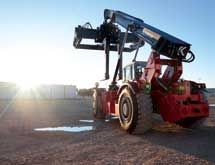 Making a name for itself in challenging environments is what Kalmar RT Center is all about. A subsidiary of Cargotec, Kalmar RT Center is a specialized manufacturer of rough terrain material-handling equipment. The company built its reputation serving the U.S. military and is now working hard to expand its commercial business.
Based in Cibolo, Texas, Kalmar's initial success was due to the capabilities of its rough terrain container handlers (RTCH), the only rough terrain reach stacker in the world. Today, the company's RT240 Rough Terrain Reach Stacker and RT022 Rough Terrain Telehandler are capable of performing in challenging ground conditions where other equipment cannot. That ability to work in tough environments made Kalmar's products attractive to the U.S. government and military for their work in undeveloped nations and combat zones.
"Our equipment can handle any application in remote, difficult areas where there is a need for containers," says Robert Schafer, director of global accounts. "It can operate in several feet of water or mud and can be folded down and transported by jet across the world."
Kalmar RT Center understands that it can't put all its eggs into the public sector basket. Two years ago, the company recognized that government spending would slow and that it needed to commercialize its offerings. That is why Kalmar has been working to expand its presence among companies operating in the oil and gas, construction, remote logistics, intermodal logistics, mining and forestry sectors.
"We must create new markets for ourselves in areas where we haven't been before," Schafer says. "We realize that our capabilities can extend beyond government contracts and we've been able to make some ties to companies, mostly in oil and gas at this point."
Proving Ground
One area where the company has seen some early success commercially is with Chevron and its Barrow Island operations in Australia, a Class A nature reserve where Chevron has been producing oil for more than 40 years. Kalmar's equipment was recently used to help set up forward bases and logistics operations in ways that won't disrupt the natural environment.
"Our equipment has helped save them valuable time from process and cycle time perspectives so they can set up forward camps and build an LNG plant," Schafer says.
Although its Barrow Island work with Chevron has been going on for less than a year, it has helped Kalmar to recognize just how much its equipment has to offer. Kalmar's equipment can do more than move containers. The equipment can serve as a forklift and a crane, and a tool carrier addition is being adapted to fit the equipment for moving tools and pipe handling.
"We are not that far away from having the tool carrier interface proven from an engineering perspective," Schafer says. "By the third quarter of this year we will be working with strategic suppliers in different market sectors to test its capabilities."
The tool carrier addition will certainly be of use in oil and gas for activities like pipe handling, but it should also appeal to other industries. The forestry industry could find it useful in clearing land, and the construction industry could see it as helpful with moving steel. These are but a few examples of how enhancements to its equipment will help Kalmar to further commercialize its operations.
"We have added to our engineering depth to improve our ability to devise commercial attachments for end-users," Schafer says. "We continue to upgrade and improve manufacturing processes through continued training and investments into our lines."
Schafer adds that this will ensure Kalmar "can take on more work and maintain compliance with the stringent quality requirements faced by government contractors."
Spreading the Word
Kalmar's improvement efforts go far beyond the equipment. Going after commercial opportunities hadn't previously been a focus for the company, so it was lacking a sales and marketing team. In the last few years, it created a commercial sales team, bringing in a half-dozen people who are focused on the development of a dealer network.
"That is important because we need to be able to train dealers so they are capable of servicing our product in the market," Schafer says.
"We are actively building a dealer network and developing commercial accounts on a global basis, trying to grow our sales," he adds.
Kalmar is also in the process of developing a brand identity for its rough terrain equipment. Although the RTCH/"wretch" acronym and nickname are good fits for military applications, Kalmar believes it is important to develop a more suitable brand name in the commercial world. That branding process is ongoing.
Kalmar RT Center's success thus far has been due to the versatility and performance of its equipment. As it has begun its migration toward more commercial work, it has been able to make initial ties to clients such as Chevron. Kalmar believes its equipment will be very useful in many sectors in the years ahead, including energy, mining, forestry and construction.
The biggest challenge facing the company is in identifying the immediate needs of emerging markets. Kalmar RT Center wants to target emerging markets where its products can shine.
"We must identify those markets and then be able to respond quickly and justify the ROI to potential customers," Schafer says.
"We know the unit can achieve results in demanding applications," Schafer continues. "We have to continue to keep our government clients happy and meet the needs of commercial clients. Over the next six to 12 months, we will try to take cost out of product to make investment in our equipment more cost-effective for customers."