Lauritzen Offshore Services
Welcome additions
Founded in 1884, J. Lauritzen (JL) has been a leading supplier of ocean transport solutions for 125 years.
Throughout this time, JL has been involved in a broad range of shipping activities consistently focusing on operations that require particular expertise and competence. Today these activities are split between four subsidiaries – Lauritzen Bulkers providing dry bulk cargo services, Lauritzen Kosan for liquefied gas transportation, Lauritzen Tankers, which supplies transport for oil products and chemicals, and Lauritzen Offshore, a provider of dynamically positioned (DP) support vessels. At first Lauritzen Offshore carried out both the vessel ownership and management within the same entity, but over time the decision was made to split these activities between two global offices. In Singapore, Lauritzen Offshore Singapore Pte. Ltd undertakes all ship-owner requirements, whilst in Copenhagen Lauritzen Offshore Services A/S takes care of the technical management of these vessels.
One of the reasons behind this structure is Lauritzen Offshore's focus on supporting the rapidly growing offshore oil exploration and production sector. This is a complex process that requires sophisticated technology and specialised vessels, as well as experienced operators. As such, Lauritzen Offshore has elected to retain its own in-house technical management organisation in order to keep a close track on operations.
The fleet itself consists of the 'Dan Swift' – a DP-2 accommodation vessel consisting of 291 berths, DP-2 shuttle tanker 'Dan Eagle' and the newly delivered 'Dan Cisne'. The demand for offshore accommodation is particularly high during the installation of offshore production facilities, maintenance and inspection, and eventual decommissioning. This is made all the more difficult by deepwater conditions and unfavourable environments. Here, Lauritzen Offshore offers a highly advanced solution in providing safe and reliable support services. The Dan Swift is designed to work alongside both fixed structures and floating units such as FPSO's and semi-submersibles. It is therefore ideal for personnel transfer, maintenance support, light construction work, and even commissioning.
Global market developments, such as the discovery of new deep-sea oil fields off the coast of Brazil have created huge requirements for the provision of platforms, rigs, support vessels, and drilling systems. This has opened numerous opportunities for Lauritzen Offshore's specialised fleet of DP support vessels – Dan Eagle and Dan Cisne. Erik Møller, technical manager, projects of Lauritzen Offshore Services, expands upon the capabilities of the company's latest new build delivery: "The Dan Cisne is a 59,000 tonne deadweight purpose-built shuttle tanker, which was constructed specifically to take advantage of the Brazilian market.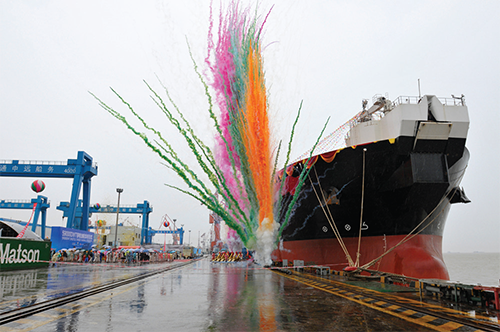 "It will enter service with Transpetro, a subsidiary of Petrobras, on a bareboat charter contract, for use in a 12-year contract with Petrobras itself. However, Lauritzen Offshore Services remains involved with its ongoing activities in the role of technical manager. The vessel was built in China at the Cosco Nantong shipyard and is currently on its way to Brazil, having picked up its first cargo load in the Far East. During this time we will also complete the necessary failure mode and effects analysis (FMEA) process."
Work has already begun at the shipyard on its sister vessel – the 'Dan Sabia', which will be identical in all technical aspects to the Dan Cisne and is due for delivery in early 2012. This will also be operated by Transpetro for Petrobras, with Lauritzen Offshore Services resuming the role of technical manager. Both vessels feature state-of-the-art designs and DP technology that enables the vessel to automatically maintain position, whilst transferring oil through the bow loading system that is commonly used within the North Sea. With Brazil expected to yield one of the world's largest oil reserves over the next decade, Lauritzen Offshore is continuing to focus its attentions within this market. To that end, the company has recently opened an office in Rio de Janeiro to provide it with a full-time local presence.
Yet, as with any business carefully monitoring arising opportunities, Lauritzen Offshore Services is not letting its other company activities slide. "We would like to grow further within the floatel market with floating accommodation and support vessels similar to the Dan Swift," reveals Erik. "As such, we are paying close attention to what direction that market is going in, how it will be for the next five years, and what new builds are entering this area. We know that Brazil and Norway have fixed semi-submersible contracts of at least five-years in length, and that these countries are continuing to focus on maintenance of platforms.
"Another area that is upcoming is the decommissioning of a lot of structures within the North Sea, where accommodation will be required for all the employees undertaking this work. So certainly we see possibilities, but there are also a number of imminent new builds from other companies aimed at this market. Therefore, at present we are really interested in analysing the demand for such services and what supply there is to meet these," he concludes.
Lauritzen Offshore Services
Services: Offshore support vessels