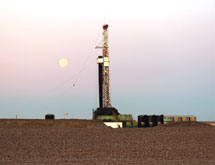 Liberty Resources Starts its Own Oilfield Company in the Bakken Shale
With hydraulic fracturing technology opening up new vistas to exploration and development, Denver-based Liberty Resources LLC – made up of executives who are highly experienced in the science of hydraulic fracturing technology – is dedicated to developing oil and natural gas resources. It also plans to generate superior production results based on its completions expertise.
Liberty Resources LLC has acquired approximately 44,000 net acres in Williams and McKenzie counties of North Dakota in the central Bakken Shale of the Williston Basin. The company currently participates in approximately 30 non-operated wells in the Williston Basin and plans to drill approximately 30 operated wells in the basin before the end of 2013.
The company controls the fracturing and completion operations for four drilling rigs, but managers had difficulty obtaining equipment and hydraulic fracturing services, with prices high and service quality low. So in March 2011 it formed Liberty Oilfield Services (LOS) LLC with two employees – its business manager and its operations manager.
Oilfield Services
LOS offers safe, efficient and high-quality hydraulic fracturing services, along with specialized stimulation services to optimize Bakken production. The company intends to become the vendor of choice for operators in the Williston Basin in North Dakota besides Liberty Resources LLC.
"Our goal is to provide frac design and execution with a real-data focus to optimize field development and improve production enhancement strategies for our clients," the company states.
The founders of LOS were pioneers in the development of fracturing and completion technology in shale gas plays, the company says. They assisted in launching the revolution in shale development through horizontal drilling, using stage diversion techniques and high-intensity hydraulic fracturing. These advanced technologies have increased natural gas production in the United States substantially and also have increased recoverable reserves dramatically.
"We expect that these technological advancements, together with some adjustments we are implementing, will have similar potential in liquid-rich resource plays such as the Bakken formation," the company says.
LOS focuses strongly on operational safety through high equipment utilization via redundancies, standardization and higher-level operating personnel.
"LOS is a different service company in various ways, focusing on operational excellence and completing frac stage after frac stage in a timely manner," the company states. It says it has a culture that breaks with the industry's common penny-wise, pound-foolish approach.
One way LOS does this is by providing sufficient back-up parts and equipment to every hydraulic fracturing location. Significant redundancies are provided in equipment for ultra-modern pumps, hydration units, blenders, data vans and parts. "We are unique in bringing a warehouse van loaded with extra parts to every location," the company says.
The company decreases downtime by incorporating "bottleneck" well services. Wellhead valves and water transfer – which in the past were mostly provided to customers by third parties – have helped LOS do significantly more hydraulic fracturing jobs each day.
"These improvements in efficiency and well completion turnaround time are not just good for LOS – they also help our customers move through their well completion inventory faster," the company says. "Experienced and high-quality personnel deliver a smooth and efficient operation. A culture of strong performance incentives and abundant time to recharge for all our personnel has provided LOS with very high retention rates. As a result, LOS maintains some of the most experienced crews in the basin."
The company says it is providing a new technical perspective to Bakken completions. "We have significantly improved production performance using our unique insights in fracture growth behavior in unconventional resource plays," the company states.
"As a result, we are providing our customers with some of the best producing wells in the Williston Basin," it adds.
Industry Expertise
Among the experts of Liberty Resources LLC is President C. Mark Pearson, who became a shareholder when the company was formed in 2010. With more than 30 years of experience in the industry, Pearson is the former president and CEO of CARBO Ceramics Inc., the world's largest producer of ceramic proppant for use in hydraulic fracturing.
Pearson also spent 12 years at Atlantic Richfield Co., where he led the company's production enhancement technology group and implemented horizontal well completions in Alaska.
Other executives include CEO Chris Wright, who also is a founding shareholder. He has more than 20 years of experience in the oil and gas industry and is the founder, former president and CEO of Pinnacle Technologies, which supplies hydraulic fracturing software, fracture mapping and diagnostics, and independent consulting services.
Wright also is the former chairman of the board of Stroud Energy, where he was a partner in recapitalizing this oil and gas exploration and production company. From 2000 to 2006, through small "retail lease" transactions, Stroud developed more than 200 billion cubic feet of proved reserves.
Finally, CFO Paul Vitek has more than 30 years of experience in the oil and gas industry. As the CFO of CARBO Ceramics Inc. for 20 years, Vitek oversaw all the company's financial and administration activities while it evolved from a small enterprise to a public company listed on the New York Stock Exchange with global manufacturing operations and a market capitalization of more than $1.5 billion. EMI